Hi everyone! I hope your the New Year has been kind and generous to you thus far! I'm still reeling from the Holidays and our trip back home. 
To be honest, we've been home a week and I'm still wrapping my brain around purging BEFORE I can unpack completely. I've been pinning playroom storage, office organization and overall de-cluttering. I've bought several new containers to organize, but the fact of the matter is, I need to sit and figure out what we're keeping, what I'm selling and what we're donating.
Since I'm writing about it, it's GOING to happen. ha! We'll see about that! But, before I get to it, I wanted to post some of the ideas I've had about playroom organization.
IKEA Cubbies and Bins
I think the cubby and bin storage system is a popular one for many playrooms, possibly because it's easy to maintain and affordable. We have something similar to Kallax from IKEA and I've put various Threshold bins to store toys.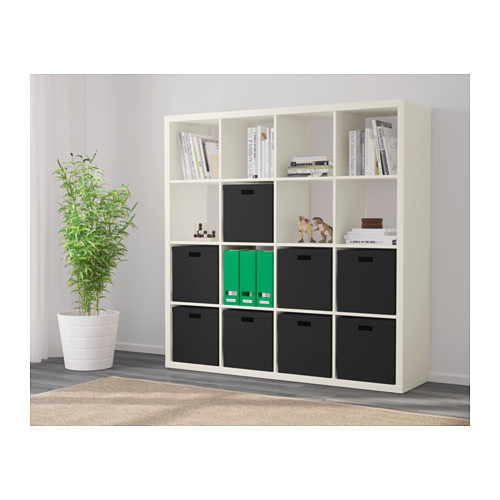 I've found that with this system, however, that my kids tend to "forget" about toys if they can't see them. That said, I'm going to start labeling the bins with words and images or pictures. I'm going to try stock logos and images first to see how Josh does with this. Since he doesn't read yet, and is the biggest mess offender, finding what works for him is the most important.
Nerf Peg Board Wall
As you may know, we are huge Nerf fans at our house. We had a big Nerf party and of course, these guns continue to be among the most played-with toys. Even though storage is limited, I still got Jack a giant Nerf gun for Christmas. Y'know, to add to the 30 other giant guns that litter our living room and playroom.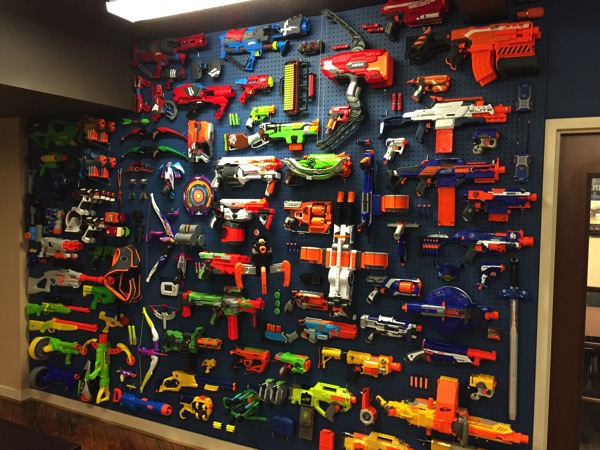 Source: Imgur
I decided a few ago to get the gun madness into control. I want Jack to enjoy the guns and invite him to play whenever he wants, but I don't want to step all over them and continue finding rogue bullets in my kitchen cabinets. 
I've seen various ways of Nerf gun storage, but the peg wall is byfar my favorite. The above photo isn't mine, but it was shared on Imgur. It looks accessible and streamlined. As with any organization method however, I'm sure it only works well if it's actually implemented. I'll report back when we finally put our gun storage together!
Closet Rack for Games
I've written about this before, but I like keeping our board games in the closet in a fabric organizer. I have to help with this storage method, but for the most part it works.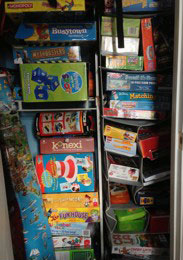 I try to keep the older games up high and the younger games and puzzles down low so Josh can access those. Without fail, though, it gets messed up over time. But, when I do keep up with it, this system seems to work. I'm going to comb through the games today actually to donate and purge games that have missing pieces or haven't been played with in awhile. We get so many games to review that I have to do this regularly.
Do you have any playroom organization hacks? What storage systems do you use? I want to hear 'em!
It's my hope that the kids can actually play in here again, rather than this being a storage room. In a perfect world, we'd have enough room to film videos for our toy reviews! Fingers crossed. I'm going to tackle the madness, so wish me luck!