It's December 1st and the holiday season is officially underway.  Today's the day that many people break out their advent calendars and start the countdown to Christmas. Inspired by other advent calendars and the need to instill gratitude and giving thanks for my kids, I created a Gratitude and Giving Thanks Advent Printable Calendar.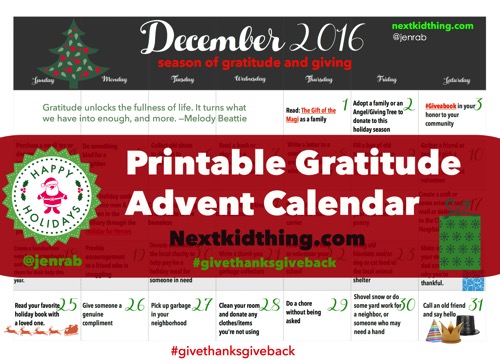 I recognize that there are so many wonderful calendars floating around promoting kindness and the importance of the holiday season. I wanted to create something that would give my kids ownership for their actions. While I absolutely believe in the importance of acts of random kindness, I think showing gratitude and giving thanks is of equal importance.
We've done every kind of toy and candy calendar out there, but in my house, I think the significance of Advent got clouded by all the milk chocolate and daily gifts of tiny Legos. Gratitude is an extremely vital virtue that seems to be an afterthought in our age of entitlement. I curated acts of gratitude that can be done with the whole family throughout the entire holiday season.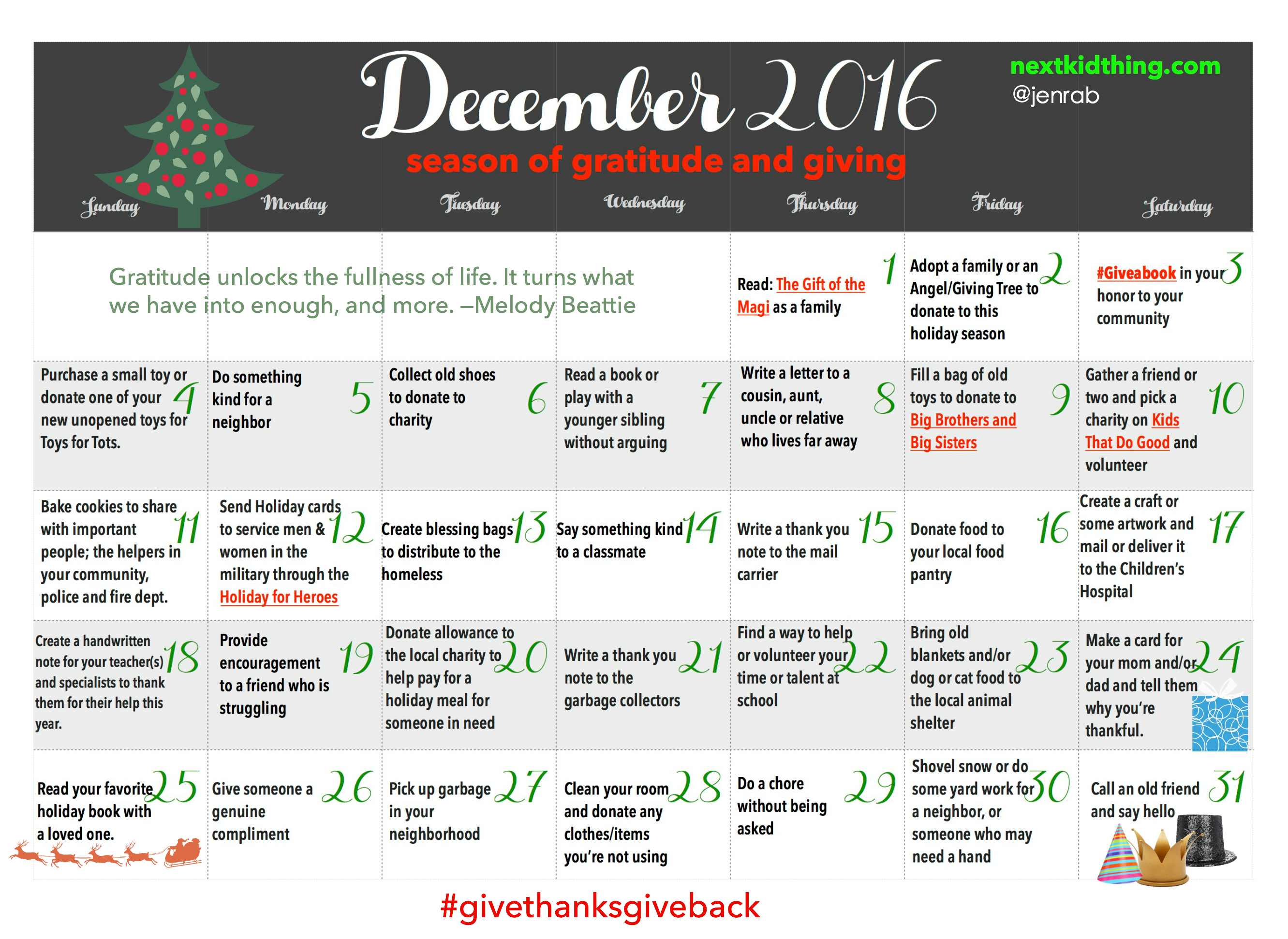 I researched various organizations that are kid-friendly or that can help achieve the end result as described in the calendar. For the red underlined items I will provide the links to the organization's website for addresses below. I think showing gratitude is a relevant act for the whole year, but for this calendar, I filled in suggestions until the end of the month.
If you'd like to print out this calendar, click here for a larger PDF of the file above. Feel free to share this printable!
I will be cutting out each day of the calendar to tuck into my kids' Advent Calendar, right next to their little morsels of candy. I hope you join us on this journey of showing gratitude throughout the holiday season. If you do, be sure to share on Instagram and use #givethanksgiveback
While researching for this calendar, I found this especially thoughtful quote that moves me on so many levels.
Gratitude unlocks the fullness of life. It turns what we have into enough, and more. It turns denial into acceptance, chaos into order, confusion into clarity…. It turns problems into gifts, failures into success, the unexpected into perfect timing, and mistakes into important events. Gratitude makes sense of our past, brings peace for today and creates a vision for tomorrow.  Melody Beattie