When it comes to music, we can only hope that we're doing our best with influencing our kids' taste and appreciation for great music. Thanks to stellar family games like Rock Band Rivals from Harmonix, we can rock out to both classic and current songs while instilling a stellar rock repertoire from one of the best music games series. 

Rock Band 4 carries over the well-known drum, vocal and guitar games in a fun play back format. Players can choose a song to play and earn points collectively while sharpening their musical chops.
My guys and I had the chance to give Rock Band Rivals a spin in our own living room. Let's just say that my kids were born ready to rock and have no problem performing on a stage, even if it's just our living room.
Since most of the songs in the music library are classic hits, my older guy wasn't familiar with the songs that I loved. The kids, of course, were familiar with the likes of modern pop hits from Imagine Dragon and Maroon 5. I, on the otherhand, could comfortably sing Elivs' Suspicious Minds and R.E.M.'s The One I Love—by heart, no less.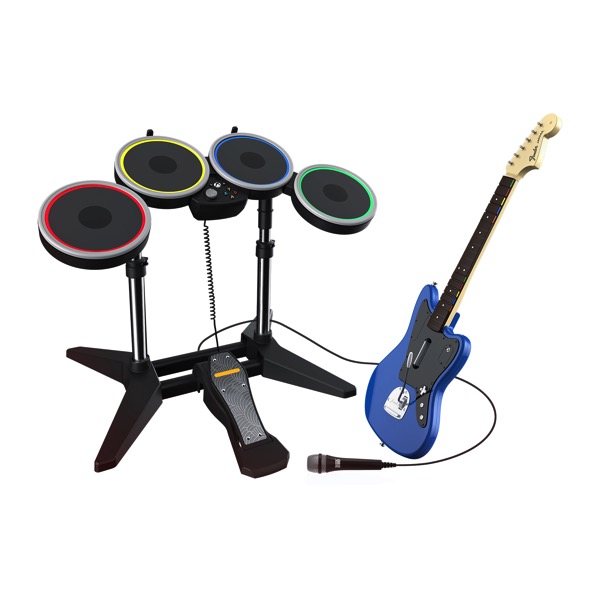 The drum kit controller in the Rock Band Rivals set is user friendly and easy to set up. Each player was comfortable with playing the drums in Rock Band Rivals. We even brought out our own drum stool because we're crazy like that. The guitar, styled like a sleek Fender, is cool and also easy to use.Though we found it hard to maneuver for smaller hands, those of us with more dexterity could strum the Fender like a rock boss. The instruments/controllers were seamless throughout the whole game. I especially loved how you could switch from bassist to guitarist from song to song. The microphone felt sturdy, yet basic. Obviously, as a component of the game, the microphone didn't amplify as loudly as one would expect.
Overall, we enjoyed the different playing modes of Rock Band Rivals. Although we're musically inclined, albeit a bit rusty, we appreciated the no fail mode since we have younger kids who needed a learning curve (as much as we did.) The music library, as previously mentioned, has a lot of great songs that I love, as well as great songs that my husband loves. Since I love pop and alternative and he listens mostly to country and classic rock, Rock Band Rivals complemented the whole family's musical taste.
Though it took some time to familiarize ourselves, it was easy to read the screen in playmode. The different colors and areas for notes made it easy to follow, even for people who aren't familiar with certain songs. There were so many great features that made this game especially more fluid as a family game. Each player could be assigned a different difficulty level. So, if one person was more advanced, and another was a beginner, each player was challenged just enough to make it enjoyable all around.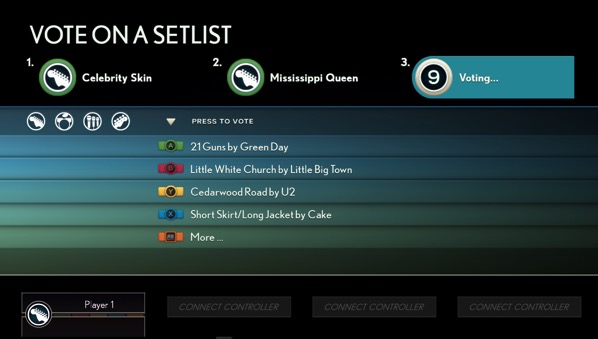 We also enjoyed the playlist selection, where we could answer a few questions and the game would help assign a playlist so that we could continuously jam out to said playlist. And speaking of jamming out, we all got a kick out of the rockers in the game. Each song had a different backdrop and band appearance. Some were more eclectic than the next.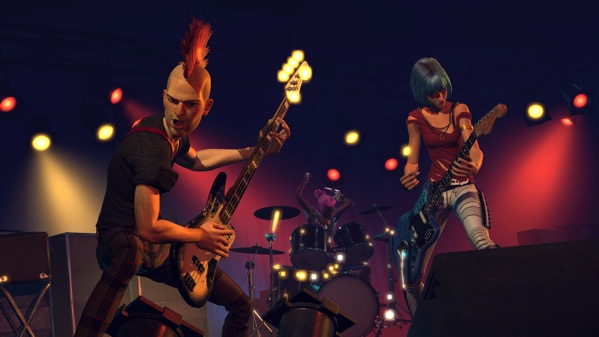 The highlight of Rockband Rivals is that it could be played in various modes, which makes it truly engaging for the whole crew. You can perform through a rock documentary about your band in the campaign mode and join Crews to show off skills and battle opponents in challenges.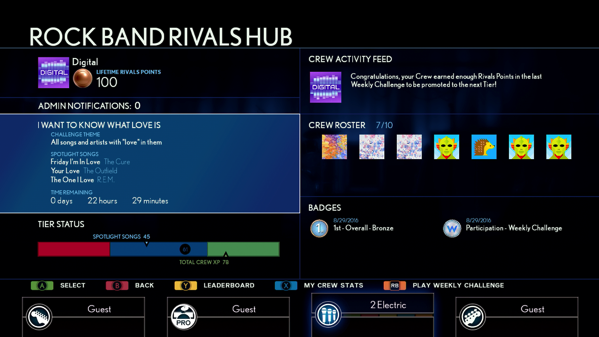 We spent hours trading places in Rock Band. For one song I'd be the singer, the next the guitarist, the next the drummer. My husband and the boys all loved taking turns playing the drums.
My older son decided he loved the bass more than the guitar. He could feel the bass in the songs, which gave him a better understanding of the way music blends together. My younger guy, who is under the age bracket for Rock Band Rivals, had a fun time rocking out, even though he didn't quite connect the dots.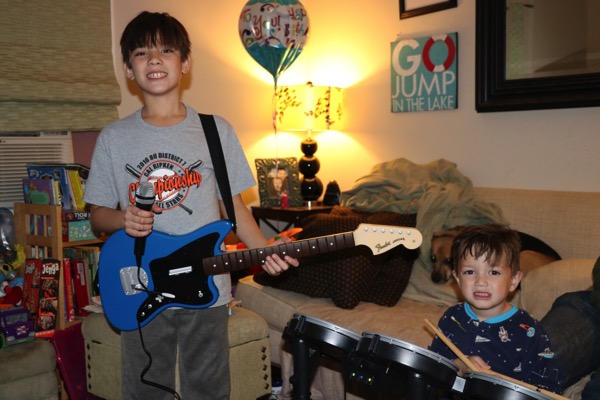 Rock Band Rivals is a fun way to get the family together and rock out collectively. This latest iteration of Rock Band doesn't disappoint. In fact, I can't wait to check out the other songs available so that we can have more current songs for the kids to enjoy!
Rock Band Rivals is rated T for Teen and is available at major retailers. The Rock Band Rivals ($199) kit includes the drums, guitar, mic and game. Be on the lookout for great deals for the Holidays!
Full disclosure: this is a sponsored post in partnership with KidzVuz and Harmonix. I was provided with a review unit and compensation to facilitate this review. As always, all opinions on NKT are my own.