Every now and then, a movie comes along that brings together a star-studded cast to deliver a funny and feel-good story while truly living up to its hype—and The Secret Life of Pets does just that!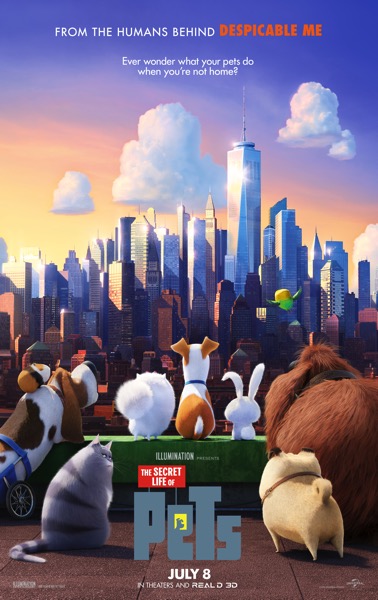 The Secret Life of Pets, from Illumination Entertainment and Universal Pictures, is an imaginative and hilarious portrayal of city pets that shows what happens when unlikely characters work together and find the value of friendship and loyalty in the process. Max, the terrier, is well-loved by his owner and embraces the life of a solo pet. That is, until his owner, Katie, introduces an oversized upheaval to the home: Duke the Newfoundland.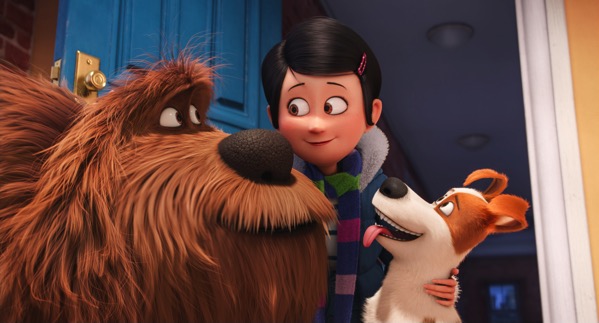 The newly-minted frenemies, Max and Duke, as well as their fluffy, furry and feathered band of domesticated friends find themselves in quite a storied predicament that leads to them exploring the city streets and navigating the underbelly of the city where the "flushed" animals go to live. On their adventure, Max and Duke meet stray cats, a psychotic bunny, Tattoo the pig, among other colorful characters.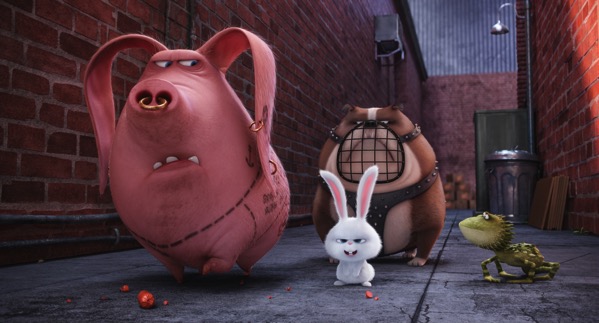 The Secret Life of Pets is a great mix of silly antics and clever comedy, which appeals to both kids and parents. Surprisingly, the music complemented the story well, between the composed poodle headbanging to System of a Down, classic songs weaved throughout and Basement Jaxx's Do Your Thing from the trailer. Semi-spoiler: my older son squealed when he realized the song during the sausage factory scene. Grease fans will appreciate it!
My kids, who are 4 and 8, both enjoyed the film from start to finish and continually quote it every time there's a relevant reference.  While drinking milk: "Chug, chug, chug…" Their favorite parts of The Secret Life of Pets revolve around pooping and the dogs drinking (chugging) out of the toilet. Naturally.
In line with the silliness, its the collective cast of characters and the voice actors who make this film an instant classic! My kids and I watched the screening before I read up on the voice actors, and I loved the surprise when I realized who voiced whom. With the big push for this film, it was hard to avoid that surprise, but it's definitely cool for the adults to associate the actors to the characters they voice in the film.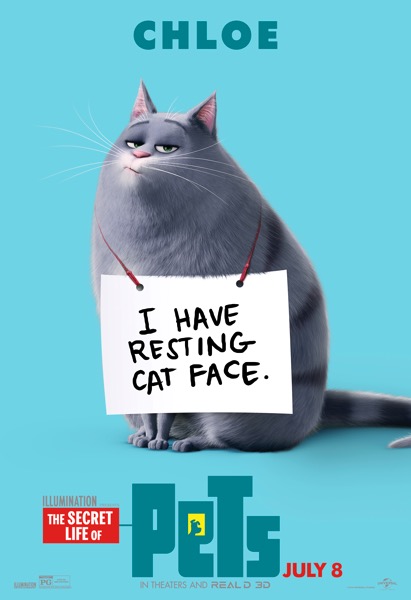 A few favorite voices from The Secret Life of Pets: Louis C.K.(Louie) is mild-mannered Max the Terrier, Eric Stonestreet (Modern Family) is the fluffy Newf who uses his size to his advantage, Lake Bell's Chloe the cat embodies the dissociation of felines in general and the crazy, but lovable Snowball the bunny was brought to life by Kevin Hart.
Several weeks ago, I had the opportunity to interview several of the actors who voiced these fun pets. It was, hands-down, one of the funniest interviews I've done yet.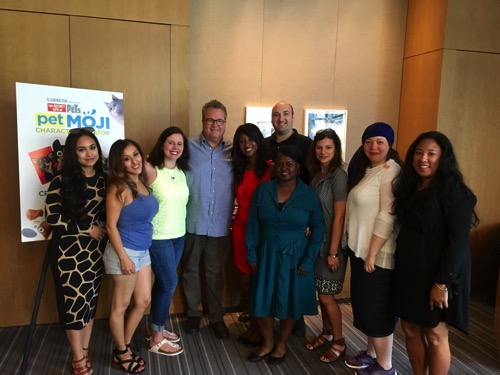 Before Hollywood, Eric Stonestreet, grew up at a farm in Kansas, so he has had animals his whole life. With respect to Duke he said: " I think when you meet him at the beginning of the movie you think one thing about him, that he's kind of a bully and kind of a tough guy, —mildly a tough guy because he is protecting something. We don't know what that is. And I think we all do that as people; we put up a front in certain situations. So, I relate to him in that way, that you kind of protect yourself a little bit and hide what's maybe sometimes going on behind the scenes. And he is fun and lovable. He's a lap dog. I think I'm kind of a little bit of a lap dog."
For a little fluffy bunny, Kevin Hart's Snowball does an admirable job leading a revolution for his fellow flushed animals. Hart's small but fierce mentality and self-deprecating humor is a perfect complement to his character. Well known for sharing his daily adventures as a parent, comedian and personality on social media, I used the opportunity as a fellow social media enthusiast to see what Snowball would do. That should be a thing, right? What Would Snowball DO? (WWSD) Ha!
Hart had us cracking up, but inspired at the same time: 
"Snowball is a leader.  And he is starting a revolution, so everything is about recruiting.  You know, if he was on there, I don't think it would be in the realm of my Snapchats.  Snowball's are strictly PSA messages of join the movement, join the revolution.  And it's basically against people.  
He is basically fussing at people.  That's why I love Snowball.  But, his anger is justified.  Snowball doesn't like people just–it's not like he just doesn't like people just because they're people.  He doesn't like people because he was hurt.  He bought into the whole person and pet reality.  And when he was hurt by that because someone abandoned him, it really threw him off. That's what I love about this character, you know.  
I don't just do things just to do them.  I have to put depth to it.  And that's with any movie that I've done.  I think I'm very funny in every movie that I've done, and the movies have progressed, but the reason why the characters are always funny is because there is a foundation underneath the character.  And that's what me and the director talked about.  I was like, "I don't just want to play the guy because he's funny.  What's the foundation?"  
And being that Snowball was hurt is one thing, but then I made him insecure.  You notice he's very insecure.  You know, he gives out these orders, but then he questions the orders that he gave out, you know.  "Everybody listen.  Raise your hand unless you're tired.  Unless your arm is tired.  Put your arm down.  You don't have to raise your hand."  And it's funny.  You laugh at it, but it shows you that he's not really the guy that he's being.  This is a manufactured version of himself, which justifies when he gets the hug at the end–he melts."
It's always fun chatting with talent to hear what makes them tick as actors, but also to get their perspective on the film and their contribution of their characters in the film. In the end, The Secret Life of Pets is a fiercely funny story, but it's the underlying story of loyalty, kindness and staying true to yourself that makes this a feel-good film, and one that is absolutely our favorite family film this summer! 
The Secret Life of Pets is out in theaters July 8. You can purchase your tickets to The Secret Life of Pets on Fandango.