As far as summer fun goes, we've been pretty lucky this year. Between hanging out with friends at our lake all day, playing baseball, rugby, running a triathlon and riding bikes in the neighborhood, we're so fortunate to have so much to do this summer.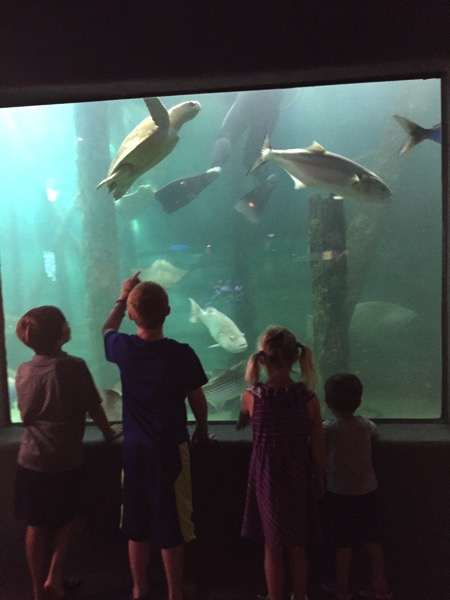 However, with all the fun activities and sports, that's not to say we don't love a good road trip. Our summer isn't complete with a few trips to the beach. When heading down the shore, to Jenkinson's in Point Pleasant is our go-to beach.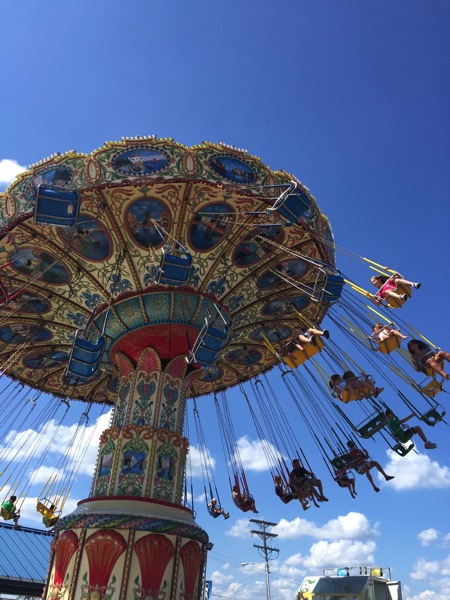 At just a little over an hour away, Jenkinson's is a family-friendly beach that has an attraction for everyone in the whole family. From games to rides to fun food to mini golf to relaxing on the sandy beaches, for us northerners, Jenkinson's is the quintessential summer at the shore.
This week, we took our friends to their first ever jaunt down the shore. First stop per the kids' request: Jenkinson's Aquariaum to say hello to the penguins, Luseal and Seaquin.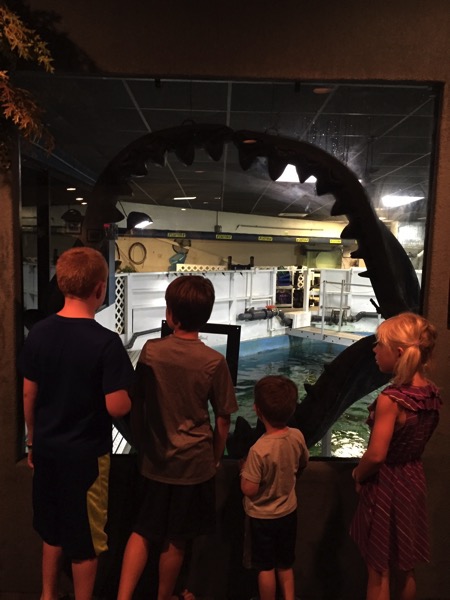 The aquarium, always a hit for rainy days, is super fun to visit mid-day to get a reprieve from the weather and crowds. We enjoyed the aquarium and didn't have to fight too many crowds on the sunny day when we visited. The sharks, penguins, touch tank and seals are our absolute favorites, but I have to say, the clownfish up front is a runner up.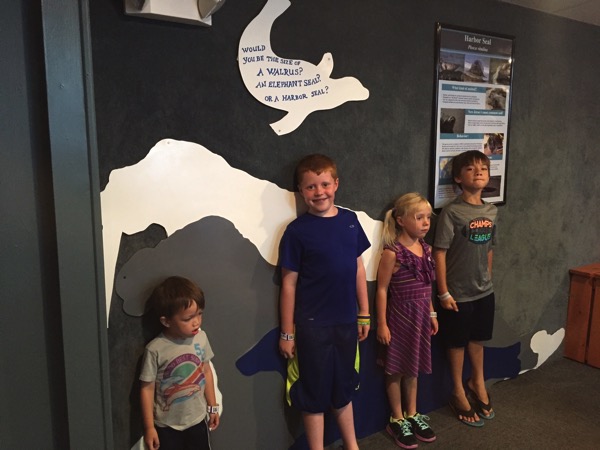 Weekday visits to Jenkinson's Boardwalk is such a treat because, not only do you get to enjoy the beach, depending on the time of summer, you get a reprieve from the crowds.
Since we visited later in the summer, vacationer traffic seemed to be dwindling, so we had the restaurants to ourselves. We had lunch at the Pavillion, one of our favorites. What makes this spot so great is that it's close to the Aquarium and it has a variety of food for everyone. Even better? It's an enclosed area to beat the heat. As with any destination type of place, food can be pricey for an entire family. The kids always love the lunches served in buckets that double as beach toys. Portions are big here, which is always a plus.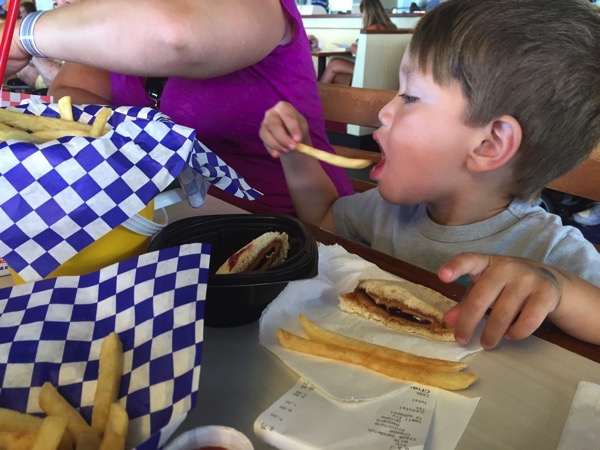 Roof Top Mini Golf is another must-do for our family. Last summer, my husband was toting my toddler around as we played, this year, it was fun to see my little dude go all Happy Gilmore on the putting green. Because this Mini Golf area is on a rooftop, there isn't much shade.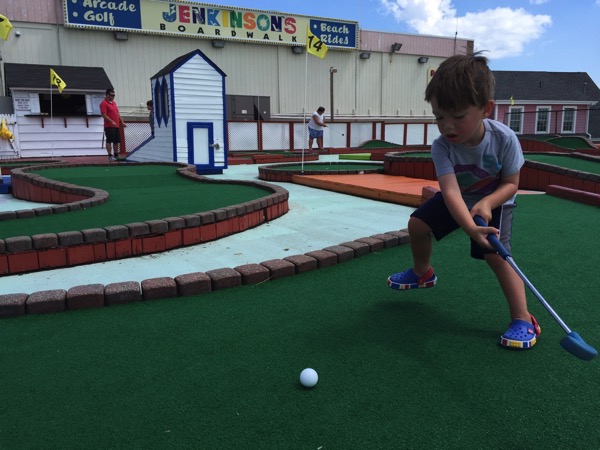 So if you don't mind the heat, there aren't too many other people playing in the middle of the day. It's a fun and clean course, perfect for friends and family to take on a friendly game of mini golf. Do yourself a favor though, watch out for the slippery puddles after it rains! We had a little accident when we missed a puddle and fell hard onto the concrete. Nevertheless, Roof Top Mini Golf is a blast for everyone.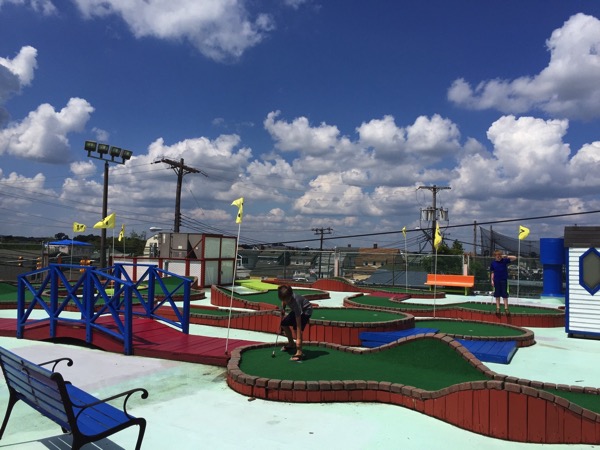 Perhaps, one of the things that sets Jersey Shore boardwalks aside from other beach towns is the fun amusements! Having grown up in Virginia Beach, we had several amusement rides, but nothing quite as expansive as what you can find at Jenkinson's.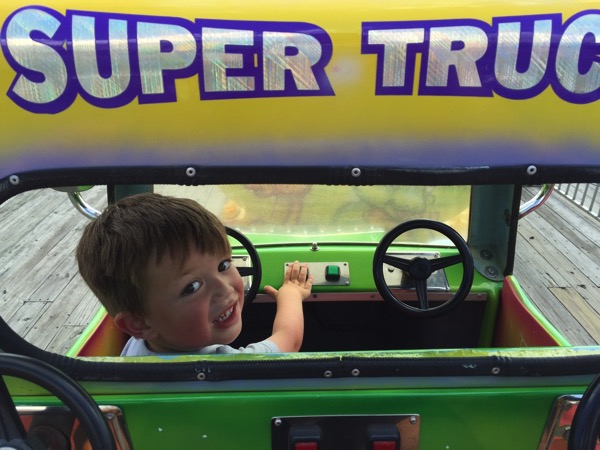 The kiddie rides are always in great condition with minimal lines during the week. The big kid rides are fast and can't be missed. I love that my bigger guy and littler guy could still ride rides together. And hey, I enjoyed hopping on a kiddie ride for good measure, too!
The Flitzer, though, is still our absolute favorite ride. For a mini roller coaster, you can't miss this super fun attraction.
At a little over an hour away, Jenkinson's is a fantastic option for a day trip, whether it's on one of these last summer weekends or on a weekday with the kids. With the very cool aquarium, beach access, plenty of restaurants and treats, mini golf, games and rides, Jenkinson's is fun for the whole family!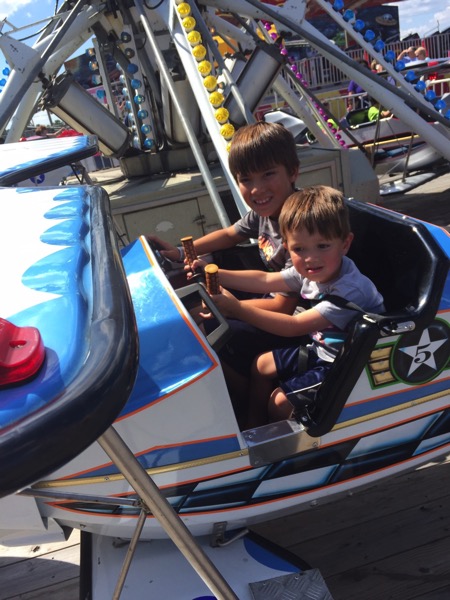 Headed to Jenkinson's later this summer? Be sure to check out Hot Halloween which runs August 25-27th. In September, don't miss Labor Day Fireworks on the 7th, Grandparent's Day at the Aquarium, Behind the Scenes Tour at the Aquarium on the 19th and Tea by the Sea at the Aquarium on the 24th. For a full line up of activities, head to Jenkinson's Events.
In conjunction with NKT, and as part of my participation in the Jenkinson's Memory Maker program, I'm thrilled to be able to giveaway a weekday VIP voucher to Jenkinson's Boardwalk that includes wristbands for up to 5 people.
Head to Rafflecopter below or on our Facebook Page to enter. Good luck!
The wristbands include unlimited rides in the amusement area, Rooftop Mini Golf, admission to Jenkinson's Aquarium, admission to the Fun House, beach access and Jenkinson's bath house. Not valid for parking. This voucher is valid Monday-Friday only, no weekends or holidays, and expires 12/31/15. This giveaway ends on 8/16/15 at 11:59pm! A random winner will be announced on Monday, 8/17.
Full disclosure: as a Jenkinson's Memory Maker, I have been provided with a voucher for my visit. All opinions expressed are my own.