Now that Spring is in full swing, I've already started to hear the collective sigh of students, parents and teachers in regards to the end of the school year. It's been a long year, and many of us are ready for the carefree days of summer. But, not so fast! If you're like us, we still have a good two months to go until we bid adieu to the school days.
So, what to do when you're all exhausted with the school routine—well, besides go on a vacation. Aside from re-engaging in homework and getting outdoors, renewing the excitement of the school day can be as simple as refreshing the lunchbox. School lunches shouldn't complicate life, but instead, make it a little lighter.
With that, I thought I'd round up a few delicious goodies that we're currently craving and coveting for our lunchbox.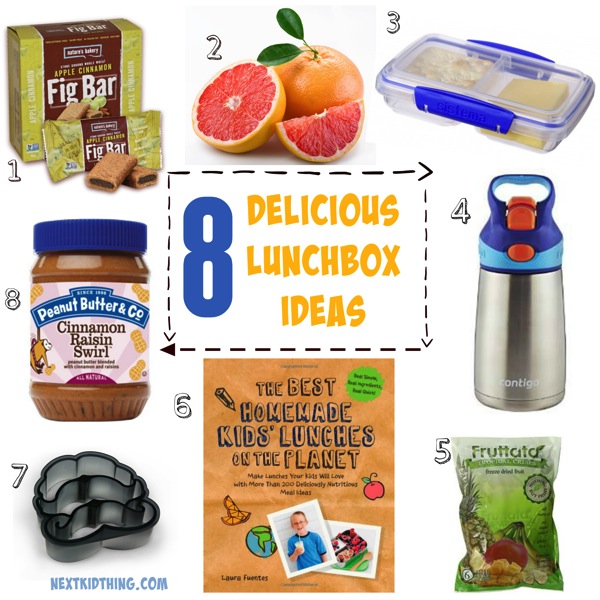 These delicious fig bars have been around for quite sometime, but they've become even more accessible as of late. As an avid Costco shopper, I first picked up a multi-pack of these fig bars and we all fell in love with the taste. These bars are made with stone wheat, are free of GMOs and come in several tasty flavors like apple-cinnamon, raspberry and blueberry.
2. Grapefruits
Grapefruits are rich in Vitamin C and a great source of lycopene, which makes this citrus fruit a delicious treat for kids. An alternative to oranges, grapefruits provide a tart, but refreshing taste to a Spring lunchbox.
Since I picked up my first container for back to school last year, Sistema has been popping up more places. In fact, I've been eyeing the different sizes and colors at my local HomeGoods. These compact BPA-free plastic containers are ideal for packing small portions and eliminating all the excess wrappers and Ziploc bags.
4. Contigo Stainless Steel Autospout Flip Chill Kids' Water Bottle
We have the plastic Flip Chill Kids' Water Bottle, which is a great refillable water bottle for my preschooler. Instead of juice boxes, we've been trying to drink more water every day. We need to be hydrated to keep us going through the day! This Stainless Steel version of the Autospout Flip Chill Kids' Water Bottle is sleek, practical and spill-free.
5. Fruttata Tropical Freeze Dried Fruits
Nothing will ever beat the taste of fresh fruits, but Fruttata Freeze Dried Fruits comes close. These freeze dried fruits are virtually mess-free and ideal for lunch boxes and kids on the go. Once again, I love that there's a Costco sized bag available because once you have one, these crisps go quick!
6. The Best Homemade Lunches on the Planet by Laura Fuentes
I'll admit, I've been slacking on lunches now that the school year is winding down. So, when I'm feeling uninspired, I love checking out this practical recipe book for homemade lunches. Written by Laura Fuentes, known for Momables, presents a lot of easy, but delicious lunches that anyone can do.
7. Crustache Mustache Shape Crust Cutter
Even boring sandwiches taste a little better when they look fun. We can't get enough of the Crustache Mustache Shape Crust Cutter because, well, mustaches.
My only complaint about this cool sandwich cutter is that it's small, so when I'm cutting a larger sandwich almost half of the bread is cut off. Other than that, who can resist a mustache sandwich?
These delicious gourmet peanut butters from Peanut Butter & Co. are unlike anything I've ever tasted. I recently received a jar of Cinnamon Raisin Swirl Peanut Butter in a gift bag from the Home press junket since they partnered in a promotion for the film. We had this peanut butter on toasted raisin bread and we couldn't have enough. If your kid's school isn't peanut free, this would be a great option for a sweet treat for lunch. Who am I kidding? This delicious peanut butter is perfect for any time of the day.