I'm choosing to ignore what the forecasts are saying for Friday. No more snow, thank you very much—especially on the first day of Spring.
Instead, I thought I'd share some baby gear, gadgets and goodies that are perfect for those of you whom, like me, have Spring on the brain.
Cetaphil Baby
Cetaphil, known for its powerful yet gentle products that are recommended by dermatologists, recently introduced their new baby line, which touts natural ingredients and formulations perfect for gentle skin.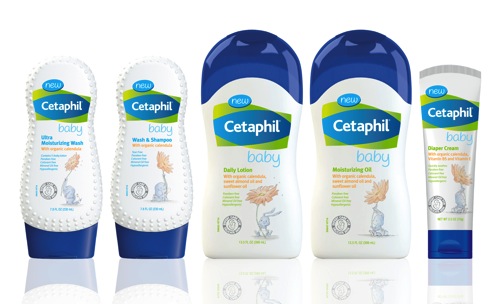 The line debuted at Buy Buy Baby in January and consists of diaper cream, Wash and Shampoo ($9.99), Ultra Moisturizing Wash ($5.99,) Daily Lotion ($9.99) and Moisturizing Oil ($6.99.) All Cetaphil Baby products are paraben free, mineral oil free, hypoallergenic and dermatologist tested. What I love most about Cetaphil Baby Daily Lotion is the fresh calendula scent. In the past only prescription creams have been able to heal my tot's very sensitive and dry skin, but Cetaphil Baby Daily Lotion and Moisturizing Oil have been able to soothe his problem areas. In addition to Buy Buy Baby, be on the look out for Cetaphil Baby at Babies 'R Us shelves this month.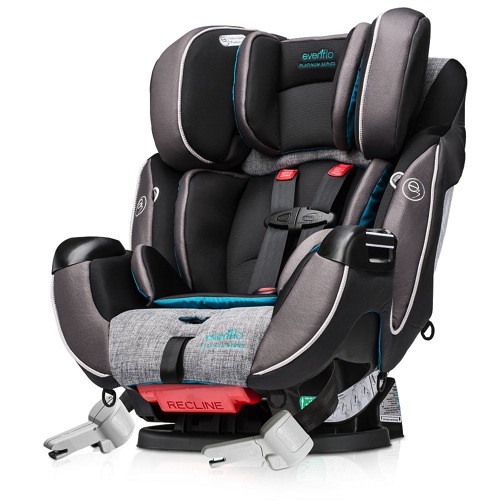 This cozy and sleek carseat has been turning heads since its reveal last year. It features Outlast Performance fabric that can absorb hot and cold temperature, which is ideal for kids who spend a lot of time in their seats, whether its in the school car line or long road trips. Boasting a 60 second installation time, the SureLatch Technology is another feature that's helpful for quick and secure installation. The key feature for me on the Symphony DLX All-in-One Car Seat is the e3 Side Impact Protection which is designed and tested to reduce side impact forces up to 50%. The Symphony DLX All-in-One Car Seat ($230) with fabric as shown above is exclusive to Babies 'R Us.
Love to Dream has been on my mind lately because I've had so many friends who have been having babies. Love to Dream has several products in their line but their SwaddleUp comes to mind first.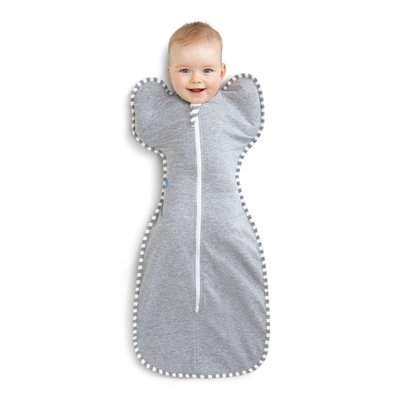 The SwaddleUp is designed to swaddle babies who prefer to have their arms up, rather than tucked away. The Love to SwaddleUP is step 1 in the Love to Dream sleep system. It's designed for 0-4 months and allows baby to sleep with arms up, allowing baby to self-soothe. The Step 2 in the Love to Dream Sleep System is the 50/50 , which helps baby transition from a swaddle towards the arms-free independence of a sleep bag.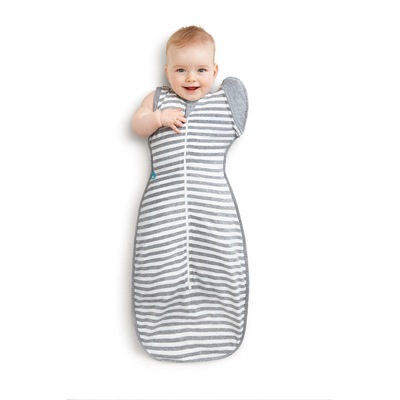 Geared to babies 4-8 months, the 50/50 is particularly helpful for this transition stage when baby starts to become more mobile. Step 3 are the Inventa and Nuzzlin Sleep Bags. The Inventa features the Genius Cooling system which helps regulate your child's temperature without disrupting sleep, which is great in spring with cooler and warmer temperatures.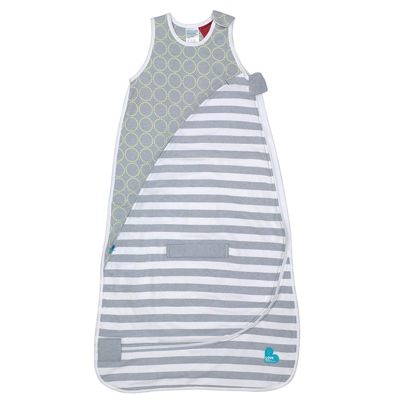 The Nuzzlin is a light and breathable sleep bag that can keep a tot cool on warm nights and warm on cool nights.
Britax's light weight and quick-fold stroller, B-Agile 3, is now available in bright and bold colors this Spring. The B-Agile 3 new shower collection includes hues reminiscent of jewel-toned Easter goodies that are synonomous with the spring season.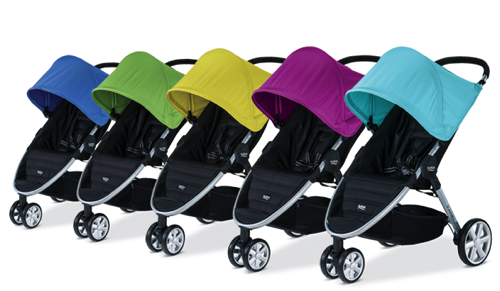 The B-Agile 3's new colors include Limeade, a citrus yellow; Concord, a vibrant grape purple; and Aqua, a light turquoise. Meadow, a lush green, and Sapphire, a royal blue, are nods to the tones of the classic Britax ruby red fabric. These five colors of the shower collection round out the Britax fashion spectrum by joining the original Black, Red and Sandstone options.