When life gets a little foggy, I can't help but to get creative. So, I designed this fun whale nursery printable.
My creative juices were flowing especially heavy as I was set to attend a friend's baby shower this morning. Even though I'd already bought a basket full of baby goodies from her registry, (from Tommee Tippee, no less!) I felt that her basket was missing a personal touch. I noticed that my friend's nursery had a nautical theme, with vintage whales as a prominent motif. Given her husband's love of fishing and their mutual appreciation for the band Phish, their choice for a theme for their baby boy's nursery was so sweet.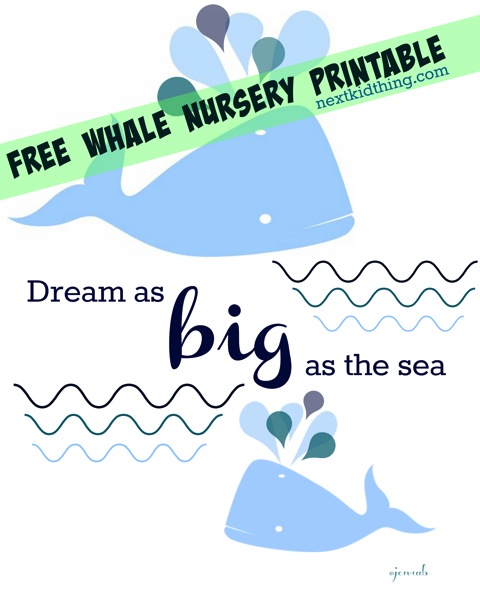 Coincidentally, just a few years ago, I remember pinning quite a few whale-themed ideas for my littler guy's nursery and changing space. My ideas never quite came into fruition, but nevertheless, I love the idea of whales in a nursery. So much can be done for accent colors: grays, greens and all those beautiful shades of blue.
As I brainstormed ideas for my friend's gift, I wanted to make a personalized print featuring whales and a relevant quote. Because my friend's husband is an avid reader, I wanted to include a literary quote of some sort. I tried to think of a Herman Melville quote from Moby Dick, but everything seemed too heavy for a baby's nursery. So, I chose a simple, yet bold statement applicable to any and everyone: Dream as Big as the Sea. Simple and straightforward.
I zeroed in on the flow of the text and contrast of the whales.  The waves are subtle, yet significant as the statement itself. I printed this out on some shimmery paper that I had leftover from another project and framed it in a Pottery Barn frame that I was saving for something perfect.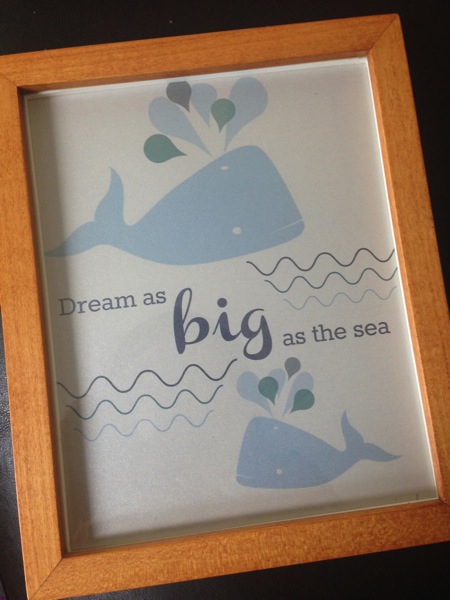 I loved the way this print turned out—so much so, I wanted to share it with you. I appreciate free printables and how accessible they've become because of the Googles and Pinterest, this is my way of paying it forward. So, if you're able to use this free whale nursery printable or gift it to someone, let me know! Share in the comments below or "pin" it for others to enjoy too!
Download the PDF for the free whale nursery printable below. Enjoy!