Happy Halloween! We get all into this spooky day by tricking out almost anything and everything…and, not surprisingly, that includes school lunch!
If you follow me on Instagram, you might already know that I've been a longtime lunchbox fan. I play with my kid's food, all in the name of smiles.  For Halloween, I thought of spooky characters and incorporated them into lunch.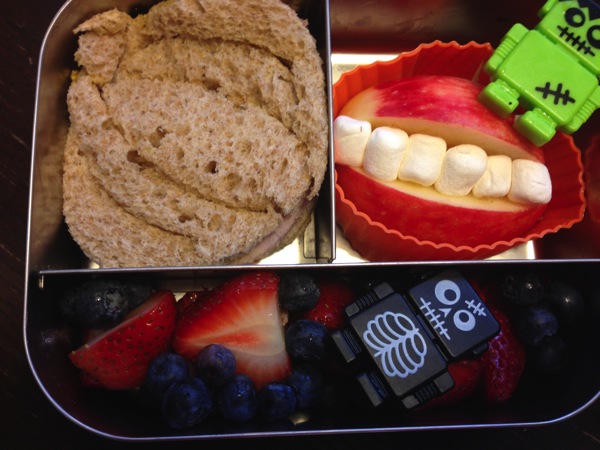 An easy go-to for Halloween-themed lunches include pumpkin-shaped sandwiches. I usually make a turkey or ham sandwich, but something not too thick. I then cut the sandwich with my pumpkin-shaped cookie cutter which has the lines in the formation. For the fruit and dessert, I cut 2 slices and pop some mini-marshmallows in for the teeth. For some containers you can just place the slices and marshmallows without any help. Since my apple wasn't that big, I had to use tooth picks to secure the apple-lip formation, but then the marshmallows stayed in place. I just put mixed berries on the side, or rather, Boo-berries.  And finally, to give the lunch a super fun look, I threw in one of our Halloween rings I saved from our local ice cream shop. Spiders or other tiny trinkets work well for decor. Easy peasy.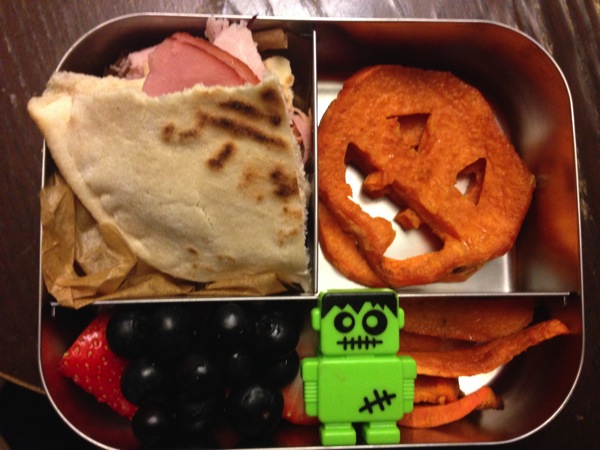 For this lunch, instead of bread, I used a pita and cut it into fourths. I stuffed the pita with ham and mustard for an easy sandwich. For the veggie, I roasted sweet potatoes the night before, like you would sweet potato fries. But before roasting cut out a jack o'lantern face to give it a fun effect.  For the fruit, I threw in more berries!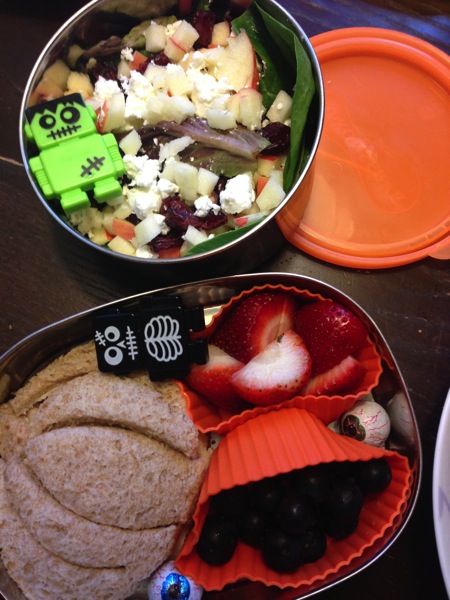 And today's Halloween lunch includes an easy, kid friendly salad.  Salad? Why salad? Because my kid will be consume candy by the fistful later, I thought I'd throw in some nutrition for lunch. In a Konserve stainless steel container, I mixed some greens, goat cheese, tiny apple chunks and cranberries. I included some honey balsamic on the side and will cross fingers at least some of it gets eaten! For extra measure, I made a quick pumpkin-shaped sandwich and berries. The candy eyeballs were totally for effect. I wonder if those will get eaten first?!
For me, making lunch isn't supposed to cumbersome, but rather, fun and delicious. If it takes more than 10 minutes to make, that's just not fun for me. If my 7 year old can't do it himself, again, that's not fun. So, rule of thumb, make lunch fun and keep it simple.   So, with that said, here are just a few Halloween-inspired lunches.
So, if you're not into bento boxes or fun lunches for kids, before you say "somebody's got too much time on their hands," consider this: bento boxes have been around for centuries in Japan, and they incorporate healthier eating by limiting portion size and encouraging more wholesome foods.
Happy Halloween!