If the world is our oyster, then the galaxy is most certainly our canvas.
As a creative person who's constantly creating, whether plotting projects in my head or in real time, I appreciate it when books and shows encourage the same thing for my boys.  The new original animated series, Creative Galaxy, featured on Amazon Prime Instant Video is an example of a show that gets our artistic juices flowing.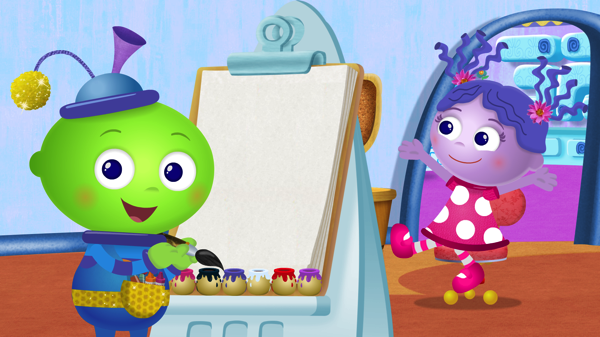 In a galaxy far away, aliens co-exist and create art every day and solve problems by harnessing their imagination and creativity. The main character, Arty, is an inquisitive young alien who often asks questions to his audience. Creative Galaxy may have a familiar format and feel because it's the product of children's programming veteran Angela Santomero, the brains behind PBS Kids' Daniel Tiger, Emmy-nominated Super Why and the classic kid's favorite, Blue's Clues. 
Each episode of Creative Galaxy begins with a problem that must be fixed with art.  To fix the problem at hand, Arty makes his way around Creative Galaxy and gathers items for his idea box. Arty tackles problems with his shape-shifting sidekick, Epiphany and friends along the way like Jackson, Shift, Seraphina and Gallaria.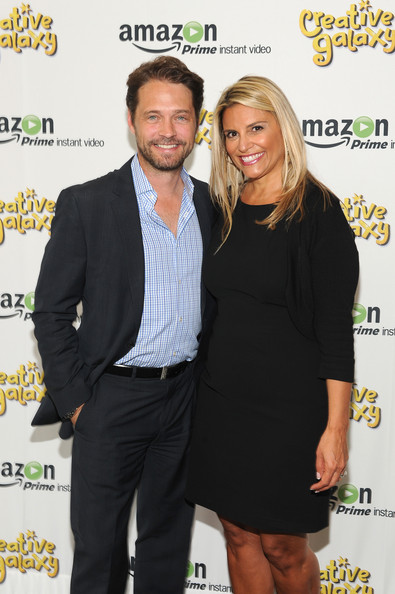 Jason Priestly and Angela Santomero at the Creative Galaxy Launch. Source: Zimbio
Creative Galaxy boasts colorful imagery and fun, yet relatable story lines. Familiar voices lend their talent to round out the show: Cloris Leachman is Galleria, Brooke Shields is Seraphina and Jason Priestly is Sketch. 90210 fans will appreciate Sketch's coy greeting: what brings you to my zip code? 
The show encourages art with a variety of mediums covered throughout: painting, crayon, drawing, paper—even glitter.  According to Amazon, this series is designed to support a child's natural inclination to use their imaginations, make and create. Art is everywhere, as examined by Creative Galaxy; we are always surrounded by art, and ultimately, art is an important resource is our day to day life.
Geared to preschoolers, this show really struck a chord with my 2.5 year old, as well as my seven year old. Already a super fan of Amazon Studio's Tumble Leaf, it took my two year old a few episodes to really appreciate Arty's adventures.  Once he did though, he was really engaged into Arty's projects.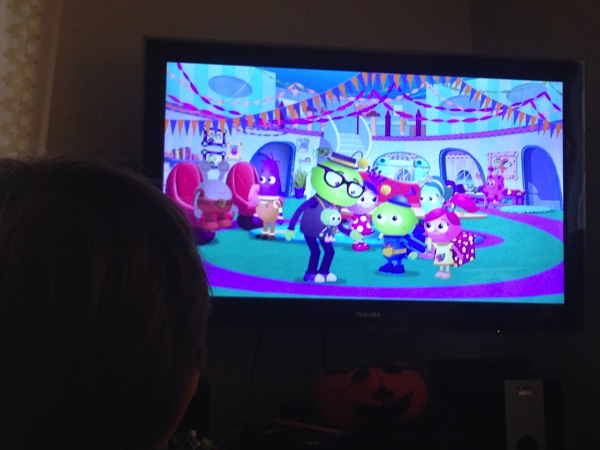 Though my older son is beyond these types of shows, I did find him getting into Arty's adventures just as well as the two year old. Creative Galaxy makes kids feel as though they're making art alongside of Arty and the kids featured on the show. As for my seven year old, he appreciates the real kids doing craft projects in between, which prompted us to do our own. More on that below!  I love the true educational content throughout the show. Creative Galaxy has a knack for implementing real artists such as Kandinsky and parlaying it into a relatable activity within the show, gives art appreciation a new meaning as a parent. I appreciate the different dimensions of this show. From the fresh-faced characters to the artwork created by real kids in between segments to the fun songs wrapping up story lines… "shapes and lines make everything," Creative Galaxy is undoubtedly another intergalactic hit for Amazon Kids and Angela Santomero.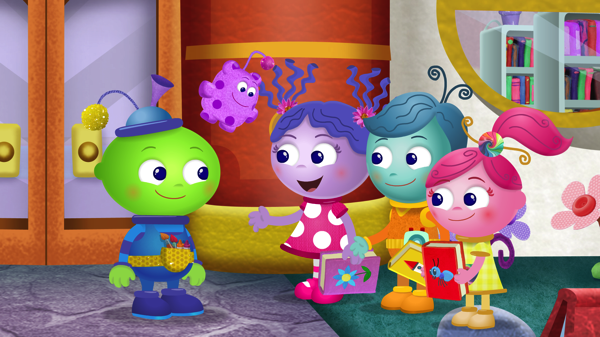 As a diehard Amazon Prime Instant Video fan, I absolutely love the depth of kid' shows that are now available on this streaming service.  Amazon made a smart move by tapping the best in the business when creating children's programming.  Dr. Alice Wilder, another one of my idols, is the Educational Advisor for Amazon Studios and is also one of the executive producers for Creative Galaxy.  Dr. Wilder is responsible for developing the Amazon Originals curriculum for kids and is helping implement Amazon's educational point of view into the development of new series. If my kids are going to be watching kid shows, I love knowing that educational professionals like Dr. Wilder are at the helm, helping to craft Amazon Originals' curriculum for kids.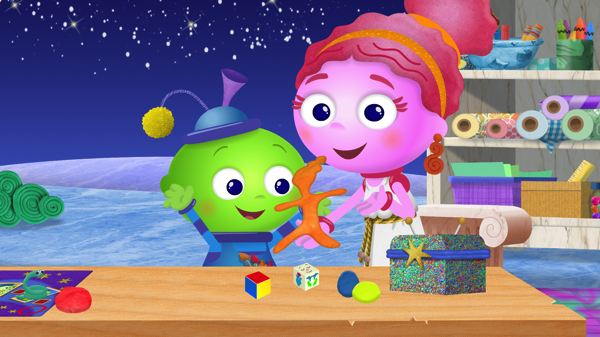 It Iooks like I'm not alone in loving Amazon Prime Instant Video's Creative Galaxy. Common Sense Media gives this new show four out of five stars. "The stories incorporate valuable prereading skills such as patterns, color identification, and counting in fun ways, and its interactive format encourages kids to consider how they might handle challenges such as the ones that Arty faces."
 And because crafts and tactile activities go hand in hand with fabulous shows like Creative Galaxy, here's a craft we had fun creating.
Glow in the Dark Rocket Ship Craft
From this creative show, we were inspired to do our own craft à la Arty and Creative Galaxy. Because my seven year old is much better at structured crafts than my 2 year old, he served as my crafting companion. But truly, this craft can be done with toddlers up to grade schoolers.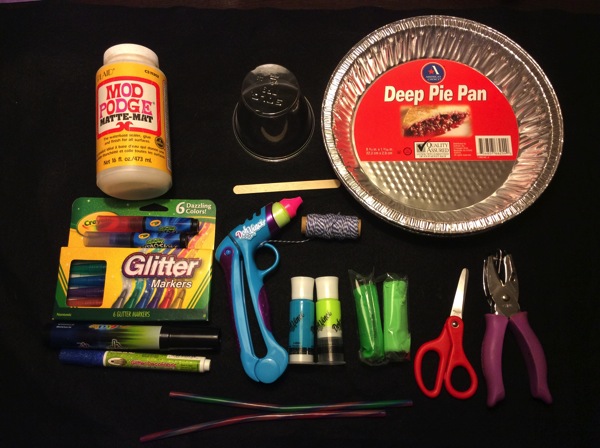 We used two pie tins, some glow sticks and Play Doh to create a simple Glow in the Dark Rocketship.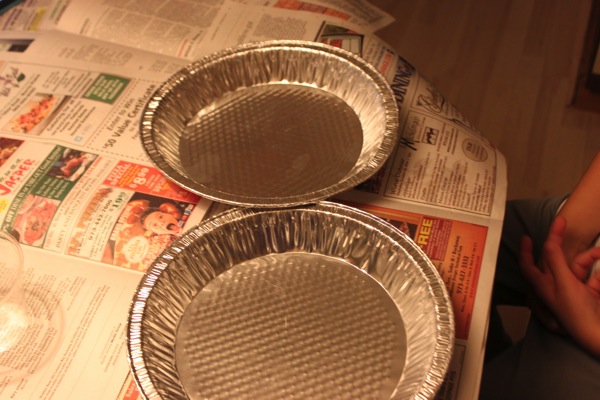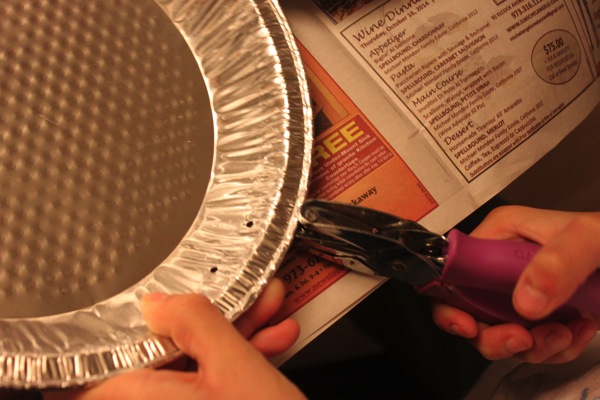 We punched holes in the pie ties with hole punchers.  We used two different size hole punchers, and I'm sure you can use a variety of shapes. We did the sides, but we'll probably do more on our next version.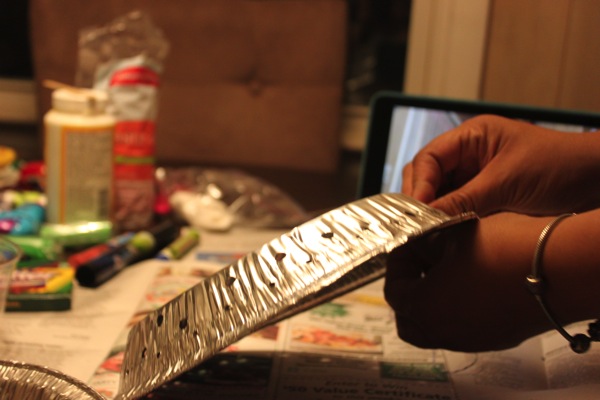 I then strung some baker's twine between the two pans to create a way to suspend the flying saucer. Before sealing our rocket ship we ignited our glow sticks. You can use any lightweight illuminating device, as long as it'll fit in the pie tins.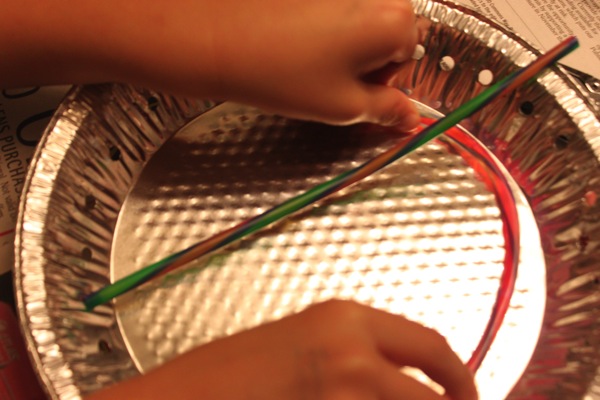 Once the glow sticks are lit up, you can seal the tins with modge podge and pinch the lips of the two tins together. As the glue is drying, you can create your alien who will be flying the saucer.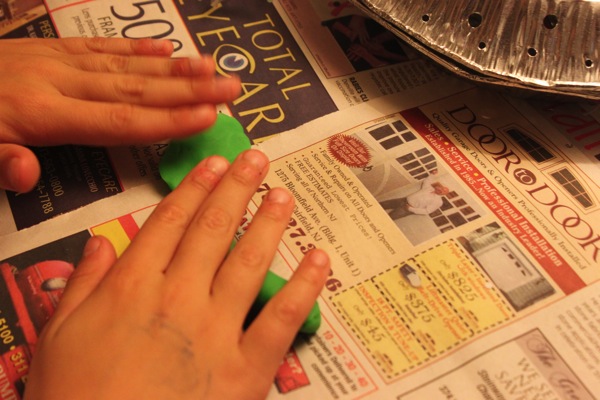 Have your child envision the torso and head of the alien, which will sit atop of the flying saucer.  Once the alien is sculpted with the Play Doh, secure the figure onto of the tin. Ideally, wait until the glue dries before placing the figure on top. Modge Podge usually takes a few hours to dry.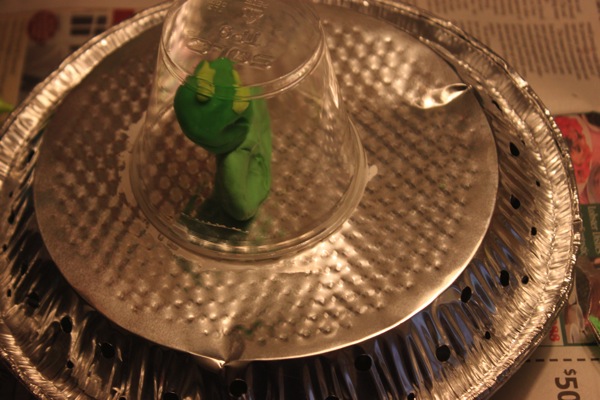 Place the plastic cup over the alien, which will serve as the bubble for the flying saucer.  Love my technical terms? To secure the cup, use Modge Podge along the lip of the cup and then center it over the alien.  After everything is dry, decorate your flying saucer as you wish.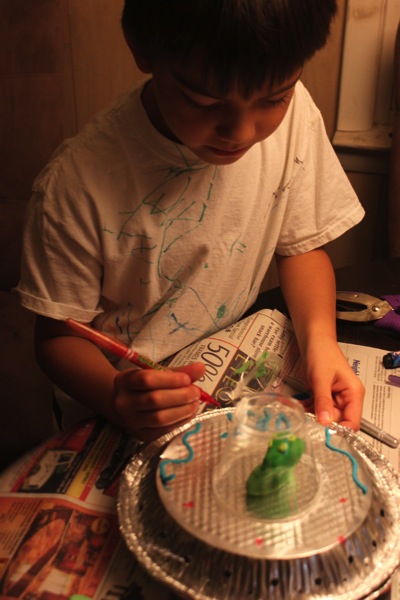 The more colors, the better!  Since glow sticks only last a few hours, it's fun to make this craft in the afternoon so you can use the Glow in the Dark Rocket Ship as a night light.  Use the twine to create a suspension device to hang from the ceiling!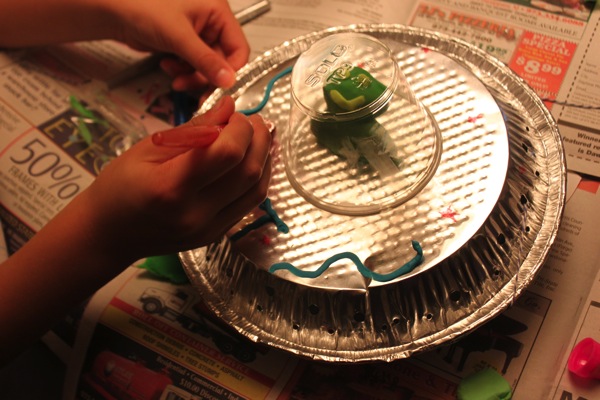 This craft hones in on fine motor skills and can serve as a conversation piece to bridge Creative Galaxy to some tactile play and creation. From this craft, parents can engage in conversation on stars, as well as light and dark.
As Arty and friends remind us: go and be amazing! That's a pretty perfect catch phrase if I ever heard one!
I was selected for this opportunity as a member of Clever Girls and the content and opinions expressed here are all my own.