With many of us starting school either this week or in the coming days, there's an equal mix of excitement and anxiety about starting with a clean slate.  Like many of you, we use the new school year as a chance to refresh our wardrobe and update our look.
 Just the other week, we learned firsthand about some easy back to school hairstyles.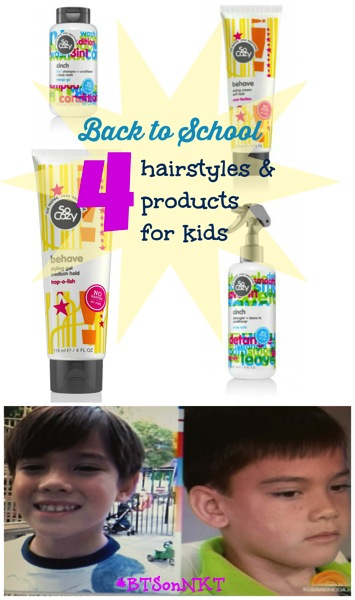 Biggie was asked to participate in a segment on the Today Show that focused on hairstyles for kids.  But before we get to his hairstyle, here are the tips we learned from Cozy Friedman of Cozy's Cuts.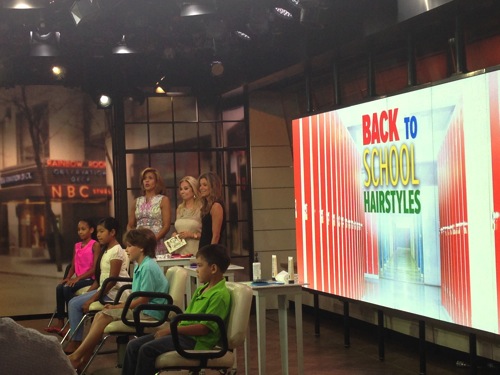 1. Turn a braided ponytail into an easy updo by wrapping it up in a bun.  You can accessorize with clips on the side to dress up this easy updo.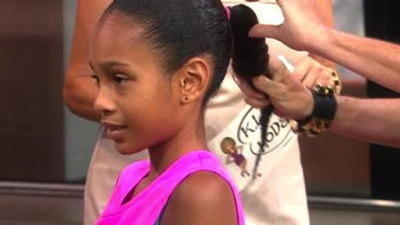 2. Turn a side ponytail inside out with a Flip Tail by parting the hair above the rubber band and then flipping the tail through the part.  This is an easy alternative for a regular pony.
3. Tame bedhead with detangler and then comb it through.  Add a drop of styling product to polish off a surfer look, and voilà!
4. And for the one that is most relevant for my guy, clean up a longer summer cut in lieu of a more conservative look and adding spikes in the front. From what I'm learning, boys this age are starting to become more aware of their appearance.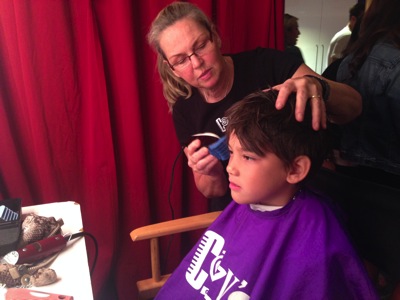 While my guy and I loved his longer locks, his hair got a lot of wear and tear this summer from all that swimming he did. So, one of the talented stylists from Cozy's Cuts for Kids trimmed his hair, added texture with some layers and then styled with some product, such as Cozy's styling gel.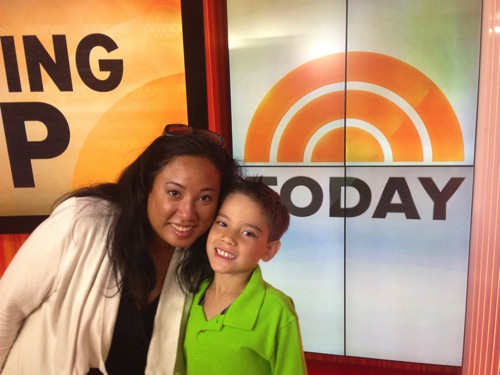 Cozy's tip about spiking the front of boys' hair like J's:  just use a drop of gel and massage into the roots and style as you'd like.  For shorter cuts like this, Cozy says you don't need product in the back since the hair already goes in its natural direction.
Cozy not only has a chain of hair salons geared to kids, but also has a line of excellent hair products called So Cozy Haircare for Children.  This line of hair care products has all kinds of good stuff and much less of the bad stuff. So Cozy Haircare boasts that their products are non-toxic, has no parabens, sulfates, phthalates, synthetic color, propylene glycol and are free of gluten, wheat and nuts.
1.  The 3-n-1 shampoo/conditioner and body wash is ideal for simplifying bath time, especially on hectic school nights.  The 3-n-1 formulation lets you lather up the kids in one fell swoop: from head all the way down to their toes.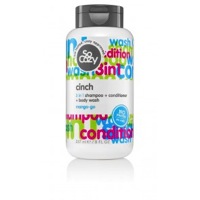 2. Behave Styling Cream helps to tame frizzies and defines curled hair with a softer hold.  The aloe barbadensis leaf extract helps to moisturize and soothe the hair and scalp.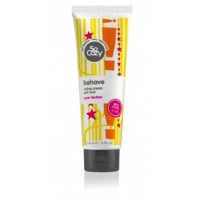 3.  Behave Styling Gel with medium hold helps to style those spikes or keep those slicked back styles smooth.  The tropical smell is a fresh twist for kids and the fruit acid complex helps to promote a healthy scalp.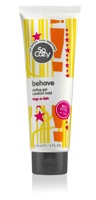 4.  Cinch Detangler and Leave-in Conditioner helps with hair that's prone to knotting.  It moisturizes as it makes combing hair easier.  It contains Keratin which helps to strengthen and protect hair.  The soy protein helps to promote growth and make hair soft.  This detangler is something I could've used as a long-haired kid, and to this day as a knotty-haired mama!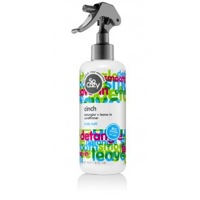 So Cozy for kids is a fun line and ideal for streamlining those back to school routines at home!  In the NYC? Head over to Cozy Cuts for Kids for those back to school cuts!
And, in case you missed the Back to School segment on the Today Show the other week, here's Cozy demonstrating her tips on the kids, including my guy at the very end!
Visit NBCNews.com for breaking news, world news, and news about the economy