Art is everywhere.  That's the main message that I learned last week after attending a really cool event at PS 289 in NYC.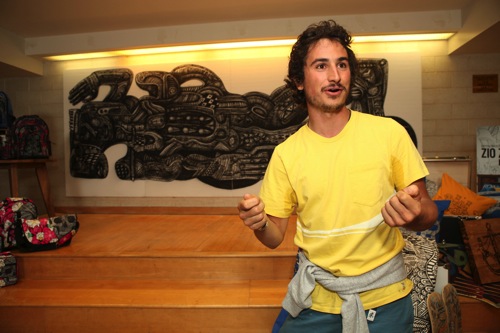 Photo credit: PB Teen
Artist Zio Ziegler has collaborated with PB Teen to release a rad line of gear, including bedding, book and lunch bags, among other things.
In conjunction with his collaboration, Bay area artist, Ziegler, who typically works with spray paint, was commissioned to do a mural for PS 289.  I was onhand for the unveiling, which captured the artist's essence and passion for influencing art for our youth.
Ziegler's mural was unveiled to reveal two figures intertwined, which he said symbolized his duality and relationship with school.  It's a modern and thought-provoking piece, and one that's perfectly positioned to influence aspiring artists for years to come.
While working on the piece, Ziegler also had a chance to engage with a select group of students within their art classes.  He gave them pointers and even drew fun pictures for keepsakes.  One forward-thinking student had white Converse sneakers and had Ziegler draw a custom graphic.
At the unveiling, PB Teen had a selection of pieces from the ZZ line out on display.  As a Pottery Barn fan in general, naturally, I fell in love with everything.  From the hot pink laptop sleeve adorned with ZZ's signature art to the skate deck shelves, I'd officially like one of everything from this funky collaboration.
Zio Ziegler for PB Teen will be available soon, so enjoy these photos as a sneak peek for what's to come!  Be on the look out for these bright statement pieces that are perfectly suited for teens and beyond.