Subscription boxes continue to be a hot trend these days.  There are boxes for all walks of life; you name it, there's probably a subscription box for it.  In this digital age when snail mail continues to lose its luster, there's nothing better than getting a cool package of stuff that you love…which is why I adore subscription boxes!
Dubbed as Comic Con in a box, Nerd Block has been around for awhile.  Nerd Block's little brother and sister recently made their debut and they're aptly called: Nerd Block Jr. Boys and Nerd Block Jr. Girls.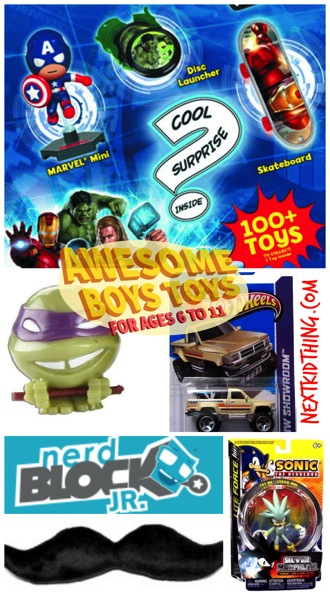 Appealing to the new generation of geeks, Nerd Block Jr. is a monthly subscription box that includes collectibles and trinkets that appeal to the 6-12 age range.  From Marvel to Hot Wheels to Star Wars, we absolutely loved everything included in the boys' box.  The girls' box was just as cool, featuring My Little Pony, Smurfs and Playmobil.  
Nerd Block Jr. has all well known licenses and items that kids are known to collect.  Each individual item was worth just a few dollars, but the entirety of the box added up to around $20.  A monthly box costs about $13, so Nerd Block Jr. is a good deal.
Nerd Block Jr. is my new go-to box for the tween who has everything.  The element of surprise when opening up a Nerd Block Jr. box is just as enjoyable as the goodies inside.
Check out our unboxing video to see the fun goodies that can be found in Nerd Block Jr.