Spring is finally in full swing.  Even though it's still chilly, we're resisting the cold.  It's pretty safe to say that we officially have spring fever.
And with spring fever, there's plenty of fun new toys and play things to get excited about this Spring.
With that in mind, I thought I'd round up some cool new toys and products to get you excited for spring and the prospect of the kids playing outdoors until the street lights come on.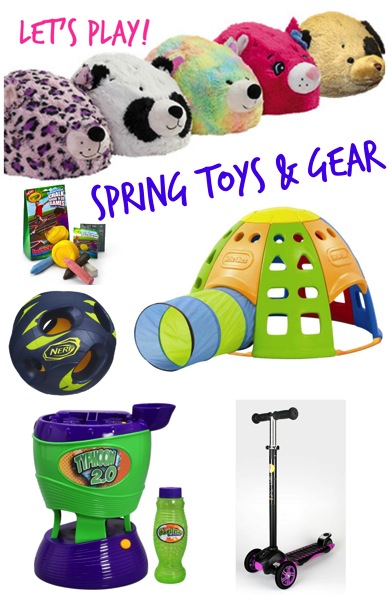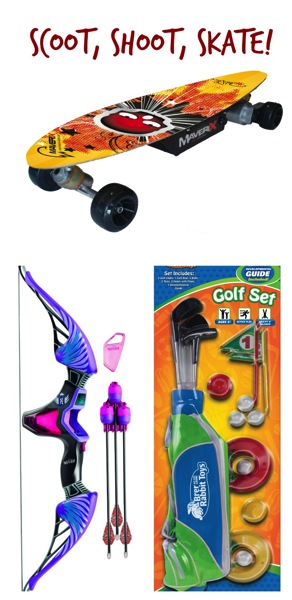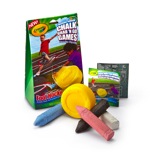 Crayola's new Grab & Go Games is one of my favorites this seasons.  The kit includes chalk and accessories needed to play an outdoor game such as bean bag toss, foot hockey, chip shot golf and an obstacle course.  These are games we've been playing for years, but Crayola, as always, has the foresight to conveniently package these games for easy outdoor play. Grab & Go
Games retails for about $4.99
Tricksters Helmets are a line of plush helmets from the makers of Pillow Pets.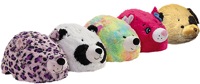 The helmets, themselves, are the hard, protective kind that can be used for bike riding, scootering and beyond, but what makes Tricksters different is the plush exterior. 
 They can be found at www.trickstershelmets.com or at select specialty retailers.The Trickster Helmets come in five different styles: Rainbow Bear, Flower Power Cat, Lulu Leopard, Comfy Pandy and Snuggly Puppy.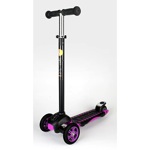 This 3-wheeled scooter features an adjustable handle and super-efficient foot brake.  The sleek design and compact frame set this scooter apart from other well known brands.  What I like most about this scooter is that my 2 year old can use the scooter in the handlebar's lowest position and my oldest can glide across the street in one of the middle settings.  The YBike GLX pro is a scooter that will go and grow with the kids! A more thorough review to come!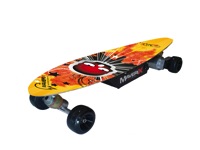 This remote controlled board takes street skating to a whole new level.  Geared to older kids and more experienced skate enthusiasts, the California model was designed to be light weight and has a variety of speed variations. Equipped with a wireless remote control the 3 positions (Beginner / Medium / Expert) and brake are all powered by a simple movement of the trigger! It has a power motor 150W and max weight 100lbs  

Brer Rabbit Toy's Golf Bag is a fun beginner set for wanna-be golfers.  It comes with three toy golf clubs, two tees, two holes, two numbered flags and five toy golf balls.  It's ideal for preschoolers who are interested in putting, but not quite ready for the driving range.  It's just hitting shelves now and retails for about $16.99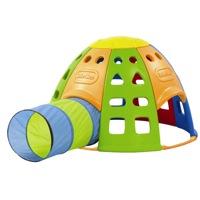 Little Tikes new dome-shaped climber channels play structures of yesterday.  It features various sized holes to accommodate those who need easy or challenging climbing play.  The hiding spots, too, would make for great preschool play. I love that this outdoor toy provides endless play patterns for younger kids and beyond.  The Tunnel N Dome Climber retails for $149.99 
Resembling a Nerf-textured O-ball, the Bash Ball has a cool hollowed Nerf foam core with grip-able holes.  The holes gives kids a better grip to pass, fling, whip or whatever!  This ball is one of our absolute favorite toys right now.  It's been fun for both my bigger boy and my littler guy; and an absolutely ideal toy for OT and PT.  This is such a cool innovation, I'm excited to check out even more NERF N-Sports gear!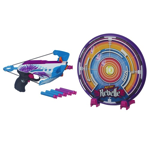 The super popular Nerf Rebelle line is unveiling several more products to their lineup. The Star Shot Target Set and Crossbow is among the new products, and will help make target practice even easier with the red laser light that helps to pinpoint the target.  The Star Shot target set includes a crossbow, large size target and comes with 6 suction cup darts.NERF Rebelle Star Shot Target Set and Crossbow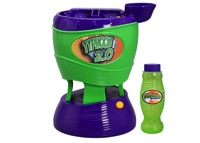 When old fashioned bubbles just aren't enough: you can create a gazillion bubbles instantly with the Gazillion Bubbles Typhoon 2.0.  There's no  pump and or wait time, just massive amounts of bubbles with this fun contraption.. In fact, this bubble fountain blows more than 5,000 bubbles per minute.