Happy St. Patrick's Day!  Not sure if any of you caught any leprechauns, but we sure didn't.  We did, however, enjoy creating some fun food goodies.  St. Patrick's Day and food go hand in hand in our house.  
I got a kick out of Family Fun's Leprechaun-inspired treats.  How cute are these tiny hats and donuts?!  We'll be doing some fun after school creations after school today!  
 Leprechaun Hats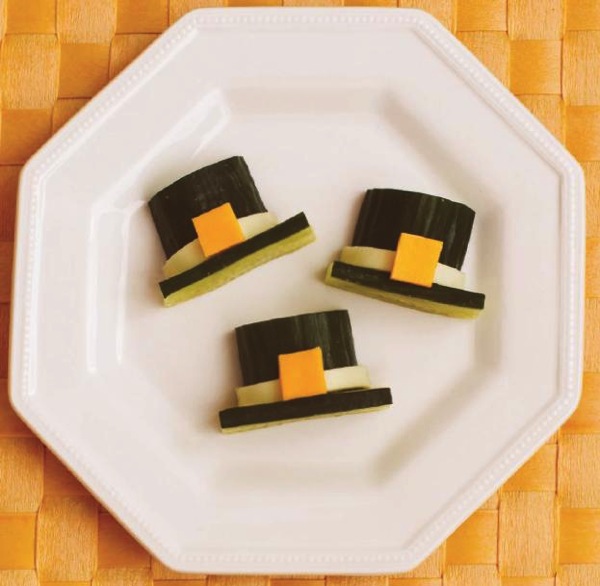 Ingredients
English cucumber
Sliced cheese
Hummus
 Directions
Celebrate Saint Pat's with a crunchy cucumber treat. Cut 1-inch sections of an English cucumber. Halve them lengthwise and lay the pieces flat on a plate, as shown. Trim a cucumber brim for each hat and set it in place. Finish with a sliced cheese band and buckle, attached with dots of hummus or dip.
Leprechaun Doughnuts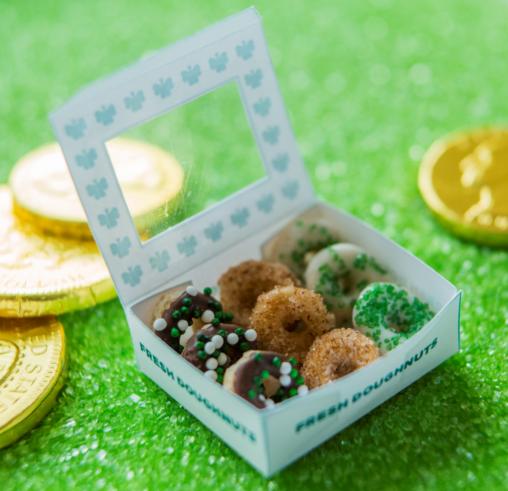 Ingredients
Chocolate sprinkle:
O-shaped cereal
Dark or white chocolate
Colored sprinkles
 Cinnamon sugar:
O-shaped cereal
Sugar
Cinnamon sugar
 Directions
Lure wee visitors this Saint Patrick's Day with O-shaped cereal disguised as tiny doughnuts. Prepare each variety following the steps at right and let dry on waxed paper. Add to the fun by placing them in a miniature box (get our template at familyfunmag.com/printables).
Chocolate sprinkle:
Dip the tops of O-shaped cereal into melted dark or white chocolate (the tines of a fork work well for this) and cover with sprinkles.
Cinnamon sugar:
Over medium-high heat, dissolve ½ cup sugar in ½ cup water. Let it cool. Dip the O's, a few at a time, in the syrup, then toss them in a small bowl of cinnamon sugar.