For young boys and girls, super heroes personify strength and bravery.  So, when toys depict these super heroes and super powers, action figures become an extension of their imagination.  
Over the past few years, we've become major MAJOR super hero fans.  What with Iron Man, Captain America, The Avengers and other Marvel movies on the big screen and eventually making their way to our small screen, it's super hero all day, every day around here.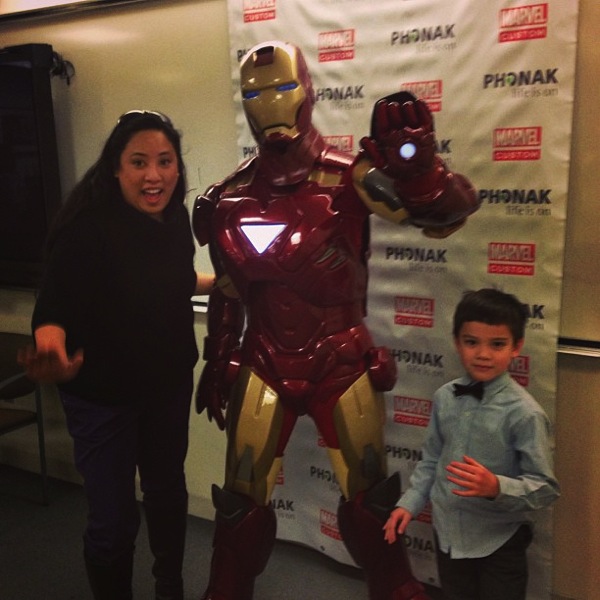 Appropriately enough, Hasbro's line of Marvel toys are some of our most played-with toys in our house.  Marvel Super Hero Mashers, which debuted a few weeks ago, are perhaps among my favorite action figures to date.  What sets these super hero action figures apart from the rest?  They're completely customizable!
As action figures promote imagination and creative play, why not customize the super hero and his powers while you're at it?  Well played, Hasbro.
Excited to get a first look at Marvel Mashers, my guys haven't put them down since they arrived.   Marvel Super Hero Mashers combines construction/building with action figures, which is the most popular play pattern for my six year old and his copycat two year old little brother.  For review, we received a Marvel Mashers Action Figure Assortment of Hawkeye and an Action Figure Assortment Upgrade of Hulk.
To be able to mash Spidey's arms with Captain America's Legs, Iron Man's torso and Hulk's other arm most definitely extends his imagination and creative inner story lines and then some.
Not sure about you, but when we were kids, I remember taking apart GI Joes and then trying to reconstruct our own guys.  It was endless fun!  So, to me, Marvel Mashers is a brilliant concept and past play pattern come true.  My six year old is within the target age demographic, and without a surprise, it's a mega hit for him.  Biggie says: "Marvel Mashers is cool because you can make your own guy and mix with another guy, too."
For a six year old, it was fairly simple to mix and match, but at times, it was difficult for my son to interlock some of the limbs and parts on his own. Nevertheless, once we had the figures put together, it was open-ended superhero play for everyone.We've been having fun mixing and mashing our characters, but in my opinion, we had even more fun when we added even more characters' "parts" to the mix.
I'm such a fan of Marvel Mashers that when I attended last month's Hasbro cocktail party at Toy Fair, I was beside myself when I saw the Marvel Mashers corner.  
I stood there, alongside several of my fellow bloggers, building our own superhero and naming them ourselves.  I loved digging into the buckets full of Mashers and making my very own superhero with the absolute best powers.  I lovingly named him Captain Wolverman.
Marvel Mashers has made its mark as custom action figures, underscoring this superhero and construction play pattern which is huge for this age bracket.  It's an absolute favorite in my house, and not surprisingly, I will most likely find broken (non Masher) action figures at the hands of my boys who will want to Mash every character they meet from now on.
Full disclosure:  I received samples of Hasbro Marvel Mashers to facilitate this review.  As always, all opinions are my own.