When it comes to fresh fruit, we have no problem snacking on the real deal, especially when it's in season.  There's nothing quite like enjoying a fresh piece of fruit and savoring the natural sweetness and natural juices.  But freeze juice?  Now, we're talking.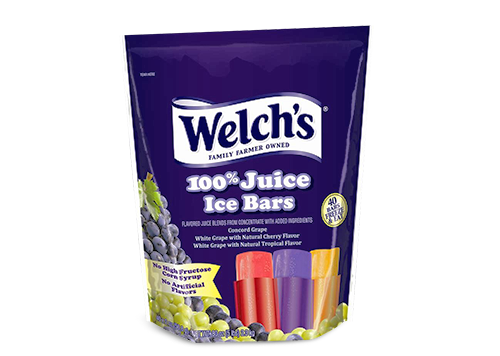 Though we're well-versed with Welch's juices, I was recently introduced to Welch's 100% Juice Ice Bars after attending Momtrends' Holiday soirée.  After freezing the Juice Ice Bars for a few hours, we broke out the treats after dinner the other night.  They were sweet, flavorful, convenient, without all of the usual suspects found in other frozen treats.  By the way, if you're adamant about integrating a "rainbow" of food to your family's diet, Welch's Grape Juice is a great way to incorporate purple foods since each four ounce glass amounts to a half cup of fruit, which is also one serving.
Back to the Juice Ice Bars: the pack that we sampled came with eight Juice Ice Bars, in three different flavors: concord grape, white grape with natural tropical flavor and white grape with natural cherry flavor.  J's favorite of the bunch was definitely the white grape with natural tropical flavor because, according to him: "it tastes yummy like summer!"  Naturally.
And speaking of naturally, one of the major selling points of these Juice Ice Bars is that they aren't sweetened with HFCS or contain artificial colors or flavoring.  I'll always associate my youth with ice pops, but unfortunately, it's rare to find frozen treats these days that aren't laden with artificial additives.  Welch's Juice Ice Bars, though, have simple ingredients that I can feel good about serving my boys. I try to seek out the more wholesome ingredients, especially when it involves convenience and processed foods. So, having frozen fruit juice as an ice pop is a sweet treat indeed.
I love the fact that Welch's Juice Ice Bars are shelf stable until they're ready to freeze.  This makes having them on hand in the cupboard that much easier.  To sweeten the deal: Welch's Juice Ice Bars are no more than 45 calories per serving.
Welch's Juice Ice Bars, manufactured by Kisco, are a seasonal product that will be back in stores this Spring. In fact, while doing some research, I found that the die-hard Welch's Juice Ice Bars fans stock up on these treats and anxiously wait until they return to the store.  After tasting them ourselves, I totally understand the demand for these frozen treats.

The only thing that would make Welch's Juice Ice Bars even better is to have them more accessible year-round.  We're already counting down the days 'til Spring.
I appreciate that Welch's is a family affair: Welch's is a Family Farmer owned company that uses concord and Niagra grapes grown in vineyards across North America, with many of the farms having been in their families for generations. The Welch's Juice Ice Bars come in a freezer friendly bag with flavors including concord grape, white grape with natural cherry and white grape with natural tropical flavor.  Welch's Juice Ice Bars can be found at Stew Leonards, Dairy Fresh, HEB, Canadian retailers: Demoulas, Loblaws and Sobeys.  As well as at BJs, Costco, Christmas Tree Shops and Walmart.
Full disclosure:  This is a sponsored post, but as always, all opinions on NKT are my own.