There are so many fantastic toys out there for boys, and since my older son is at the sweet spot for big boy toys, I thought I'd round out his absolute favorites of the season.
My older son, whom I often refer to as Biggie or just 'J', has been tagging along with me to media and blogger events since he was just a year old.  He's always had quite discernible taste, but as he's gotten older, in terms of the next big thing in kid stuff, he's truly seen it all.  Every November, when we open the Big Box stores' toy circular, he circles less, if anything, and instead, offers his personal opinions on the toy manufacturer's latest wares.
We had grand plans of having him do videos of the below toys, but life got in the way. Nevertheless, here's a round up of really awesome goodies, gear and gadgets that my blogger's kid really appreciates with my annotations :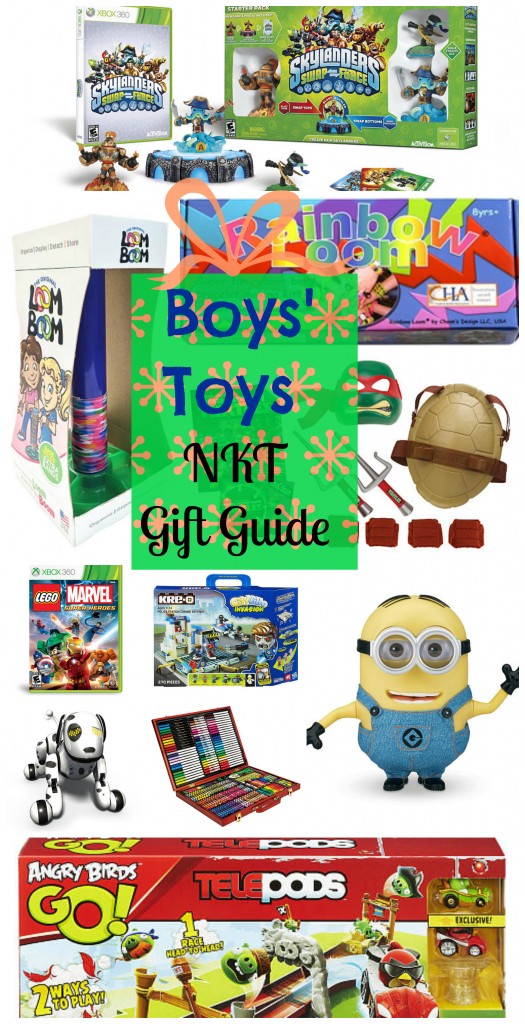 After much anticipation about this mega-successful franchise, J's first impression of Swap Force was that it has a "new Chompy."  That wasn't exactly the reaction I was expecting, but nonetheless, we've enjoyed exploring Skylands even further with Swap Force.
The ability to swap characters' bottom halves to determine how they move and interchange tops which determines how they fight.  The interchangeability makes gameplay possibilities practically limitless.
This game is by far the most played game at our house.  My husband and son co-play video games, so playing a game with every (Marvel) superhero imaginable is beyond addictive for our house.  Combine the love with superheroes and Lego and you have Lego Marvel Superheroes, which is perhaps, our most favorite game of the year.  The story lines, graphics, superhero theme are just a few of the many elements that keep my guys engaged for hours.  True story: I know that a game is really good if my husband continues to play after my son goes to bed.
3. Angry Birds Go! Telepods Pig Rock Raceway Set
I've said it for years, but one of the smartest things for toy manufacturers to stay relevant in this ever-evolving digital world, is to coexist.  Hasbro is proving just that with their Teleport series of games, including their latest Angry Birds Go! Teleport game.  Angry Birds Go! is the latest version of the uber popular app that features those pesky pigs and titular Angry Birds, but this time, they're racing.  The Angry Birds Go! Teleport Game allows players to race with tactile play and a physical race track, but also use the game figures to teleport into the app via front-facing camera on a smart phone or tablet.
4.  Rainbow Loom
Rainbow Loom, created by a dad of young girls who wanted to make rubber band bracelet creation easier, is rightfully up for one of the Toys of the Year.  This sensation is an old skill that's making waves.  The Rainbow Loom is engaging both boys and girls, and giving them time to disconnect, stay focused on the task at hand while using their creativity, math skills and often times, encouraging charitable giving with completed bracelets and other creations.  What's NOT to love about this fantastic toy?
Loom Boom is a holder and display fixture in the shape of a boom.  This simple structure was created by a young NJ boy who fulfilled a need to display creations.  The Loom Boom is proof that the Rainbow Loom and its creations fosters imagination and ingenuity. The Loom Boom comes in a variety of colors and can be found at TRU.  Support small business and USA-made products by grabbing a Loom Boom for stockings.
Introduced to this shapeshifting Ionix building set from Spinmaster at the recent Kidz Vuz event, J loves how the ninja warrior aspect meets building with your hands.  This is a brand new toy that's based on a series, so I'm excited to learn more about Tenkai Knights soon.
6. Kreo Cityville Invasion

Another amazing building set, Kreo's Cityville Invasion brings monsters, zombies and more to "life."  The cool monster theme keeps J engaged in this version of Kreo.
7. Crayola Crayons and Markers
Screentime during the week is extremely limited.  Depending on how much reading and homework is done, J gets less than an hour of screen time.  And in these cold winter months when we don't have a sport during the week, we have to fill that downtime with something.  J creates murals and masterpieces almost daily with his Crayola art supplies.  Each cool drawing makes my heart grow even bigger.
8.  Minions
Those little yellow dudes have captured America's hearts—well, with the littler guys anyway. J cracks up at these guys' gibberish and silly shenanigans.  Thinkway Toys' Dave, which can be found at Toys R Us, is truly one of the coolest interactive toys on the shelves today. This toy says upwards to 50 phrases and makes us laugh effortlessly. Looking for a last minute add-on gift?  Download Minion Rush for the kids.  My guys is obsessed with Minions!
9.  Teenage Mutant Ninja Turtles
There's so much to love about TMNT, that it's hard to narrow it down for J.  I just love that this franchise is almost as popular as it was when I was a kid!  The Nickelodeon series heightened the popularity of this throwback brand, it's no surprise the toys are super hot sellers, too. From the lair to the RC Subway Car to the role playing gear, TMNT is taking over our Christmas gifts.
10.  Zoomer
I was smitten by Zoomer at Toy Fair this year.  Zoomer was one of the most memorable toys that I knew would be a hit this holiday season.  Zoomer is a robotic dog, who is ideal for those families who can't have a real dog, or just aren't ready.  Zoomer has quite the character and can be trained to learn commands.  He sings, "runs," rolls over, goes to sleep, among other tricks.  J's favorite trick:  having him pee.  What's so fantastic about Zoomer is that he is popular with both the big kid and with the toddler.  Even more?  Zoomer has an app where you can learn different commands.  Zoomer, another favorite for Toy of the Year, is, no doubt, one of my personal favorites as well.