There are so many wonderful toys for toddlers, I wanted to share just a few of our very favorites. With Christmas here, many of these were still available at my local Target, Apple Store and other toy store.
As I've said before, with Josh's various delays, I view toys and play pattern very differently now. What was once a mediocre toy, I now find has so many great qualities for extended and open ended play. I appreciate the kinds of toys that encourage imaginative play and increase creative thought. We enjoy toys that use batteries, but not in an obtrusive, overstimulating way.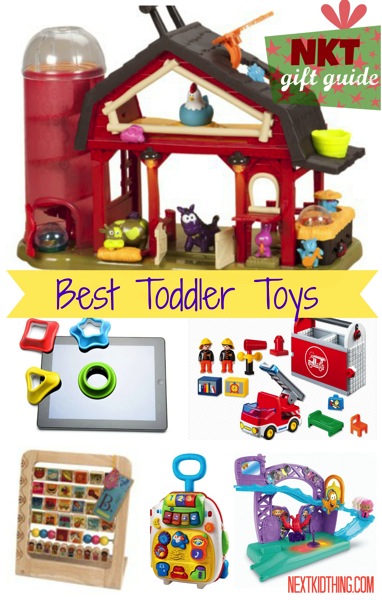 1. Baa Baa Barn
Baa Baa Barn is, perhaps, the most play-ed with toy in our lineup of toddler toys. This barn play set from B. Toys features a jewel-toned set up and funky music. I love that there are so many nooks and crannies for toddlers to explore. The best feature of this unique farm-inspired play set, though, is the incorporation of interactive music. When an animal is placed on the barn floor, the song that's played reflects the animal sounds. The little blue sax-playing raccoon has the funkiest beat that gets my almost two-year old grooving. Grab this awesome play set at Target.
2. Tiggly Shapes
I'm not very big into screen time with young tots; however, there are a few exceptions for my feelings on this. I appreciate when iPads or tablets reinforce educational play. Limited educational play via tablets have shown increased language skills and developmental progress in young children. While I am totally against using a tablet as a babysitter, I love that there are appcessory-type toys such as Tiggly Shapes that encourage this sort of educational play that I currently seek for my IE tot.
Tiggly Shapes combines tactile and digital play, merging play patterns to create a conducive learning experience for toddlers and preschoolers. With four interactive shapes, kids can explore shapes and objects on the iPad through several apps. The most recent app, in fact, is a Christmas-themed app that brings the season full circle. Pun intended.
3. 1, 2, 3 Take Along Fire Station
With a portable fire station set up, foldable wall and lift to the relaxation room on the first floor, what's not to love about Playmobil's Take Along Fire Station? This set's portability and fire station theme, combined with the chunkier pieces make it ideal for toddlers and preschoolers. I love that it encourages open-ended play, doesn't require batteries and houses all of its own pieces in the station. Playmobil is a classic and well-loved brand in our house with the big boy, but this playlet is a welcomed addition for my curious toddler.
4. AB3's
Another fabulous B. Toys products lands in our favorites of the season. This beautiful wooden alphabet and number toy features letters at the top and numbered figures at the bottom which can be spun over and over. The beautiful colors and wooden details make this abacus-like toy a must-keep for future generations, and as my husband described, it's totally "heirloom-quality." This would make a beautiful gift for a baby, just as it would for a preschooler. My own toddler loves to watch the numbers spin, but I personally look forward to helping him learn his AB3's.
5. Roll and Learn Suitcase
VTech toys never seem to disappoint, and the same goes for this innovative rolling suitcase from VTech. From the intuitive buttons to removable travel inspired blocks, this rolling suitcase can be opened to house smaller toys. The suitcase, aptly, is toddler-sized and can be rolled or pushed around with ease. I love the interactive features of this case, which is similar to that familiar VTech toys interface. My only qualm with this toy, though, is that I would have loved to see the interior include a little more interactivity.
6. Bubble Guppies Rock n Roll Stage
A favorite for preschoolers, Bubble Guppies' catchy songs can be recreated on their Rock n Roll Stage. The stage gives these lovable characters a platform to sing and dance, and encourages imaginative play for Bubble Guppies' fans. I love that the characters slide around on this playset. The fun songs and cute Nickelodeon characters make this playset a must-have for ocean-loving and Bubble Guppies fans alike.