As we start to get into the back to school groove, the tv industry has been busy gearing up for new seasons, sparkly new shows and the release of a whole new host of characters.
In addition to other weekly features, I'm hoping to start a quick update on Tuesdays with the latest info on new shows and updates surrounding the characters we all know and love.  Here's a round up of what's going on in the children's tv:
Nickelodeon
Just in time for the dog days of summer, there's a new show on Nickelodeon that focuses on a six pack of rescue pups. Nickelodeon's new CG-animated preschool series Paw Patrol is where, "no job is too big, no pup is too small."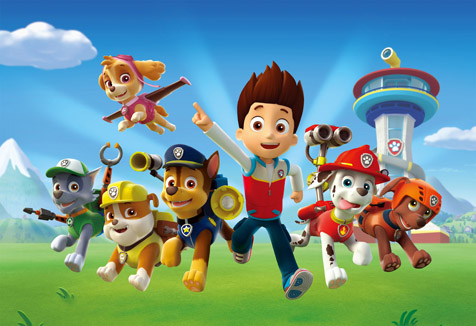 The rescue pups, Chase, Marshall, Rocky, Rubble, Zuma and Skye, led by a tech-savvy boy named Ryder, features a curriculum of citizenship, social skills and problem-solving.  To underscore the show's theme of responsibility and humane treatment of animals, and in conjunction with the Paw Patrol launch, Nickelodeon has partnered with the ASPCA® (The American Society for the Prevention of Cruelty to Animals).  Head to Nick Jr.'s site to watch the Paw Patrol trailer, print activity packs
Disney
Doc McStuffins has hit the road with a tricked out Airstream Trailer, dubbed the Doc Mobile.  The hit show emphasizes good health and compassion through stories of a young girl, who cares for her ailing stuffed animals and other toys.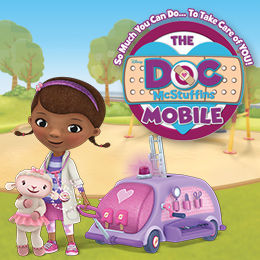 The Doc Mobile features an area for kids to perform a "check-up" on their own toys plus other activities and age-appropriate health and wellness lessons including nutrition and physical development and fitness.  The Doc Mobile makes a stop in NYC tomorrow at the Disney Store in Times Square from 10 am- 4pm

To find out where the Doc Mobile is headed next, check out this link.
Doc McStuffins' season two premieres on Friday, September 6, with upcoming stars including: Geena Davis, Jeffrey Tambor, Tony Hale, Molly Shannon, Sutton Foster, Amy Sedaris and Peter MacNicol.
PBS
Labor Day is "Neighbor Day" on PBS KIDS with the premiere of an all new episode of Daniel Tiger's Neighborhood on Monday, September 2.  In honor of #Neighborday, PBS Kids is offering a free episode download on iTunes.  Be sure to snatch this up before the offer ends on September 3.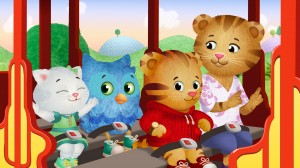 And speaking of Daniel Tiger awesomeness, it was recently announced that Daniel Tiger Toys will be at Toys R Us Exclusively next month. These highly anticipated toys are made by JAKKS Pacific, and include plush, playsets and collectible figures featuring the star of the animated TV series, Daniel Tiger, and his friends, Katerina Kittycat, Miss Elaina, Prince Wednesday and O the Owl.
In addition to the toys, other merchandise includes games and puzzles from University Games, books from Simon & Schuster Children's Publishing imprint Simon Spotlight and personalized t-shirts available on Toysrus.com and at Toys"R"Us Times Square through partner Ty's Toy Box.  Among the initial lineup of toys announced, I'm particularly excited about Neighborhood Trolley with Daniel Tiger figure and Daniel Tiger and friends plush!  I'll have a more in-depth feature on PBS soon, but I'm super excited about this DT news.
Hub
Over at The Hub, they're looking beyond back to school and end of summer fun and highlighting Halloween.  The Hub announced that Martha Stewart will appear as the Halloween expert as part of the panel of celebrity judges scheduled to participate in the network's nationwide costume competition on the "Hub Network's First Annual Halloween Bash," to be broadcast Saturday, October 26.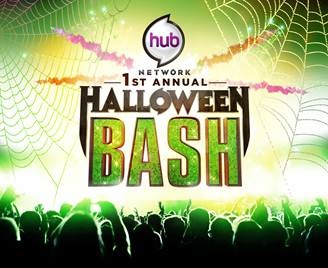 The channel is encouraging viewers to enlist their imagination and creativity for this unique costume contest.  Submissions began Friday, August 16 and 50 semi-finalists representing each state in America will win a trip to Los Angeles to be a part of the two-hour event. One lucky winner will take home $25,000 and will have a chance at a walk-on role on the Hub Network's Daytime Emmy Award-winning series, "R.L. Stine's The Haunting Hour: The Series."
The competition is open to all ages, including individuals or a maximum of five people per group submission. Participants are encouraged to create eye-popping, hair-raising and spooky costumes within one of the following six categories:
·         Howl-arious – Shows the lighter side of Halloween with a take on a fun, funny or otherwise hilarious costume.
·         Spook-tacular – Get ready to frighten America by showcasing the most spine-chilling costume for all the ghosts and ghouls out there.
·         Mad Genius – Unique, original, innovative and never seen before. A knight in
armor fashioned from bottle caps, bat wings made from old umbrellas, or a
cardboard-box jetpack, the possibilities are endless. Display a costume unlike
any other — show your Mad Genius.
·         Blast from the Past – Take a stroll down memory lane with a timeless costume. Memories, nostalgia and yesteryear brought to life. Show your take on great figures from before the 20thcentury or a retro 50's sock hop get up, 60's flower child or other "period" inspired costumes.
·         Animal Kingdom – Transform into a living creature from the past or present. Be a roaring lion, a school of jellyfish, a firefly, or a Tyrannosaurus Rex.
·         Everyday Stuff – We're looking for the coolest refrigerator/freezer, remote control, mailbox, block of Swiss cheese, telephone and more.  Be creative and transform the ordinary into the extra-ordinary.
For more information on the contest check out hubworld.com/Halloween to view a two-minute tutorial detailing complete details and entry information about the nationwide costume competition. The deadline to enter is Sunday, September 29.