It's that time of year! If you check the calendar, then you must know what today means. If you're gullible like me, you'll believe almost every "new" product everyone's shilling today. Here's a collection of just some of the funniest Next Kid Things floating around the interwebs:
Crib Dribbler
The Crib Dribbler sounds like the perfect answer for exhausted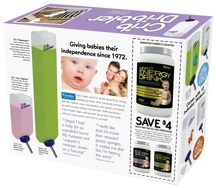 parents. Better yet, this automatic feeding system, fashioned like a water bottle hung in a rodent's cage, would be a must have for the lazy parenting types. You know the kind.
Thank goodness this system is just a gag box from Prank Pack. The back of the box, though, is the best! Ha!
Munchkin Naughty Mouth Soap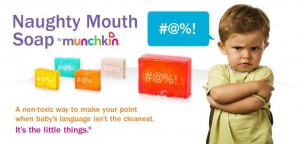 The Munchkin Naughty Mouth Soap actually sounds like it would have some weight in the tough love aisle. According to the spoof press release: Parents of little children who are prone to potty mouth now have a valuable tool in their parenting arsenal. The Naughty Mouth Soap is non-toxic but foul-tasting deterrent to stop the future use of inappropriate language. As a sushi fan, my favorite is Whining Wasabi. Other flavors include: Lying Liver, Spoiled Child Spoiled Milk, Vulgarity Vomit and Extra-Strength Sour Pout Face. Well played, Munchkin!
I'm actually a big fan of Munchkin products (I swear by the White Hot Safety Duck Tub!), so I got a big kick out of this funny April Fool's Day joke!
Skip Hop Sippy Helmet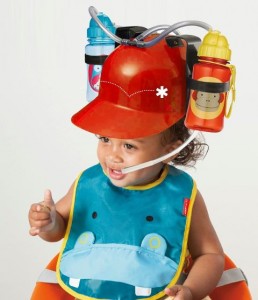 This Sippy Helmet would've been perfect on our whirlwind road trip. For a sippy cup wielding baby having to ride in the car for 12 hours in one weekend, this gag would actually come in handy for the trip. Too funny, Skip Hop! Haha!
Even though these fun products are just gags for April Fool's Day, it's fun to chuckle at all of crazy possibilities for the next big thing for kids. What crazy things have you seen today?
Happy April Fool's Day. Be careful and have fun!