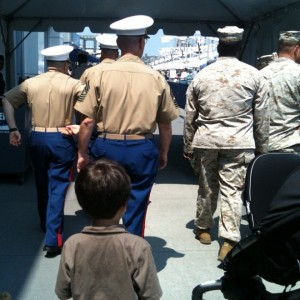 It may have been the unofficial start to summer, but beyond BBQs and beach time, this past weekend was a time to celebrate those who serve and have served in our military. A product of the U.S. Navy and U.S. Merchant Marines, military service was the glue that held my family together. My dad's service brought him to the U.S., provided for our family and ultimately, put me through college. I count my lucky stars every day, and now that the Big Kid is old enough to comprehend the military and our service men and women, I felt that it was our duty to help better educate him on the topic.

In line with Memorial Day celebrations, this past Saturday, some characters from Sesame Street performed on The Intrepid, as part of the launch of its newest outreach initiative, Little Children, Big Challenges. This educational message is quite relevant for military, veteran, and other families with young children, to help increase self-awareness, boost self-esteem, and help children persevere through changes.
With my dad in the Navy, as a young girl, saying goodbye for months at a time was quite common.  As a result, separation and uncertainty are issues that still sting to this day, but as a parent now, I'm so glad to know there are helpful outlets that can cushion the blow. In the reality that is our world, military families face so many adversities, and sadly, separation is sometimes the smallest of their worries; it's comforting to know that Sesame Street provides an outlet that embraces these feelings that sometimes only military families can understand.
I was honored to be onhand on the Intrepid with my own family to capture the debut of the anthem of this latest outreach, What I Am, sung by American Idol alum, Matt Rogers. As fun as it was to cheer and laugh along with Elmo, Rosita, Gordon and Matt, it was the Quantico Marine Corps Band accompaniment that gave us all the chills. Listening to the band accompany this Sesame Street performance, penned for families going through changes, I have to say, was quite moving and memorable, to say the least.

Because Fleet Week festivities were wrapping up at the Intrepid, we were able to take part in a few educational activities. The Big Kids most favorite activity was building his own boat, with supplies and directions supplied by the Navy's ONR. The Big Kid crafted his boat with Play-Doh, an oversized straw and construction paper mast, as best as a four year old could do, but let's just say, he wont be a naval architect any time soon.
Our day at the Intrepid, listening to the Sesame Street performance and checking out all the military-related activities was a fun outing; but most importantly, it was the beginning of a dialogue with our children about the importance of our military, and just how much our service men and women and their families mean to us. We will always salute you.
Check it
To learn more about Sesame Street's newest outreach initiative, Little Children, Big Challenges, be sure to check out their online resources, which includes printables, games and a video.
Want to view the video of What I Am that features Rosita, Elmo, Gordon, Matt Rogers and the Quantico Marine Corps Band?  The video is posted below the jump.