With Easter and Passover right around the corner, bulky winter gear is thankfully being replaced with snazzy Spring outfits for the kids.
The Children's Place, one of my longtime favorites for staples and dress clothes, has a great Spring line up filled with classic styles with plenty of details. This season has styles for everyone, from girls, boys, tots to babies.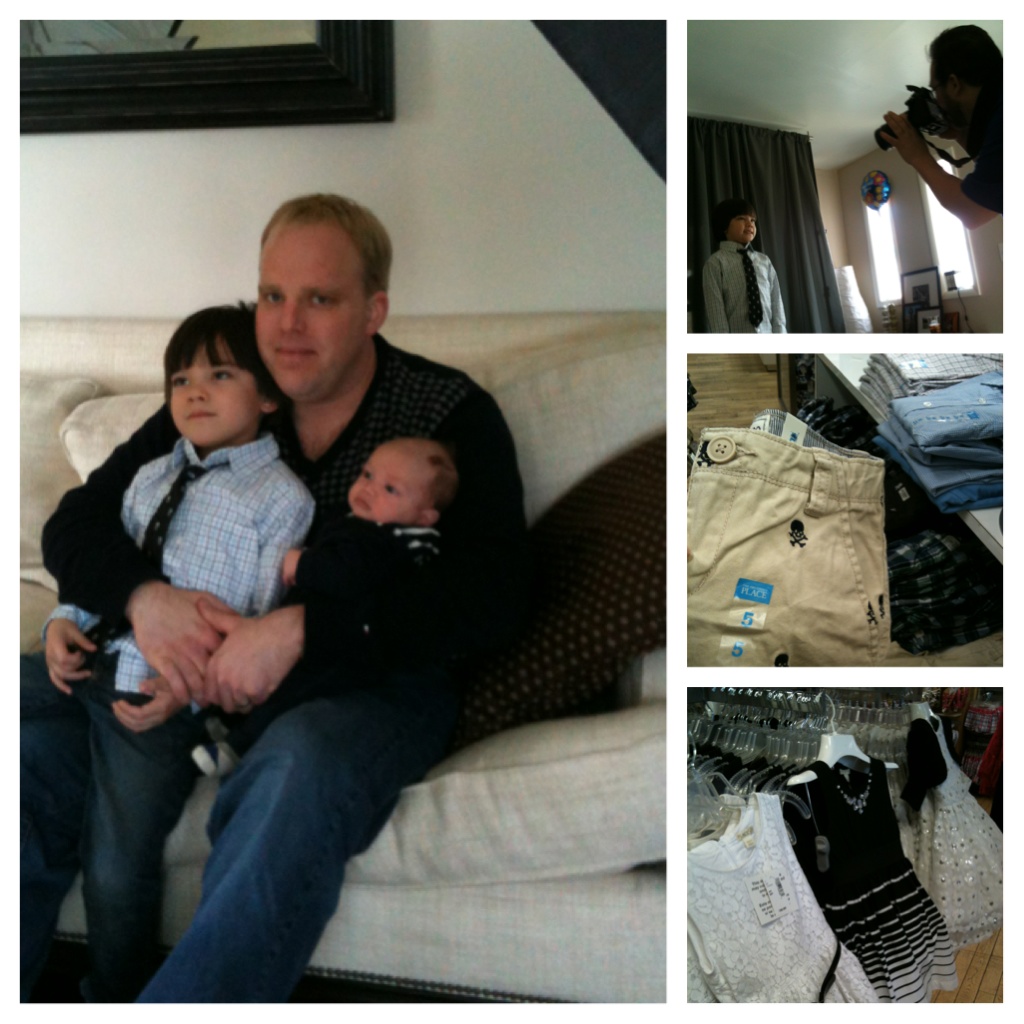 We were invited to shop at TCP a few weeks ago to check out the latest offerings first-hand.  With a big boy and a newborn to shop for, my biggest dilemma was deciding which items to take home.  I have a weakness when it comes to shopping for kid's clothes, which attributes to kids' overflowing dressers and closets. We had a friend take family portraits shortly thereafter, which gave us a great reason to take the kids' new clothes from TCP for a spin.
Boys clothes aside, TCP had the most beautiful dresses and outfits for girls, too.  Admittedly, I'm not a head-to-toe pink fan for girls, so I was glad to see that TCP had dresses beyond shades of pink. Most dresses and tops were adorned with bling or some other eye catching details. My favorites were the classic white and black dresses. But most importantly, TCP gets it right with age-appropriate silhouettes for girls.
From Baby to Big Boy
For my own kids, I was excited to find dressy clothes for both boys in one spot.  I haven't been shopping for two kids that long, but based on my experiences as a kid, I was anticipating having to shop at multiple stores to accommodate different sizes and tastes.  At TCP, we found plenty of jolly roger, pirate-influenced clothes, something my four-year-old is crazy about.  He quickly snactched up some khaki shorts, a tie and collared shirt, all bearing small skull and cross bones details.  I also grabbed some undies, a t-shirt and a nice dress shirt for the big kid, all items that have been getting great wear thus far.  The dress shirt, I noticed, is a different quality from other dress shirts we've bought from TCP.  This plaid shirt that looks much like "daddy's work shirts," is classic, but soft to the touch.
For the baby, I stocked up on portrait-worthy dress clothes, perfect for Easter Sunday.  A Southern girl through and through, I always love dressing my boys in seersucker.  I was excited to find baby pants and a matching hat, all in seersucker.  I also picked up a dress shirt with anchor details and a few pairs of jammies for the babe.
Be sure to check out their latest in spring and summer clothes!  And before you go shopping, make sure you Google for coupons.  TCP seems to always have good coupons out there.
Full disclosure: We were provided a gift card to The Children's Place as part of media shop day.  As always, all opinions on NKT are my own.