The day is finally here:  DVF for Gap Kids and BabyGap has officially launched.  It's the day that many fashionista mommas, their mini fashionistas and Diane von Furstenburg fans alike have been anticipating.  Ok, so, the line has been seen online for weeks, and even hit Gap's online site earlier this week, but today's the day where we can pick up mini-wrap dresses for the smallest stylish set in-store.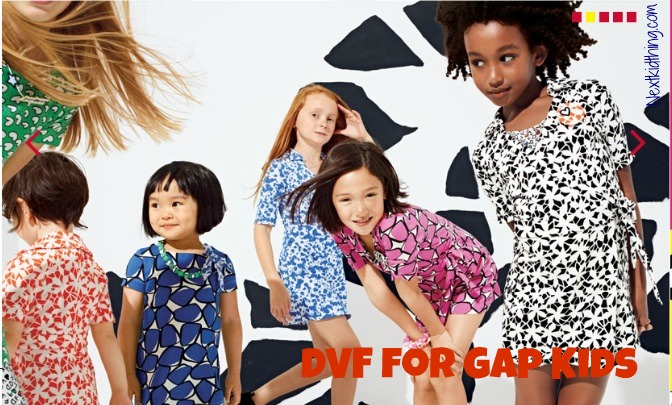 The DVF for Gap Kids line ranges from $20-$85 and includes cute spring pieces such as rompers, dresses, leggings and assorted accessories.  DVF for Gap Kids features bold, whimsical prints in silhouettes that DVF fans already know and love. The adorable line for girls was created exclusively by designer Diane Von Furstenburg for Baby Gap and Gap Kids and is expected to be a hot seller. So, if you're hoping to pick up a fun spring dress for your own budding fashionista, run, don't walk, to your local Baby Gap or Gap Kids!
According to tweets that I've seen from my blogging pals who cover fashion, it looks like the line is a big hit, as expected.  Though I can't see myself stocking my kid's closet with $75 dresses that they'll quickly grow out of, how can you resist an outfit or two when they're this cute!  I love that they're modern prints with classic appeal and age-appropriate pieces.  That romper (which as of this posting, I can't find on the site,) that dress (same for this one pictured) and the bathing suits are so gift-worthy! Hello, cuteness! Thank goodness I don't have any girls, otherwise I'd be even MORE broke! Ok, Gap, so what designer collaboration are we doing for the boys?
Judging from the fact that some pieces are already sold out online, from what I've seen, DVF for babyGap and Gap Kids lives up to the hype.  But as a sidenote (and as a mom to boys I would've never thought about this,) I've seen a few bloggers who have mentioned that the wrap dresses with attached shorts for toddlers may be confusing for the potty training set. Nevertheless, it sounds like DVF for Gap Kids is so popular, that these adorable dresses won't be on the racks that long.
DVF for Gap Kids is available in stores and online now.