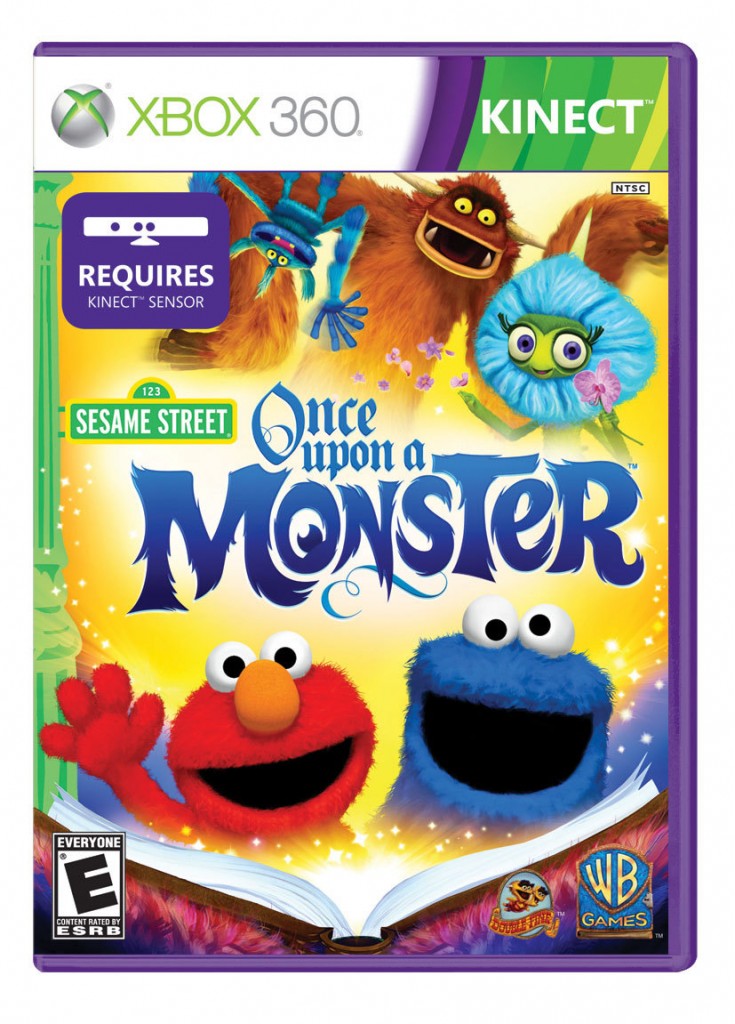 Sesame Street is always at the forefront of children's media, and the video game segment is no exception.  Last month, publisher Warner Bros. Interactive Entertainment released Once Upon a Monster, the first Sesame Street title for Kinect for Xbox 360.
A vibrant, funny, family adventure game, Sesame Street: Once Upon a Monster features a storybook-like experience that allows kids to explore scenarios with Elmo, Cookie Monster and meet new monster friends along the way.  The game features a helpful co-op gameplay option, which, I think, is inherent for young players.  And according to WBIE, through gameplay, Once Upon a Monster underscores social, emotional and other life lessons, for which Sesame Street is already known.
The friendly, familiar and furry monsters, ultimately, were the main appeal of this game for my preschooler.  The dancing and other adventures, coupled with the sharp graphics, "made" this game for him in the end.  From start to finish, and whether they're big or little, the game involved players' movement from head to toe, creating active gameplay that was virtually nonstop.  This would be such a fun alternative to movie night or even a complement to traditional game night.  The co-op gameplay feature gives parents a proactive approach to  stay involved in this specific element of screentime.  And although it may not be the most educational title (as far as letters and numbers go,) I do appreciate that Once Upon a Monster gets kids moving–without a remote!
Rated E for Everyone, this game is ideal for preschoolers to early grade school and their family members.  Change up the holiday family gathering monotony! I personally can't wait to see my 20-something brother join in on the fun!  Coordination and the ability to comprehend basic verbal instructions are important, but a little monkey-see, monkey-do always helps with that.  Sesame Streeet: Once Upon a Monster for Kinect for Xbox is available in stores now and retails for $49.99.
The kid and I were onhand at the NYC Once Upon a Monster launch, where we had a chance to demo the game before its official release.  Suffice it to say, the kid and I both had a blast moving and grooving to "that monster game" as the kid lovingly calls it.  Check out the kid and a few little buddies checking out Once Upon a Monster at the launch event.
Check it
Visit the official Sesame Street Store and save 15% on Once Upon a Monster with the promo code: SESAMEBLOGGER
This offer expires December 15, 2011.
Full disclosure:  I'm an affiliate of the official Sesame Street Store, and there are two affiliate links above.  As always, I appreciate your readership, and by visiting and shopping through any of my affiliate links, you help me keep this site afloat!
Product sample was provide to facilitate this review; as always, all opinions on NKT are my own.