The Insurance In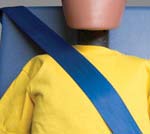 stitute for Highway Safety released a report yesterday that revealed "half of children's car booster seats can't ensure a proper fit with all safety belts."
In their report, the IIHS identified seats that were Best Bets, as well as pinpointed specific boosters that parents should avoid. Booster seats, which are for children who have outgrown forward-facing child restraints, should elevate a child and route the lap and shoulder belts while providing a secure fit.
Out of 62 tested boosters, 31 seats made the IIHS' Best Bets and five make the cut for Good Bets.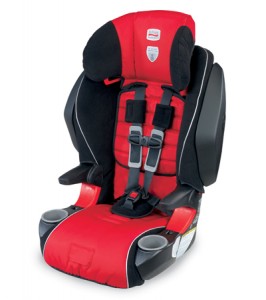 NKT fave, Britax, was mentioned several times on the list, as well as Clek, Chicco and Graco, just to name a few.  One brand that received great reviews, and I'm intrigued about, is Harmony.  Anyone have this brand?
If you're shopping for booster seats, be sure to check out IIHS' report.  See below for the 2011 Booster Evaluation Results.
2011 IIHS BOOSTER EVALUATION RESULTS
Best Bets
Britax Frontier 85
Britax Frontier 85 SICT
Britax Parkway SGL (highback mode)
BubbleBum
Chicco KeyFit Strada (highback mode)
Clek Oobr (highback mode)
Cosco Pronto (highback mode)
Cybex Solution X-Fix
Diono/Sunshine Kids Monterey (highback mode)
Eddie Bauer Auto Booster (highback mode)
Evenflo Big Kid Amp
Evenflo Big Kid Sport (backless mode)
Evenflo Maestro
Evenflo Symphony 65 e3
Ferrari Dreamway SP (highback mode)
Graco Argos 70 (highback mode)
Graco TurboBooster – Baldwin (highback mode)
Graco TurboBooster Elite (highback mode)
Harmony Cruz Youth Booster/Harmony Carpooler
Harmony Dreamtime (backless mode)
Harmony Dreamtime (highback mode)
Harmony Olympian/Secure Comfort Deluxe
Harmony Youth Booster Seat
Kids Embrace Dale Earnhardt Jr.
Maxi-Cosi Rodi XR (highback mode)
Recaro ProBOOSTER
Recaro ProSPORT
Recaro Vivo
Safety 1st Boost Air Protect (highback mode)
Safety 1st S1 Rümi Air
The First Years B570 Pathway
Good Bets
Britax Parkway SG (highback mode)
Combi Kobuk Air Thru (backless mode)
Combi Kobuk Air Thru (highback mode)
Evenflo Symphony 65
Maxi-Cosi Rodi (highback mode)
NOT RECOMMENDED
Evenflo Chase
Evenflo Express
Evenflo Generations 65
Evenflo Sightseer
Safety 1st All-in-One
Safety 1st Alpha Omega Elite
Note: Forty-one boosters are designated "check fit."
They may provide adequate belt fit for some kids in some vehicles.
Go here for full list of model numbers and booster pictures.