With the excitement that Halloween brings with it, not surprisingly, kid programming is joining in on the ghoulish fun!  PBS Kids, an NKT fave, always does a great job on incorporating educational episodes while sharing seasonal shows, and Halloween is no different.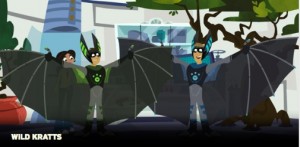 Last week, as part of PBS Kids' Halloween-inspired programming, the animal exploration series, Wild Kratts, (think: Animal Planet for the grade school set) highlighted all kinds of creatures during Predator Week.  The Kratt brothers explored fierce predators such as great white sharks, wolves, cheetahs and raptors.  With Great Whites in the news so much recently, the episodes from Predator Week couldn't be more timely.  Be sure to keep an eye out for these fun episodes.
On Dinosaur Train, the kids set off for an adventure at the Haunted Roundhouse and explore the spookiness of the "unknown." Like many families do as part of an Autumn rite of passage, in the Big Pond Pumpkin Patch, the dinosaurs learn all about gourds, pumpkins and everything else that makes the pumpkin patch so fun.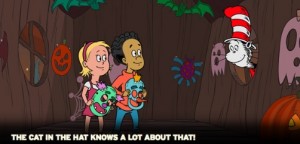 On The Cat in the Hat Knows a lot About That! Nick, Sally and Cat go trick or treating and learn about some fruity non, candy treats.  They also meet a "scary" creature who teaches them a few new things, including how he eats bugs!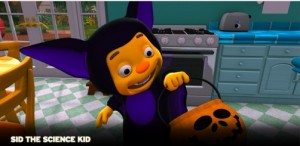 Everyone's favorite inquisitive scientist in training, Sid The Science Kid, encounters his own scary adventures in the "Halloween Spooky Science Special.
We're a fan of most of the shows on PBS Kids, whether they're geared to the preschooler or not, so we always find these holiday-themed shows a great way to learn even more about how everyone celebrates these fun holidays, even the animals!  After screening these Halloween-themed episodes, I learned that my guy is totally mesmerized by The Wild Kratts, even though it's targeted to the older crowd (ages 8 and up).  The episodes were a perfect primer for our recent trip to Disney's Animal Kingdom; he even took away some of the lessons he learned from the show and applied them to our visit!
Check your local listings for air dates and times!
Check it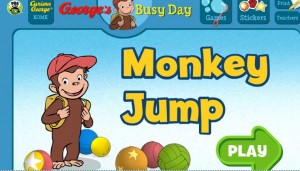 On a related note, last week, PBS Kids launched 40 new games which are aimed to help children ages 2-8 build critical math skills. The games comprise PBS Kids' largest offering of interactive math content for preschoolers to date. The games are centered around various PBS Kids media properties, ranging from Curious George to Sid the Science Kid.
My guy is a huge fan of Curious George's Monkey Jump.  Jumping, counting and Curious George? Count him in!  These are the kind of games that will be sure to keep us busy when we start hibernating!