In this day and age of the digital mom, it's much easier to get in touch now, more than ever.
We moms now have a plethora of apps, tablets, smart phones, and gadgets that make motherhood "easier"—or at least a little more manageable!  And for those in the playgroup circuit, we now have forward-thinking apps like RedRover to keep us even more connected to our groups, make play dates on the spot,  keep us informed of the latest and greatest in our community, a head's up on clean restrooms and even tune us into emergency info, should we ever need it.  Genius, no?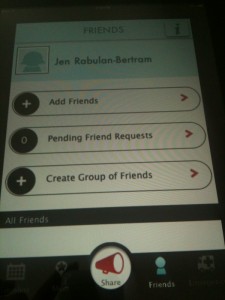 As a new mom in my suburban community, I've had my fair share of issues of getting around and fitting in.  I've already added all of our family's favorite parks, shops and locales.  I can't wait to discover what other families love, too.
What I love about RedRover is that it's very user-friendly, a great alternative to Facebook and email, not to mention, it's overflowing with all the information that I need right away.  No more digging through emails or searching contact lists.  What would make this app even better for me?  Is if ALL of my fun parent friends downloaded it and/or got smartphones already.  This app is a definite must-have for parents on the go and in the know!
To get the RedRover app be sure to head to iTunes to download.  Want to see RedRover in action?  Check out RedRover's video.
RedRover from RedRover on Vimeo.
Good Stuff
Not only is RedRover a must-have app for parents on the go, but they're backing their techy goodness with a philanthropic element.  I appreciate that RedRover is donating $1 for every download from July 14-26 to Christy Turnlington's charity, EveryMotherCounts.org
Full disclosure:  I am being compensated for my review of this app, but as always, opinions on NKT are my own.