As a kid, before I could even spell "Ford" or develop any association with the brand, all I knew was that my dad's prized possession back then, was his bright orange Mustang.
Not too practical for a young family, but ideal for a young sailor, that car stood much more than my dad even imaged back then.  You see, after he sold this impeccably maintained sports car, he eventually traded up for a much family-friendlier car, a 1981 Ford Econoline conversion van (the 80s was the decade of excess afterall) and thus, began our family's loyalty to Ford.
So, what does my family's quick car history do with Ford?  And better yet, what does all of THIS have to do with NKT?
Quite a lot, actually.
Ford, well known for being forward-thinkers in the automotive industry, is hosting several hundred members of the media this week for a conference at their headquarters in Dearborn, MI called Forward with Ford. In this conference, Ford is exploring global trends and issues facing consumers now and in the future.
Ford brought together an interesting cross section of media representatives, not only from different parts of the U.S., but different niches and mediums.  Because Forward with Ford is examining consumer trends, they've invited many media outlets that, perhaps, wouldn't normally cover the auto industry.  Just some of the niches represented that I've seen so far include: green, gadgets, parenting, electronics, home, pets, seniors and more.  As far as media events go, this truly is a melting pot and I'm so honored to be included in such an esteemed group.
As a blogger who typically covers products, technology and services geared to families, I'm intrigued with a Ford's endeavors, specifically their green initiatives.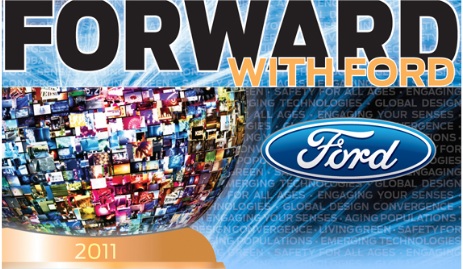 And because this event is examining how consumers think, Ford tapped one of the most provocative thought leaders to give the keynote. My husband is a huge fan, and after listening to Gladwell speak tonight, it underscores his affinity for this writer/author and expands on this dialogue that I'm excited to follow.
For many years, my family's car buying history involved only Ford vehicles because my parents associated the brand with reliability and affordability that was made in the good ol' U.S.A.  A few decades ago, I'm sure they weren't alone in thinking that…
So, how are consumers making decisions now?  And what's next?  I'm looking forward to hearing what Ford has to say.  I'll be sure to report my findings after tomorrow's sessions.
Want to follow the goings-on of Forward with Ford via Twitter?  Check out #FordTrends