Method, known for their eco-friendly household products, has partnered with Disney to produce kid-friendly Mickey and Minnie-themed foaming hand wash.  The Mickey and Minnie Mouse Foaming Hand Wash from Method are available in stores now.
The ingredients contained in the mouse-shaped dispenser all seem safe and "green"-er than some children's products that I've seen.  And although it's not yet listed on EWG's Cosmetic Database, Method products seem to sway toward the good-fair ratings.
The Mickey Mouse Foaming Hand Wash does the trick, as far as getting the kid to wash his hands.  The foaming aspect of the soap and the subtle reminder of Mickey make it hard to forget to wash hands after using the bathroom.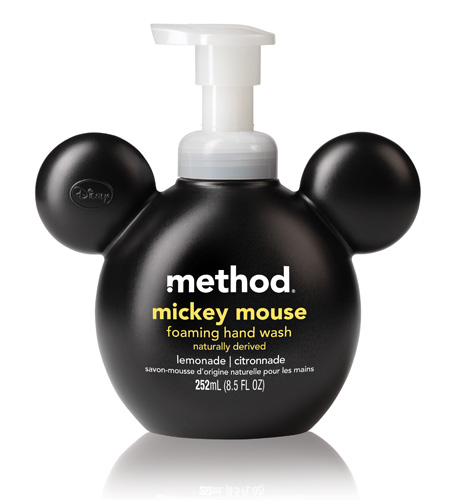 The design of the packaging, like most Method products, is modern and aesthetically pleasing. I appreciate that the kid loves the Mouse-shape, while not compromising my modern tastes.  I usually don't welcome too many cartoon characters in my bathroom, but how could I turn away the Mouse, when he's all unobtrusive.
My main qualm about the Mickey Mouse Foaming Hand Wash is that the scent is a bit too perfumey and overpowering for me.  Perhaps we're more used to unscented soaps, or something a little gentler, but I just didn't think the lemonade scent was all that fruity.  When referencing Method's ingredient list online, a red flag went up about the hand wash's fragrance.  Listed as partial essential oil and partial synthetic fragrance, all I could think was, "but does it have phthalates?"  According to Method's listing, this soap is phthalate-free, but the synthetic fragrance does make me ask a few questions.
At $4.50 for 8.5 fl oz, I would've loved to get a little more soap for the money.  You get what you pay for, and you can't deny that the kids love it!  Nevertheless, we use Method products all throughout the house, and I'm sure the Mickey Mouse Foaming Hand Wash will find its way onto my shopping list.  It's an effective, safe and fun cleaner that's a"greener" alternative to other products geared to kids.
The Mickey and Minnie Mouse Foaming Hand Wash from Method can be found at stores that sell Method products, like Target, Bed Bath and Beyond, Harmon and Babies R Us.  You can also find it online at my personal fave online retailer, Soap.com.
Check it
New to Soap.com and want 20%?  Feel free to use this code: JENR2049
If you enter the above code at checkout, you'll get 20% off your first order (some restrictions may apply).  Soap.com will also donate $10 to one of the selected charities.  Double whammy.
Full disclosure: I received a product sample via The Mom Blogger's Club to facilitate this review.  As always, all opinions on NKT are my own.