It's finally the unofficial kick off to summer, and I hope everyone has exciting things planned for the weekend!  Just in time for more sunny days, endless amount of outdoor play and loads of BBQs, the Environmental Working Group has released their comprehensive list of Best Sunscreens for 2011.  The list was analyzed in-house, with their findings based on health hazard, protection and overall stability of the product. Find out if your sunscreen made the cut.
NKT Faves
Many of my favorite sunscreens made the list once again, and there are also several products that I'm glad to see have new formulas, resulting in better scores.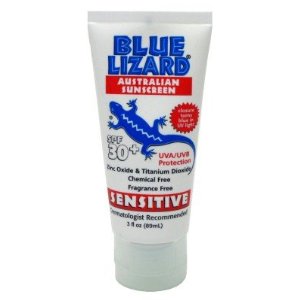 Blue Lizard
Blue Lizard is what our family uses on a day-to-day basis around here.  With its thick consistency and trusted effectiveness, it's no surprise the Baby Australian and Sensitive formulas made EWG's Best of Beach and Sport 

Sunscreens.
TruKid
TruKid is a longtime favorite for our family.  Because of its portable, gluestick size, the Sunny Days Stick is a mainstay in my bag and perfect for sending with the kid to daycare.
Kiss My Face Sun Sticks
I love most of Kiss My Face's products, so I'm excited to see they have a kids' stick, too.  Remember Zinc from back in the day?  Apparently, the Kiss My Face kids' mineral sunblock stick leaves shades of blue, pink or white on easily burned spots like, ears, lips, nose and cheeks.  How 80s!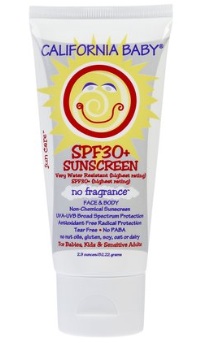 California Baby
Another parent fave, California Baby, puts out a great range of products that are often top-rated.  California Baby No Fragrance Sunscreen Lotion made the list, alongside of several other CF Baby sunscreens.  Even though I personally haven't used this sunscreen, several of my friends swear by it, so it's certainly on my list once we deplete our current stash.  Even better about California Baby?  This brand can be found in the baby aisle of most Targets.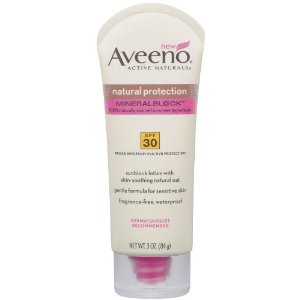 Realistically, not everyone has easy access to these safer brands.  In fact, you'll probably be hard-pressed to find many of the brands listed in EWG's Top Beach and Sport Sunscreens at your local drugstore.  Don't have time to order online at Diapers.com or run to a natural food store to pick up one of the safer sunscreens?  Here are a few brands that can be found at most grocery or drugstores and received moderate scores:
Aveeno Active Naturals Natural Protection Mineral Block Sunscreen Lotion, SPF 30
Coppertone Kids Pure & Simple Sunscreen Lotion, SPF 50
What Does Practically Green recommend?
At the recent Mommybites Summit that I attended last week, I sat in on a wonderful discussion led by green expert, Susan Hunt Stevens of Practically Green.  She mentioned that California Baby and Badger are two popular, safer sunscreen picks for kids.  Both brands are well-rated on EWG's sunscreen list as well.  Hunt Stevens also pointed out that she has yet to find a safer aerosol spray sunscreen, so in general, she advised to stick to the old school lotions. Trust me, I love the convenience of those sprays, but if there's an option that contains less chemicals, (the same chemicals which are often linked to health issues and hormone disruptors) why not opt for the safer option versus the convenient option?
Safer ingredients
For safer sunscreens, EWG recommends to look for products that include these ingredients:
Zinc
Titanium dioxide
Avobenzone or Mexoryl SX
and avoid these ingredients:
Oxybenzone
Vitamin A (retinyl palmitate)
Added insect repellent
Check out EWG's sunscreens to avoid.
Tips for Sunscreen
Obviously we all know "how" to use sunscreen, but do you really know how to use it effectively?  Growing up in a beach town, I literally spent my summer days—from dusk to dawn on the beach or at the pool—but, I barely ever used sunscreen.  I have to admit, when I became a parent, proper sunscreen usage was an anomaly, so I had to learn how to use sunscreen for the sake of my fair-skinned babe.  Goodness knows, my husband needed some tips himself!  So, here are just a few pointers courtesy of the American Academy of Dermatolgy and EWG.
Sunscreens expire.  Be sure to check your expiration dates when dusting off last year's stash. You can use the sunscreen that you bought last summer, but keep in mind that if you are using the appropriate amount, a bottle of sunscreen should not last very long.
Sunscreens should be applied to dry skin 15 to 30 minutes BEFORE going outdoors. When using sunscreen, be sure to apply it to all exposed areas and pay particular attention to the face, ears, hands, and arms.
One ounce, enough to fill a shot glass, is considered the amount needed to cover the exposed areas of the body properly. Don't forget that lips get sunburned, too, so apply a lip balm that contains sunscreen with an SPF of 30 or higher.
Sunscreens should be reapplied approximately every two hours or after swimming or perspiring heavily. Even so-called "water-resistant" sunscreens may lose their effectiveness after 40 minutes in the water. Sunscreens rub off as well as wash off, so if you've towel-dried, reapply sunscreen for continued protection.
There are a number of combination cosmetic products, such as moisturizers that contain sunscreen, but it is important to remember that these products also need to be reapplied to achieve continued UV protection.
Pick the SPF appropriate for your skin type and solar exposure. But remember that UVA protection in U.S. sunscreens maxes out at about 15, so higher SPF products will not fully protect your skin from sun damage. The American Cancer Society recommends that people use a sunscreen with a SPF of at least 15, the American Academy of Dermatology opts for 30.
Have a safe weekend, everyone!
Photo credits: Fullofgrace and Paddyduke