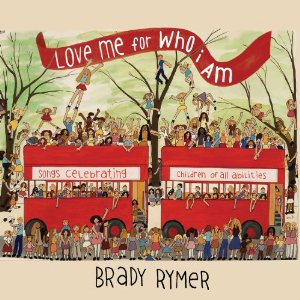 For today's Music Monday post, "Love Me For Who I Am" from Brady Rymer is a celebration, as much as it is an appreciation for all things sweet and special. As you may already know, April is Autism Awareness month, and  Brady Rymer is underscoring this important message with his fun and infectious new release Love Me for Who I Am.
Debuting tomorrow, April 12, Rymer's 10-track cd, Love Me for Who I Am, embraces kids of all sizes and more importantly, celebrates kids of all abilities. Hints of folk, rock, pop and reggae aid the colorful flavor of this cd, that's full of inspiring lyrics and gives a nod to adventures and experiences that make childhood so piquant.
With funny and relatable reasoning that "food should never rub elbows and flavors should never move," for those of you with kids with discerning palates, "Picky Eaters" is their anthem!  And track eight is one that can't be missed where perennial preschool favorite, Laurie Berkner lends her melodic vocals to "Soft Things" a song that praises the tactile joy and sweet smells of all things soft. And in the spirit of "celebrating and invigorating," the upbeat and effervescent title track says it all, "please don't try to fix me, love me for who I am."
Not only is "Love Me for Who I Am," a timely release, but also, a much needed message for parents and kids of all walks of life. As opposed to the emphasis on perfection, the unique qualities and imperfect intricacies that define each and everyone of us, is something that needs to be recognized more; and the Grammy-nominated Rymer does just that in this new release, making "Love Me for Who I Am," a must for your family playlist!
Though it was hard to pinpoint my favorite, "Just Be With You," reminds me that despite the daily juggle of parenthood–craziness and all–it's my family that makes it all come together.
Be sure to check out Brady Rymer's "Love Me For Who I Am," which is in stores tomorrow. Head over to his site to preview the cd before you buy.
Check It
Even more awesome: five percent of proceeds from CD sales will benefit Autism Speaks, a non-profit research and advocacy group.
Want to check out Brady Rymer in person? There's a few concert dates, so be sure to see if he and The Little Band That Could are in your area!
Saturday, April 23, 4 pm
The Growing Stage at The Historic Palace Theatre
Route 183, 7 Ledgewood Avenue, Netcong, NJ 07857
Tickets: $14
Info: http://www.growingstage.com/. Phone: (973) 347-4946
$1 from each ticket sale will be donated to the Celebrate the Children School.
More Brady Rymer Concerts:
April 18 and 19 — Long Island Children's Museum
April 20 — "Rumpus Room" taping at Sirius-XM Satellite Radio, Washington DC.
April 30 — World Cafe Live, Philadelphia
May 1 — World Cafe Live, Wilmington, DE
May 14 — Southpaw, Brooklyn, NY
May 21 — Tulsa Mayfest, Tulsa, OK
May 22 — Off Broadway, St. Louis
May 28 — Kansas City Jiggle Jam