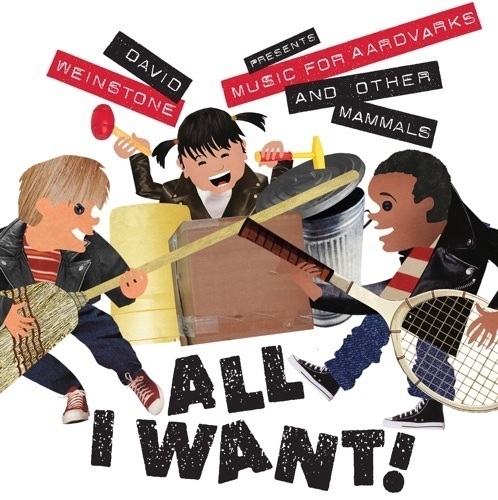 The best kind of children's music is the kind that resonates, not only for the kid, but for the parents as well.  And David Weinstone and The Music for Aardvarks Band does just that for our family.  Having spent our baby days as city dwellers (and still dreaming of returning every day), Weinstone's songs are so relatable since they transcend the usual cutesy topics, and instead, celebrates things like, taxis and the joys of Avenue A.  As a baby, the kid routinely fell asleep to the sounds of garbage trucks, cabs whizzing by and sirens wailing outside our window, so, like most urban families, we can totally relate to the fun songs from Weinstone and The Music for Aardvarks Band.
With alternative influences, clever guitar melodies and cheery percussion, Weinstone's music strikes a chord for all families who appreciate good music.  We love classics like Birdie, Runaround Kid and Move Your Feet as seen on Jack's Big Music Show on Nick Jr. (Get UP…get down!)
Besides catching him on Nick, perhaps you might know Weinstone from his classes that are said to be frequented by famous families here in the NYC and NJ area; Weinstone is also the creator of Music for Aardvarks classes, which has classes all across the country now.  So, not only do city families have the good fortune to rocking out to such fun music, but so can everyone else.
This weekend in NYC, David Weinstone and The Music for Ardvarks Band is celebrating their new cd, "All I Want!" with a concert at the Highline Ballroom on April 30th.
The theme of our new CD, All I Want!, is that what kids need most is quality time with caring adults. We hope the way we interact with kids at our shows reflects this."
"All I Want!", released March 8th, features all new songs and is David Weinstone's sixteenth Music for Aardvarks recording.  This latest release is described as bringing together pop/folk/rock/blues styles to communicate a singular message:  "All I want is me and you!"
As fans of Weinstone, this is yet another one we'll be sure to add to our playlist!
Check it
In town this coming weekend?  Here are the details for their CD Release Party!
WHAT:                David Weinstone & The Music for Aardvarks Band
WHERE:             Highline Ballroom, 431 W. 16th St., NYC
WHEN:               Saturday, April 30.   12:00 noon.
TICKETS:           $12 in advance. $15 day of show. $40 Family 4-Pack.  Phone 212.414.5994.  www.highlineballroom.com.
David Weinstone's discs are available online at musicforaardvarks.com, amazon.com, cdbaby.com, all major digital download sites and retail stores nationwide.