Crafts are a fun family activity, and one that we love doing outside on our deck.  When we're painting and doing messy crafts outside, the little artist's canvas seems limitless, and thankfully, cleanup time is much easier—or so it seems.
Many of my favorite eco-friendly crafts are of the DIY variety.  The kid and I are fans of repurposing old household items and painting scraps of wood from our ongoing remodel.  Even better than recycling the medium is making your own tools.  Aside from DIY crafts, there's a myriad of eco-friendly and kid-friendly art supplies that make craft time safe and colorful.
Here are just a few of my faves:
Glob Arts and Crafts Paints
Glob Art & Crafts Paints are botanically-based paints that also have fruity scents. These paints are colored naturally with pigments from fruits, vegetables, flowers and spices with natural food-grade ingredients. I love the Glob paints that come in packets; all you do is add water when you're ready. Whether you and the kids are more watercolor painters or gauche painters, you add water and can determine the desired consistency. Glob also comes in Easy Shake jars, paint sets and other kits.
The color palette that's offered is pretty basic, but after mixing and matching the paints, the spectrum of colors is seemingly endless. Glob can be used for paints, as well as for coloring DIY play dough, coloring eggs and more.
P'kolino
P'kolino, the makers of gorgeous modern children's furniture and toys, also have a great line of art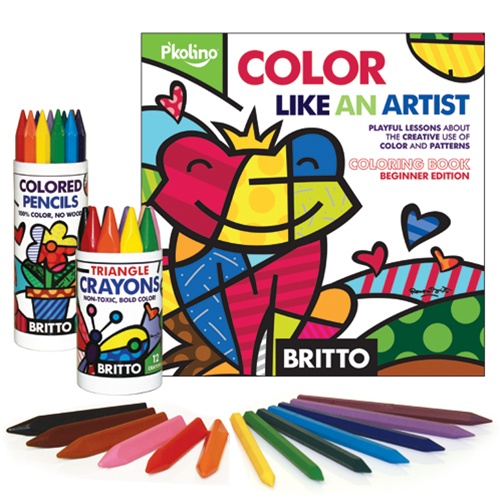 supplies.  Through a collaboration with Jovi, P'kolino offers kid-friendly, non-toxic art supplies that includes, Triangle crayons, fingerpaints, markers, colored pencils, dough, creative dough and poster paints.  P'kolino recently introduced their new line of art supplies which are inspired by famed Pop Artist, Romero Britto.  And a coloring book inspired by Romeo Britto?  Yes, please.  The sustainability, bold colors, combined with the modern influence of P'kolino's products make these art supplies ones to check out.
Stubby Pencil Art Studio
Stubby Pencil Art Studio is the mecca for eco-friendly art and school supplies. This online shop has a plethora of kid crafts and a great selection of supplies that are non-toxic, recycled, fair trade, educational, sustainable or environmentally responsible. I love perusing all of the different crafts and unique supplies, many of which you'd be hard pressed to find at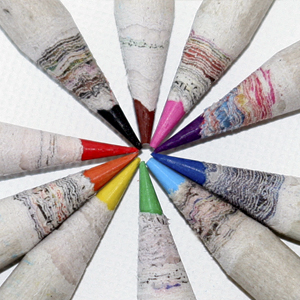 your local big box craft store. Of all the green crafting goodness, however, I'd have to say my personal favorites are the cupcake crayons (!) and the colored Smencils. Ideal for birthday party gifts, the colorful, hand-poured cupcake crayons come in a 4-pack and are made of soy. The Smencils are made from 100% recycled newspaper, sharpen just like wood pencils, and have delicious scents like watermelon, bubble gum and cotton candy!