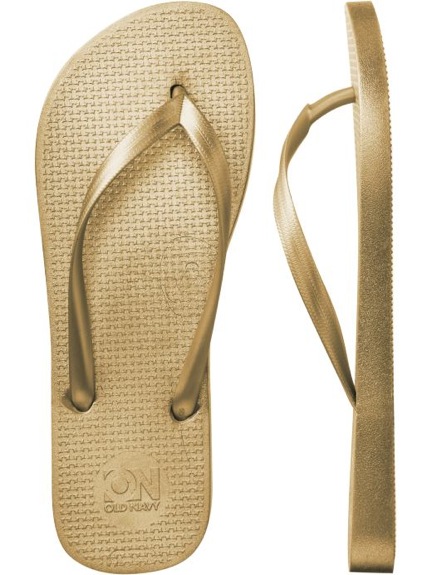 Flip flop season is almost upon us; the time of year where many of us bare our toes and opt for the ubiquitous summertime footwear.  At our house, weather permitting, we tend to wear our flip flops from the end of April to October.
I'm such a fan of flip flops, but among our many pairs, I've never really considered what happens to the flip flops after we're done with them.  Donate? Hand them down? Let them collect dust?
How about recycle?
Genius.
There are a few organizations that accept old flip flops to recycle them into something else to give them a new life.  Check out what cool things that can be done with those 10 year old flip flops that have put in many, many miles.
This forward-thinking company isn't new to recycling and upcycling.  TerraCycle is the organization behind those cool Capri Sun bags, among other functional items.  I absolutely love what they're going to be doing with old flip flops.
TerraCycle and Old Navy are partnering in a month-long drive to collect used flip flops and recycle them into four public playgrounds around the country.  The public can stop in any Old Navy store in the U.S. between April 22-May 21 to deposit used flip flops in designated collection bins.
As such a big supporter of getting kids to play outdoors, combined with this innovative recycling effort with a major retail store, I think TerraCycle and Old Navy's partnership to create playgrounds is simply awesome.  I'm looking forward to hearing more about the playgrounds and the neighborhoods where they'll go.
My only wish about this program is that I'd love to be able to donate all of our old flip flops to recycle them to create playground mulch for our neighborhood.  Maybe one day?  With kids constantly outgrowing their shoes, I'm sure many families would pay good money for something like that, and truly repurposing objects that would inevitably create more waste in our landfills.
Old Navy will collect old flip flops in designated collection bins from April 22 to May 21.
UniquEco is another innovative organization that recycles old flip flops, but has an emphasis on cultivating social liveliness in more ways than one.  UniquEco, out of Nairobi, Kenya, collects old flip flops and employs talented artisans who create unique consumer goods out of the flip flops. Check out the UniquEco shop.  The Champali bracelets and necklace are currently on my wishlist.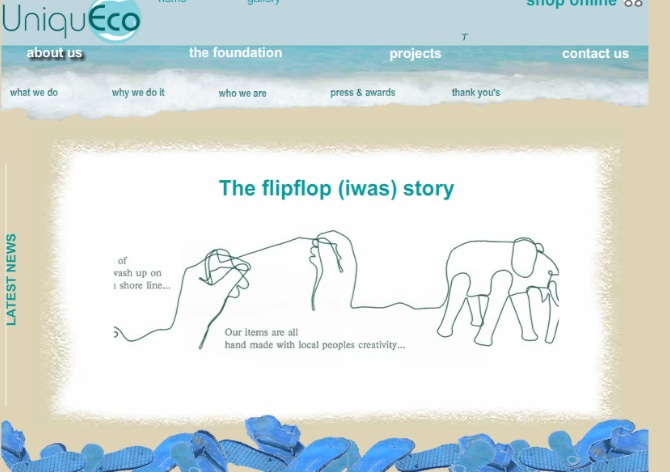 As trash and thousands of flip flops washed up on the shores of Africa, UniqueEco was started in part as a clean up effort, which in turn, became the organization it is today that employs local people who create amazing handmade products.  I love the significance behind UniquEco and think this is such a valiant foundation to support.
Involving kids to donate and collect old flip flops to send to UniquEco underscores the 'recycling' and 'reusing' lessons they're taught, but also teaches kids the impact of being socially aware and responsible by contributing to a cause that also provides a sustainable livelihood to those in need.
To send your old flip flops to Uniqueco:
PO Box 15565-00503
Nairobi, Kenya
UniquEco will donate 9% of the sale price for all products sold from your footwear.