Last week's Spring cleaning post was a perfect reminder that, not only do we have to finish our remodel so we can dig the rest of our stuff out of storage, but that we also need to organize the entire house—the playroom included.  Toys, toys and more toys!  I'm sure many of you can relate to the toy storage debacle.
Beyond the imminent purging that goes along with Spring cleaning, I'm on the lookout for sustainable, yet functional storage options for the kid's playroom.

I first spotted these incredibly adorable storage bins from 3 Sprouts at Toy Fair a few months ago.  The cute pink and blue elephants first caught my eye, but it was the eco-friendly composition and functionality of these bins that completely drew me in.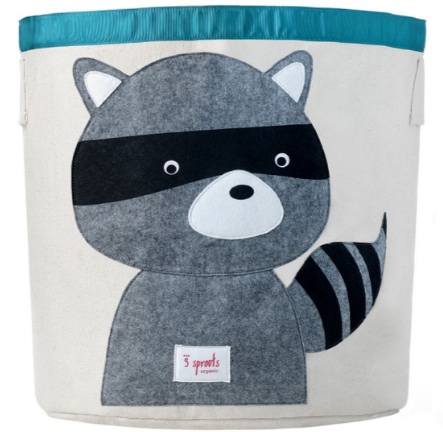 These circular bins are made of organic cotton canvas and the details are felt appliques made from recycled plastic bottles.  At 17.5″ in height and 17″ in diameter, the bins are roomy enough for laundry and ideal for mounds of toys.  When the laundry or toys don't require storage, the bins can be folded and tucked away.  Roomy, cute and compact!
The designs of the animals are simple,  modern, and positively cute.  The owl, a prevalent trend in kid prints from last year, is one of my faves. I'm also loving the raccoon's mysteriousness and that sly fox can't be overlooked.  Also? How cute are their caddies?  Fill it all with books or layette, and all of the above are baby shower-worthy, without a doubt.
3 Sprouts storage bins retail around $39 and can be found online and in specialty stores, including one my fave NYC boutiques, giggle.