Friend and NKT reader, Sarah, posted a really great question on the NKT FB page last week.  With her daughter turning three soon, she asked if I had any gift ideas.  On the heels of last month's Toy Fair, I have stacks of ideas, actually.  As a mama to a three year old boy, I was excited to research some answers to Sarah's question.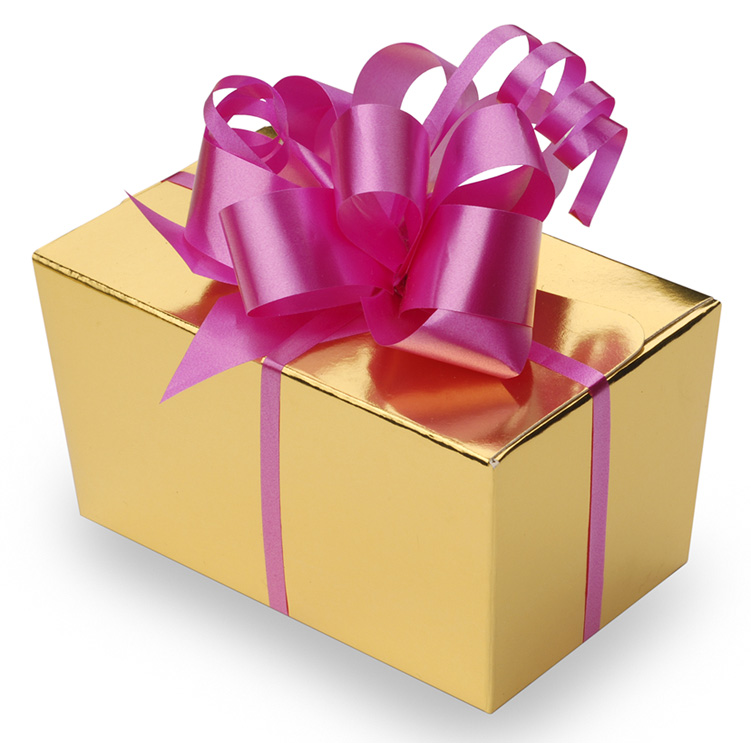 Three year olds are known for continuing to express their individuality and independence. They are honing their gross motor skills, and for most, attention spans are still quite limited. Role playing and group play is a growing trend at this stage, too.  And as much as I'd like to ignore the whole gender toy issue, like many of you, I've seen firsthand just how different play patterns are of boys and girls at this age.
Sarah said her three year old is into girly toys, pets, bubbles and jumping.  And since I haven't had a chance to talk about many of the fun toys I saw at Toy Fair, this is a great topic to discuss since I saw so many great products that embrace these exact themes.
Princess
Princesses, long-loved favorites to toddlers, preschoolers and beyond, still have a strong presence on the toy front, especially with the success of last year's Rapunzel.  Even though Disney has hinted at no more new princesses in the near future, toy makers still have a strong grip on this multi-million dollar license.
Squinkies, the tiny bubblegum machine-inspired trinkets that the kids love (and moms not so much), are now available in Disney Princess themes.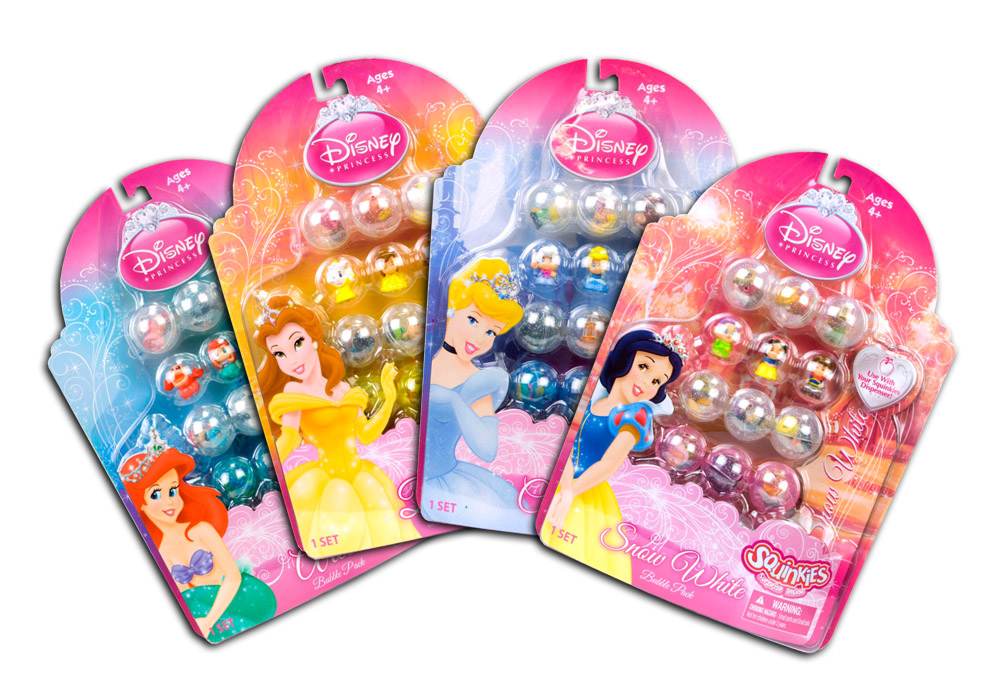 Word of caution: these toys are rated 4+ for safety purposes.
With the upcoming release of Tangled on DVD and Blu-Ray, there are quite a few cute dolls that focus on Rapunzel's hair.
My favorite Tangled-inspired toy is the Toddler Tangled Rapunzel Doll from the Disney Store.  Only caveat with this adorable doll? She's sold out on Disney Store's site, but is probably available at select stores.  She's cute and her hair looks manageable for the littler girls.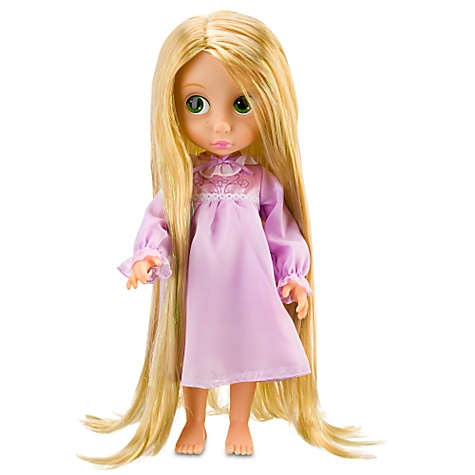 Tangled Sing and Glow Rapunzel doll, with her light up hair and singing voice is another cute doll that might be of interest to little girls.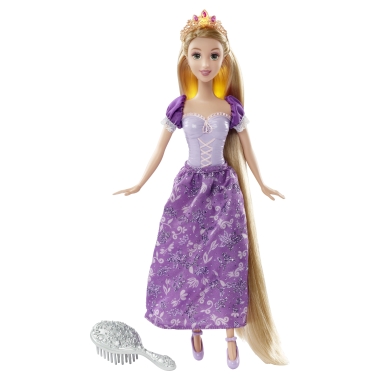 Dolls and Doll Accessories
Doll and doll accessories are, no doubt, a big hit with toddlers and preschoolers because of the imaginative and creative play involved.  Quite a few toy makers have cool new doll accessories coming out, but Hasbro's Baby Alive and Step 2's Deluxe Nursery Station are two products that stood out for me at this year's Toy Fair.
Hasbro's Baby Alive encourages role playing and touts a wide variety of dolls and accessories.
Step 2 Deluxe Nursery Station promotes imaginative play for toddlers and preschoolers.
Because of their durable and unique product line, one of my favorite brands for gifts is Manhattan Toys.  You may be familiar with Groovy Girls geared to grade school set, but Manhattan Toys also has a plush line of dolls that I love, which are perfect for littler girls.  Baby Stella is a cute, plush alternative to dolls typically meant for older girls.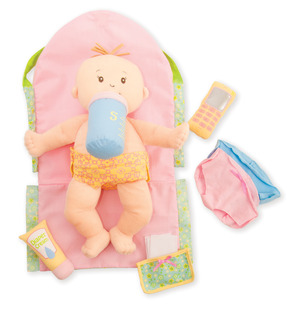 Pets
Pets and furry animals continue to be a favorite for kids of all ages, but in this case, I'm referring to the toy variety.  Zhu Zhu Pets had a fun showcase for bloggers at Toy Fair, and I had the chance to take a look at the latest and greatest.  The new Princess, Puppies and Baby lines, among others, made an impression, especially for the young and girly contingent.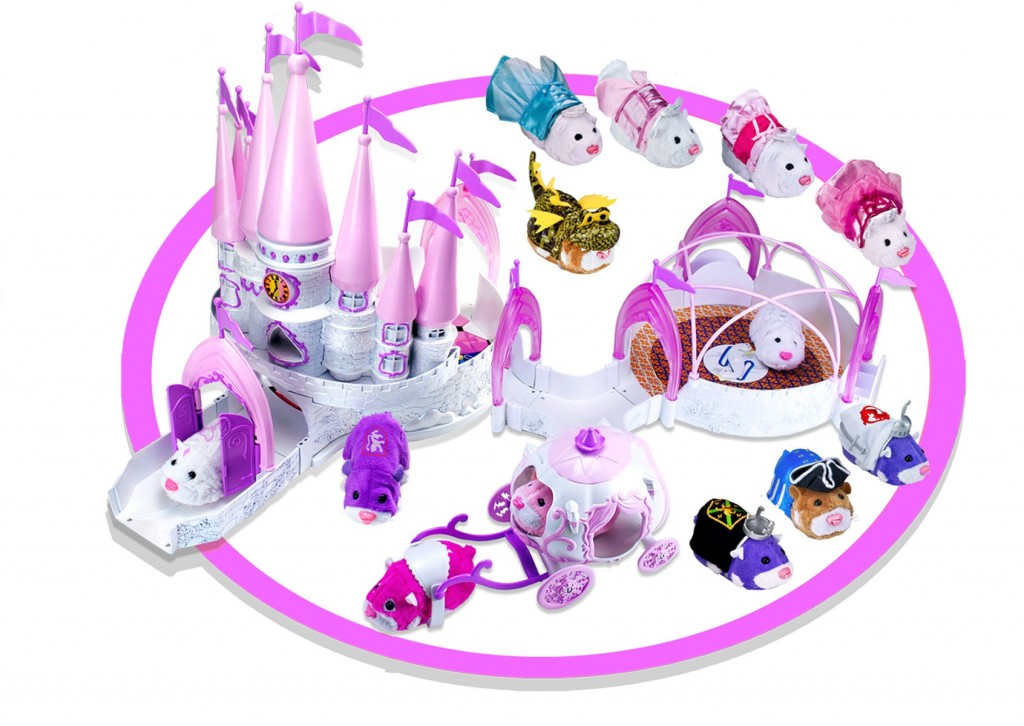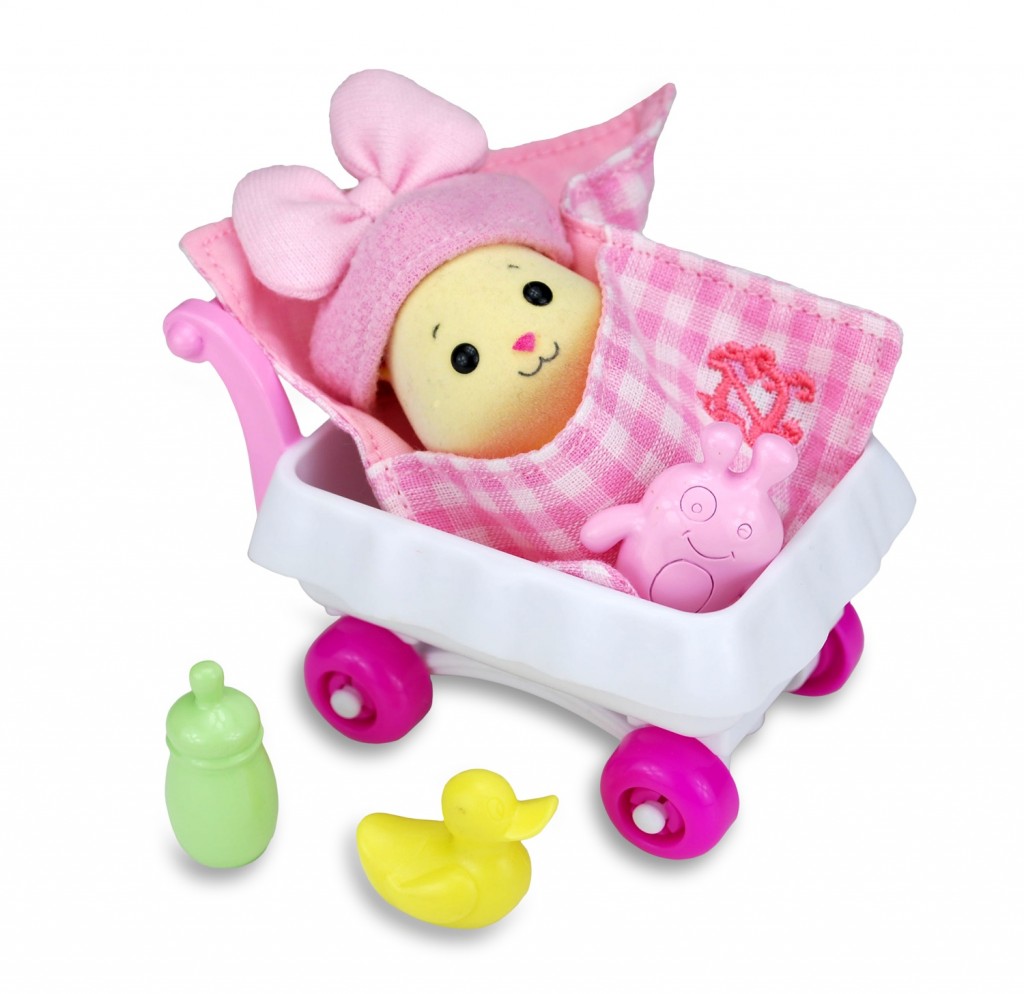 For the more silent and battery-free pet inspired toys, I love the colorful and award-winning Critter Clinic from B.Toys.  This role-playing toy comes with two plush patients, a hospital with six "rooms" and a few vet "tools"—all perfectly sized for preschoolers.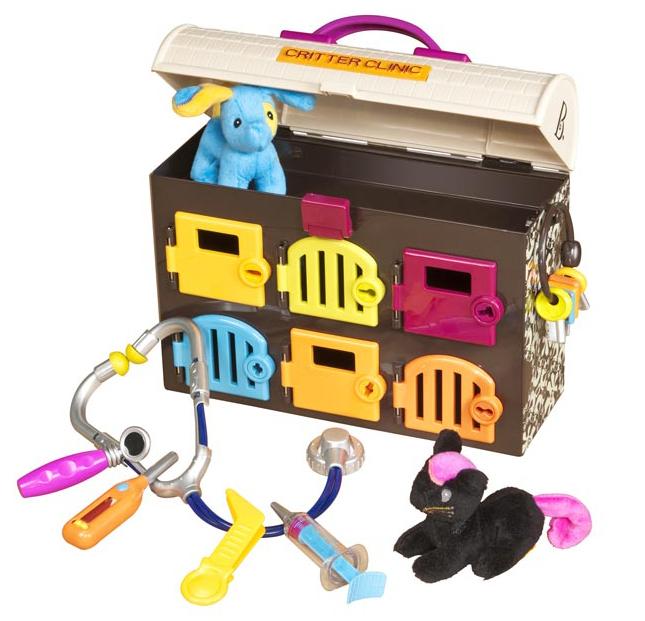 The best aspects of B.Toys, other than the obvious, are that they're affordable, accessible and unique.  The packaging, alone, makes B.Toys an ideal gift idea.
Construction toys
I love construction toys for young kids, and I was so excited to see quite a few girl-inspired construction toys being showcased at TF.  It's not that girls aren't already playing with the awesome construction toys already out there, but these toys and licenses made my inner girly girl squee—a lot.
Hello Kitty, who has been around for over 35 years now, is a favorite of many moms and now their daughters.  Good news for fellow Hello Kitty fans, she has her own construction toys, and the Mega Bloks' Hello Kitty line couldn't be any more cuter.  With her tiny house, accessories and other pink and red confections, girls of all ages will love building and creating with the super cute Hello Kitty Mega Bloks line.
After writing the above description and then matching the photo, I have to say that three years old is still a bit young to fully appreciate this line, but that's where Dora comes in.  Mega Bloks said they've had great success with their Dora license, so this year's line has lots of cool new features such as Dora's interchangeable outfits.
Bubbles
I'm so excited that spring is upon the horizon, and outdoor toys, of course, go hand-in-hand with warmer weather.  Bubbles, always a staple of outdoor play, continue to see cool new innovations.
Little Kids always has a great range of creative toys utilizing bubbles, with the no-spill bubble products among my favorites for the "I can do it myself" crowd.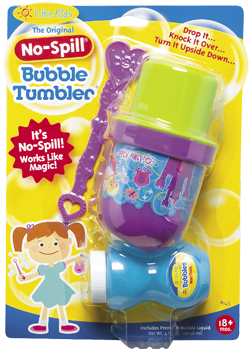 And mamas, if you're up for it, Crayola wants kids to say 'yes to a colorful mess' with their new colored bubbles.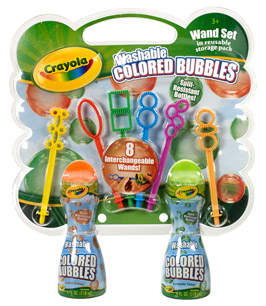 Jumping
I love that Sarah said that her daughter loves to jump because, sometimes, that seems to be my kid's most favorite thing to do—all day long!
I love activities and games, especially the ones that get you out of your seat.  Add a little educational value into a game, then I'm sold.  Learning Resources, known for offering a slew of great educational toys that gets preschoolers jumping, recently introduced their Jump 'N' Jam Jungle Talking Floor Mat.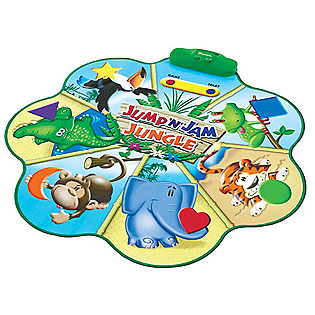 This award winning game is an interactive mat that helps kids to follow directions, make patterns, recognize shapes and match animal sounds. Even better, up to 6 players can play at once.  We have the Counting Cookies game, which utilizes the same concept, but in a yummy cookie theme.  It's a favorite for playdates.
Always reluctant to recommend electronic toys and video games for kids this young, I have to reiterate how much I love Nickelodeon's Wii Fit from 2K Play.  Not only does it feature a preschoolers' favorite Nick characters, it gets kids literally jumping, bouncing and running.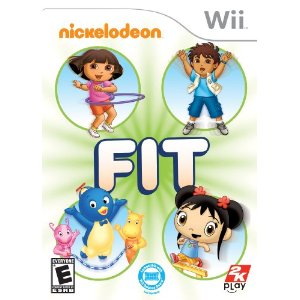 While this video game isn't intended to replace actual physical play outdoors, it is a great indoor activity for rainy/snowy days and a great way to work on the littlest guys' coordination and gross motor skills.
Into dancing? Be sure to check out Just Dance for Kids from Ubisoft. This game will get the entire family grooving, not just the wee ones.
Top Pick
My top pick for a 3 year old gift, hands down, is the Mini from Kickboard USA.  Not all scooters are alike, and this scooter stands out above the rest for this age range.  This scooter employs a 'lean-and-steer' design that teaches toddlers and preschoolers self control and again, works on those gross motor skills. Leave it up to the design-savvy Swiss to develop a sleek and smart scooter for kids.  Kickboard scooters are staples in parks and playgrounds in our area, and one of the must-have items for city kids.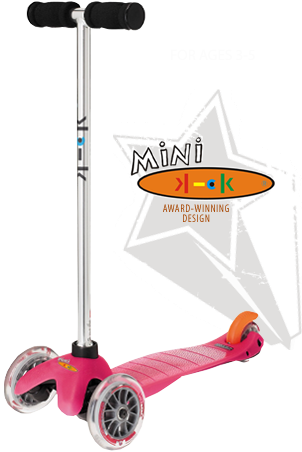 My guy received a blue mini Kickboard as a Christmas gift and it is the most played-with toy, even when we can't get outdoors.  And yes, that means, he scoots around the house. Yikes!
Goodies
Good luck Sarah, and I hope these suggestions help your shopping adventure!  And thank you for asking this fun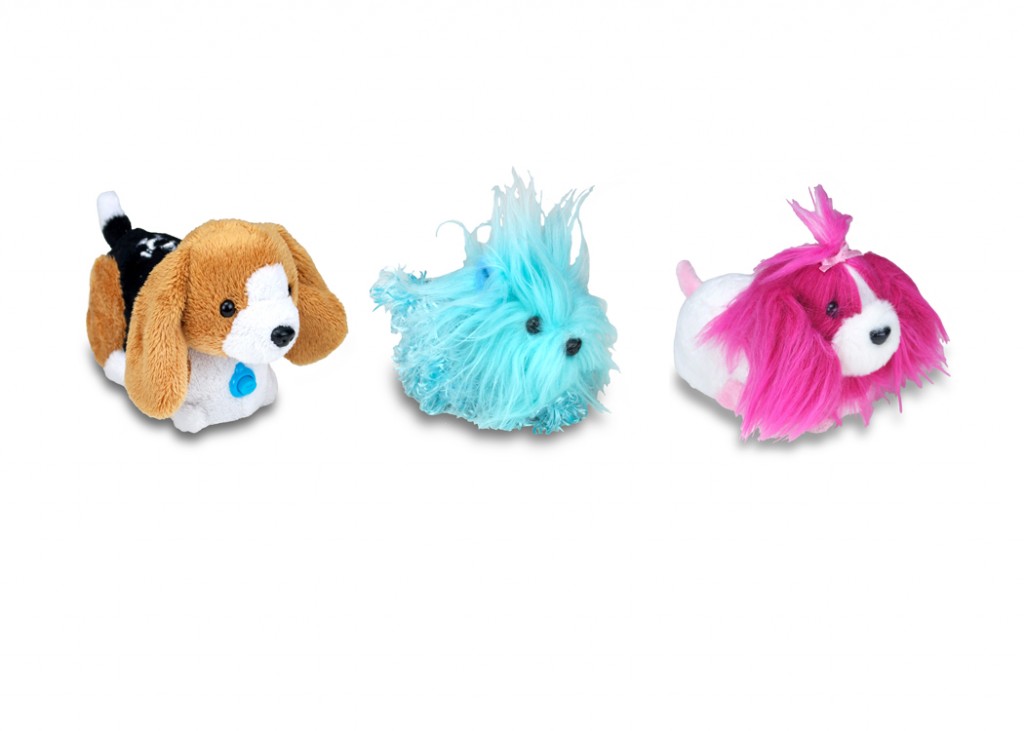 question which became a full-blown feature!  From NKT's gift bag vault, I will be sending Sarah's daughter the Zhu Zhu Puppies that I received at the Toy Fair Blogger event.
Do you have suggestions of your own for Sarah?  Better yet, do you have a question?  Definitely share, if you do!
Full disclosure: A select items featured were received as product samples.  But as always, all opinions, on NKT are my own.