For quite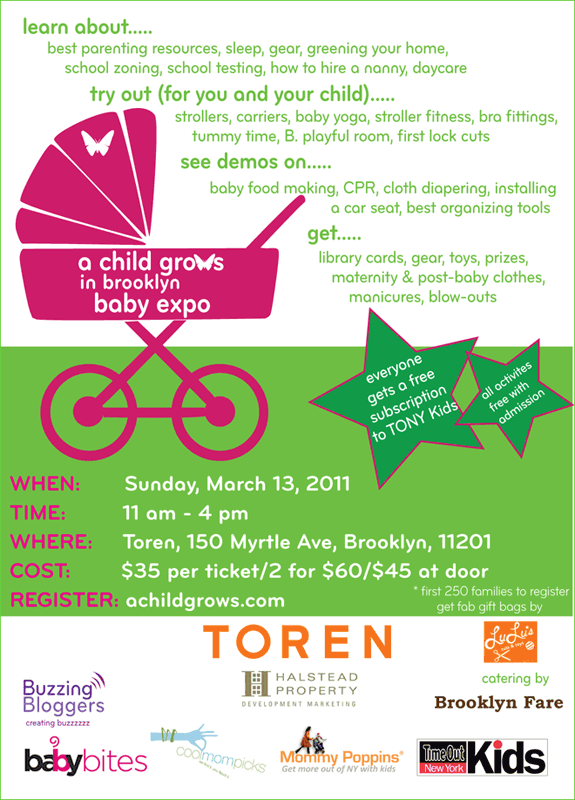 some time now, Brooklyn has been undergoing a baby boom of sorts.  And quite appropriately, on Sunday, March 13, Brooklyn will welcome its first-ever Baby Expo.
Hosted by Karen Connell, the brains behind A Baby Grows in Brooklyn, the Brooklyn Baby Expo will be held at Toren Condos from 11am to 4pm.  The Expo, expected to attract expectant moms, new parents and young families, boasts a day full of activities, exhibitors, demos, seminars and raffles.
The Expo transcends the usual fare of baby shows and boasts a line-up of helpful demos and speakers that most modern parents would appreciate.
Demos include: testing carriers, learning CPR, learning to make baby food and install a car seat
Sessions include:
Raising a Good Sleeper Speaker: Janet K. Kennedy, PhD, NYC Sleep Doctor
Parenting Partnerships: How to work together; Speakers: Soho Parenting and Family Matters NY
Best baby gear gurus…. tell all! Speakers: Jamie Grayson (the Baby Guy NYC) and Jennifer Link (Sweet Pea Baby Planners)
Greening Your Home Speaker: Alexandra Zissu
The Expectant Parents Guide to Brooklyn Speakers: Karen Connell, founder of A Child Grows in Brooklyn and Chana Balk from BabyBites Brooklyn
And of course, there will be exhibitors.  Just a few of the many exhibitors include parent favorites such as:
Babeland
Baby Angels
Baby Be Safe
Hank and JoJo
Soho Parenting
Stroller Strides
Tribeca Parenting
UPPAbaby
Urban Clarity
Wooly Boo
To see a full lineup of exhibitors and sessions check out the Expo's site
Goodies
And what's an expo without goodies? Giveaways include strollers by UPPAbaby (our family's personal favorite!), Mutsy, Britax, Quinny and highchairs from Boon and Stokke, diaper bags and parent pampering packages. The first 250 families will receive a gift bag filled with baby and kid products worth $100.
If you're in Brooklyn and expecting or have young kids, be sure to check out the first ever Brooklyn Baby Expo at Toren Condos from 11-4.
Tickets
Tickets are $35 or two for $60. To register for the expo or for more information go here.