"Mama, is broccoli a treat? Because I love it."
"Sure, honey. Broccoli can be considered a treat if you like it."
"How about carrots?"
"Yup. Carrots can be treats, too."
Last week, one of our dinnertime chats went a little something like that.  At three years old, the kid questions whether or not veggies are, indeed, treats. And for as long as it lasts, I'll to continue to advocate that veggies are treats, while simultaneously singing "There's a Party in My Tummy," the Yo Gabba Gabba eating anthem for preschoolers and parents alike.
Having grown up with the crowned prince of picky eaters, I'm well versed in the picky eating realm.  Public breakdowns and refusals to eat unless we had what he wanted, my older brother's precarious eating habits never made life easy for my
parents. I was known to eat not only my dinners, but also my brother's—perhaps to pacify his pickyness and to (ahem) feed my own love for food at an early age.
Whatever the case was, once I became a mom, I made it my personal crusade to try and avert the picky eating habits while refining my own eating habits.  It makes me smile when my guy reaches for broccoli in the app tray at parties before he heads to the dessert table. Now, if only every day was a broccoli-loving day…
Kids are relentless when it comes to eating, but I don't think it should always be a battle. Tactics like involving kids in the kitchen, helping with grocery shopping, and something as simple, yet significant, as eating the same meal together as a family can help with picky eaters. My motto is, I'm not an app cook, so we all eat the same thing for every meal.  Special meals should be reserved for special days, preferably the days where someone is serving me too!
I know, I know…it's easier said than done.
Let's Connect with Cooking Connections
I've devoted a a lot of coverage lately to kid-centric food and healthier habits, but by no means does that make me an expert in this parenting arena.  I am, however, quite excited to be a co-host in tomorrow's installment of Cooking Connections, where picky eaters will be the topic at hand. Our fabulous hosts will lead a discussion on TheMotherhood.com, and I'd love it if you could join us!  The deets are below: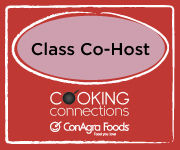 When: Wednesday, March 2, at 1 p.m. ET
Where: TheMotherhood – here is the link to the page where the class will be held: http://www.themotherhood.com/talk/show/id/62135
And here is the registration page for all Cooking Connections classes: http://www.themotherhood.com/cookingconnections
What: The class I am co-hosting is called "Expanding Your Family's Palate by Placating Picky Eaters," and it is hosted by Jennifer Leal (Savor the Thyme), Kimberly Coleman (Mom in the City) and Kelsey Banfield (The Naptime Chef).  We will be talking about how to make meals work for all members of the family, healthy and interesting foods that kids AND adults love, and strategies for getting picky eaters to try new things.  Join us, and feel free to ask questions, share recipes or chime in with your own suggestions!
The class is sponsored by ConAgra and hosted by TheMotherhood.
My other fabulous co-hosts are:
Marla Meridith, Family Fresh Cooking
Kristy Bernardo, The Wicked Noodle
Jo-Lynne Shane, Musings of a Housewife
Dara Michalski, Cookin' Canuck
Brooke McLay, Cheeky Kitchen
Shaina Olmanson, Food for My Family
Carol Cain, NY City Mama
Shari Simpson-Cabelin, Earth Mother just means I'm dusty
Amy Johnson, She Wears Many Hats
Stacie Billis, One Hungry Mama
I personally can wait to hear everyone's ideas and recipes aimed to placate picky eaters.  I'm getting hungry just thinking about it! See you then!