In the past, I've profiled a variety of Sesame Street-themed toys, home goods and more.  Last year, Elmo's image and branding transcended toys and books; we found Elmo on digital media, accessories and more.  Indicative of how connected our kids are these days, you better believe our kids' favorite characters are following suit.
In honor of Elmo's birthday, here's a just a few fun Elmo goodies and gadgets that are worth checking out.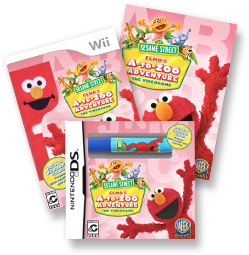 From Warner Brothers, Elmo's A to Zoo Adventure is an educational video game that is one of two games that mark Sesame Street's entry into the gaming sector.  In the game, kids can supplement their alphabet lessons with Elmo's assistance.  Geared to the pre-k set and up, learning the alphabet gets a new dimension in Elmo's A to Zoo Adventure where kids can interact with animals and Elmo.  Designed with the help of educational professionals, the details of the video game and the way it's played cater specifically to the younger kids' capabilities.?  Having attended the launch event of this game last fall, we've had a fun time testing out this game out, and it's added a fun element to our daily lessons.  I love the little Elmo Wii controller cover–seriously so cute and the kid loves it.  Reluctant to recommend video games to the young ones, Elmo's A to Zoo game is a great way to change up the usual alphabet-learning routine.
Ok, so maybe the little guys don't have their own iphone or ipads yet (or maybe they do?), but companies like DreamGear are helping mom and dads outfit their smartphones and tablets with fun kid-friendly accessories.  The silicon iphone case from DreamGear is durable, fun and washable–perfect for parents that appreciate Elmo's cuteness.  I received a Cookie Monster case from DreamGear for review and receive so many compliments from parents and kids alike.  Who knew a phone case could be such a conversation piece?  Beyond phone and (fuzzy!) tablet accessories, DreamGear has a whole line of Sesame Street branded gaming and electronics accessories that are suitable for kids.
Elmo USB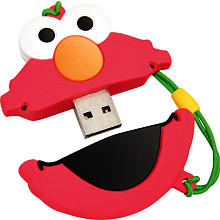 I chatted about this cool Elmo USB from ATP case before it hit the market, and I still think it's pretty cool.  It has room for storage for your files and for a video that's included.  In addition to it being waterproof, drop proof, the plug and play convenience of these Sesame Street video usbs give our favorite furry monsters even more tech cred.
Earth's Best
Earth's Best has had Sesame Street branded food for the wee ones for quite some time, but they've been adding more to the mix.  Characters all over food isn't my most favorite thing in the world, but when the food is a healthier option, then I'm on board.  Earth's Best offers organic foods that don't contain artificial flavors, colors or preservatives.  We are big breakfast people, so I have Elmo's Oatmeal and O's cereals on our must-try list.
Elmo Birthday Talking Plush
All Elmo fans must have their own plush furry monster, especially the toteable, talking kind.  In honor of Elmo's birthday, I'm kind of smitten with this Elmo Birthday Talking Plush.  I might have to add this guy to my first birthday present ideas for my Sesame Street-loving nieces and nephews.
Happy Birthday, Elmo!
Check it
All of these fun Elmo gear, gadgets  and goodies can be found on one of my affiliates, The Sesame Street Store.  As always, shopping at my affiliates and sponsors helps me to make this website possible.
Full disclosure:  Select samples were provided for review purposes.  As always, all opinions are my own.