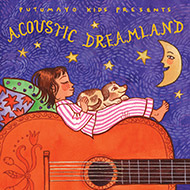 Melodic and sweet, Putumayo Kids' latest release, "Acoustic Dreamland," is the fifth release in the Dreamland series, which continues to celebrate the label's penchant for exposing world music and culture to children.  If you're not a lullaby singer like me, "Acoustic Dreamland's" calming lineup of lullabies is another thoughtfully curated compilation of music from Putumayo Kids that does the singing for you.
Complemented by the strums of acoustic guitars, strings, piano and sleepy time lyrics, "Acoustic Dreamland" boasts a diverse collection of classic and contemporary songs that both kids and parents can count sheep to.
Title track, "Dreamland," by Lucy Kaplansky begins the 11-song cd with a lullaby that has an Irish medley feel and embraces an uplifting harmony.  Elizabeth Mitchell's cover of the Allman Brother's "Blue Sky" reminds me of my happy childhood and sunny days back home in Va Beach.  Recorded especially for this cd, Frances England's "Here with Me," which slightly channels one of my all-time favorite songs, "Circle," has turned us on to a new favorite children's musican.  With a million things running through our minds after having grandpa visit for the weekend, the tv is off, electronics are stashed and Rosie Thomas' lullaby and love song, "Tomorrow," is currently on repeat.
Birds fly above you
Love is around you
I would like to be too
Forever, forever and ever
With you
Perfect for ending the day on a high note and a gentle way to decompress and unplug, Putumayo Kids' "Acoustic Dreamland" is a great collection of music suitable for baby to big kids' bedtime routine.
Putumayo Kids "Acoustic Dreamland" can be found online and at retailers such as Barnes and Noble.  Be sure to listen to a sampling of the CD on Putumayo's site.