It's a chugging kind of day; I've got lots of cool train-related news today.
To start off, Buddy and crew are welcoming the new year with a new Dinosaur Train episode.  The Jim Henson Company property that follows a Buddy the dinosaur, along with his family and friends on their train adventures, is chugging along with a new episode called "The Good Mom;" "Diamond Anniversary."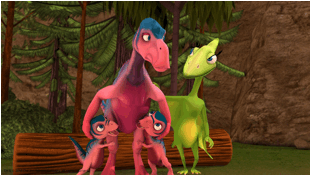 In the new episode, Mrs. Pteranodon meets fellow mom Millie Maiasaura, who hovers a bit over her kids. The moms share some mothering methods in a play date at the Big Pond.  And, Mr. and Mrs. Pteranodon decide to surprise each other with gifts on their anniversary.
The new episode can be viewed on PBSkids.com, so be sure to check it out if you missed it.
As fans of both trains and dinosaurs, Dinosaur Train, which airs on PBS, is one of our all around favorites.  We've been tracking Dinosaur Train's adventures way before the very first episode even aired.  Dinosaur Train has been so well received, like many popular shows, licensed toys and products have followed suit.  I love Learning Curve's Dinosaur Train toys and can't wait to see what's up next toy-wise.
But toys aren't the only Dinosaur Train products worth checking out:  There's a new line of pjs that are now available at Kohl's, ideal for this frigid weather.  The Dinosaur Train Striped Footed Pajamas feature a dinosaur appliques and a striped pattern, and I've got one to give away.
Giveaway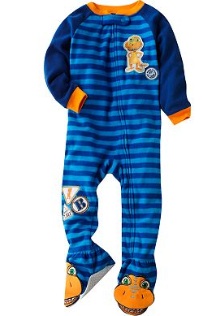 Would you like to win a size 3t Dinosaur Train Striped Footed Pajamas?  Just tell me why you and your kid(s) like the show and comment below.
Want additional entries?
Tweet about this giveaway and be sure to @jenrab
Follow The Jim Henson Company on Facebook and tell them The Next Kid Thing sent you.
Comment on the NKT FB post associated with this giveaway!
Share this giveaway on any social networking site.
Please comment below for all entries.  This giveaway will end 1/25 at 11:59 p.m. and is available for U.S. residents.  All giveaway winners will be contacted via email, so please be sure to include a valid email address.