Haven't finished your Christmas shopping yet? Yeah, me neither.  If you need to round out that shopping list and were hoping to avoid the crowds and madness at the malls by shopping online, there's still time.  And lucky us, today, December 17th, is the third annual Free Shipping Day.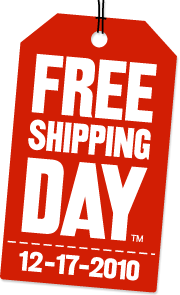 Free Shipping Day is a one-day event when consumers can shop online from their favorite brands and receive free shipping with delivery by Christmas Eve.
Free Shipping Day features hundreds of retailers and popular brands, making it a perfect reason to wrap up your Christmas shopping without leaving the house.  If you're like me, and just have those last few people on your list to cross off AND already know what to get, Free Shipping Day was created for busy people (and procrastinators) alike.
Big retailers like Macy*s, Toys 'R' Us, JC Penney and Barnes and Noble are participating in Free Shipping Day, and smaller specialty stores are included in the list, too.  In many cases, today, December 17, is the last day that retailers can ship to get products out in time for Christmas, but be sure to pay attention to the fine print, as some stores require a minimum purchase.
To finish my shopping list and take advantage of free shipping, I have my eye on the Discovery Store, Tilly's and The Big Toy Book.
Happy Free Shipping Day!