Halloween's over and you know what that means?  That's right, the Holiday shopping season cranks up a notch.  While the shelves might have been touting dancing Santas and singing reindeers for a few weeks now, marketers and retailers have been working overtime for months in preparation for the upcoming Holiday season.
As mentioned before, many of us bloggers were attending holiday previews way back in May, so, be prepared to see an influx of holiday coverage on blogs this year, NKT included.
We can't cover holiday shopping without highlighting the thrill of the hunt—for kids, that is!  While many of us plan to scour the malls, websites and shops for the best deals, in many cases, it all starts with that carefully-crafted Christmas list.  And guess what?
Of course, there's an app for that.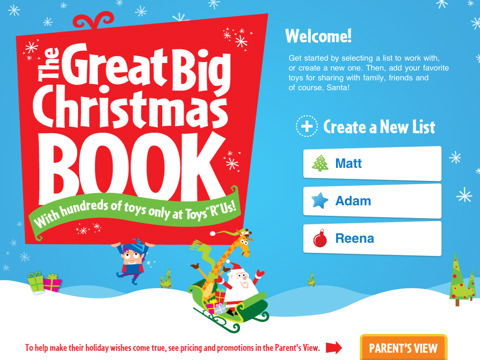 This weekend, Big Box Toy Retailer, Toys 'R' Us, unveiled their 80-page holiday circular, The Great Big Christmas Book.  In addition to the hottest toys of the season, The Big Christmas Book boasts many toys and goods that are exclusive to TRU, as well as a selection of free offers with purchase.  The Christmas Book which was mailed and distributed via newspapers has a techy component in app format, too.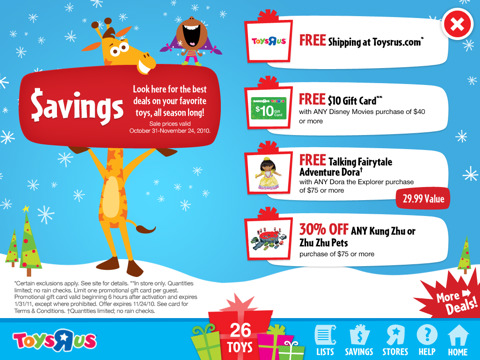 Shoppers can now access Toys 'R' Us' Great Christmas Book on their iPads.  From the free app, shoppers can peruse through pages and create multiple shopping lists.  Who doesn't love visuals when creating lists?  The newly released app looks like it's been receiving rave reviews from new users, citing ease of use and convenience as main highlights.  One user points out: "I'll take my iPad to the store and find each toy one at a time."
My only complaint is that we don't have an iPad to use this nifty app.  The only thing that would make this shopping app even better is if TRU created an iPhone app as well.
Good call on the handy iPad app, Toys 'R' Us.
You can find the free Toys 'R' Us Great Big Christmas Book iPad app on iTunes.
Check it
Don't have an iPad or the hard copy of The Great Big Christmas Book?  That's ok, TRU covered all their bases:  shoppers can also find the Great Big Christmas Book on TRU's site.