Slowly but surely, I'm owning up to the freelance writer part of my bio—at least I'm trying.  Besides NKT, I've been writing, interviewing and pitching stories every chance I get.  If we're friends on Facebook or Twitter, you may have seen my work appearing in a few places, with New York Family as a recent example.  I'm super excited about an upcoming article that's slated to appear in a few weeks on a major parenting website.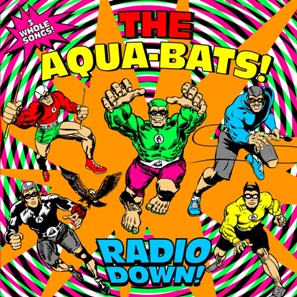 Much of my work on NKT has provided for a myriad of cool opportunities, which includes interviewing kid-centric personalities and celebrities.  My latest interview was with Christian Jacobs, the co-creator of Yo Gabba Gabba and frontman of The Aquabats.  Jacobs dished about his favorite NYC spots and quelled my curiosity about Foofa's inspiration.  (Do any of you guys remember The Barbapapas?)
As originally seen on NewYorkFamily.com:
Gabbing With Gabba
Christian Jacobs, co-creator of the wildly popular and music-centric kid's show, Yo Gabba Gabba, is also one of the guys behind the masked rock band, The Aquabats. The Aquabats recently released the three-song digital EP, Radio Down! which features guest vocals from hip hop legend Biz Markie. Comprised of MC Bat Commander (vocals), Crash McLarson (bass), Jimmy The Robot (keyboards / saxophone), Ricky Fitness (drums), Eagle "Bones" Falconhawk (guitar), The Aquabats have been entertaining audiences—young and old—for 16 years with their witty and eclectic sets.
Christian Jacobs aka MC Bat Commander dishes about their costumes, "Pool Party," and his favorite NYC spots to bring the kids.
Click after the jump for the complete Q&A.

Can you tell us your musical background? Were any of you guys band geeks? Took piano lessons as kids?
We were all really just music fans. I took piano lessons and hated it as a kid. I think punk rock and 80's music set the stage for what we were to become. Most of us were surrounded by music our whole lives and fell into the pool accordingly. Jimmy the Robot, however, was most likely a band geek in high school, he knows what he is doing!! Ha!
Over the years, how have the Aquabats' storyline and costumes evolved?
The Aquabats have always changed costumes every record, even if it was …ever so slightly. Things have changed, band members have switched up but The Aquabats are always on a quest to celebrate ….RIDICU-Liciousness!

When writing songs like "Pool Party", do you have kids in mind or have you always had a playful repertoire?
We like writing songs about fun stuff. I think the band's true age is eleven years old. So we aren't pandering to young audiences… we are the young audience. Whenever we try to write a serious song or a sappy love song, we take a look in the mirror and realize our uniform takes us out of contention for the cool guys award show. So, we go with what we know…. goofy kids stuff. And it's pretty contagious.


What is the inspiration behind Yo Gabba Gabba's Foofa? Is her character influenced by the old Barbapapa cartoons?
With all the Yo Gabba Gabba characters there are slight nods to a whole lot of kid's stuff from the past and yes, Barbapapa is one influence for sure!! I love Barbapapa cartoons! I watch them with my kids!
Since you'll be in the NYC area playing a few gigs, what are your favorite locales? Any places you love to bring the kids?
There are obviously an insane amount of places to eat in New York. We always try get over to Jon's Pizza, Lombardi's, Anthony Bourdain's Les Halles, Nobu and so many more! We save our money up on tour so we can eat good when we get to NYC. I have brought the kids to NYC and they like Serendipity and FAO Schwartz, and some touristy places like Mars 2112, and Museum of Natural History, Times Square etc. The thing they like the most, ironically, is to just run free and explore Central Park! They would much rather go crazy all day in the park than anything else.

On the road with The Aquabats or Yo Gabba Gabba, can you tell us about one of your most memorable shows?
There have been so many with The Aquabats over the years that it's hard to pin down one or two or even a handful of shows. I mean there are a few shows where we were attacked by skinheads, a show where we accidently lit the stage on fire, shows where we have had people dive off of balconies and land on people, shows where we've had life boats and floated pre-school kids around the club etc etc. Shows where we've set up fights with staged bad guys and accidently broke our crew members nose, a show where for some reason Robin Williams showed up and hung out with us. Just weird stuff…!! HA! With the Yo Gabba Gabba! tour we've really only just begun, but there are plenty of shows that stand out already!! A show we did at the Beacon Theatre last year had DInosaur Jr, DMC from Run DMC and Biz Markie on the same stage at one point in the show. It was bananas! We've had Bootsy Collins, Snoop Dogg, and a grip of strange and interesting guests out to the live show! It's pretty freaky.
Do you have any advice for young, budding musicians who want to pursue a musical career?
There is so much available for young musicians now that wasn't around when we started as a band. Just don't be lazy! Everything is at your fingertips! Pro-tools, the internet, even Garage Band. You can do anything right now. Write your music, shoot your own HD video and put it up on YouTube. and KABLAM! YOU're Justin Beiber! You know, just do it! But please do something interesting and new. No offense, Beiber!

Many people have a song or album that relates to the story of their lives. Do you guys have a song or album (any artist/group) that best describes the story of your lives?
Maybe the Yo Gabba Gabba song 'Keep Trying." "Don't give up, never give up! Don't stop, don't give up, Don't stop, don't give up!"
The Aquabats are currently on tour with Reel Big Fish and will be at Irving Plaza today and at Starland Ballroom in Sayreville, NJ on November 18. Their digital EP, Radio Down, is available now, and is a prelude to the band's in-progress album, slated for release in early 2011.
–Jen Rabulan-Bertram is a freelance writer and the blogger behind the kid product blog, The Next Kid Thing.