Because the husband works in the health and beauty sector, and as someone who reviews children's products, our family has been so fortunate to get our hands on the latest and greatest in consumables, among other things.  Some of these products are just eh, while others are a good fit for our family; take for example, the 365 Everyday Value Diapers.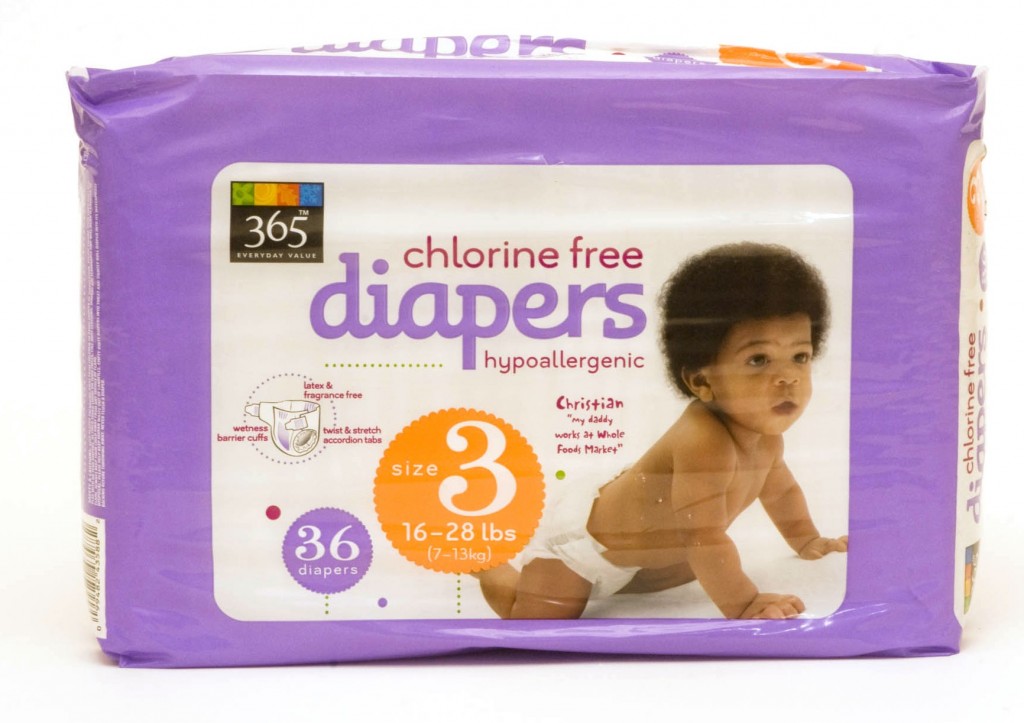 The 365 Everyday Value Diapers, Whole Food's store-branded diapers, recently changed their product by improving their sizing, securing a better fit and living up to their name by lowering the pricepoint.  Their diapers are made with chlorine free materials, are hypo-allergenic, latex free, and contain no perfumes or dyes, which are extremely important factors for many families.  It's true, way too many disposable diapers end up in our landfills.  But let's face it, not everyone can cloth diaper all the time.  And because 365 Everyday Value Diapers are chlorine, dye and latex free, they're gentler on baby's skin, and they are less harmful to the environment, making them a more sustainable choice for disposables.
Our pottytraining efforts stalled this summer because of our living situation, and so, we're hopefully finishing up soon.  In the midst of our pottytraining adventures, we had the chance to try out 365 Everyday Value Training Pants.  I loved the cloth-like feel and the simple design of the diapers.  As promised, the diapers were a snug fit and didn't cause any leaks, except overnight.  My guy leaks overnight in his regular Pull-Ups, so this was no surprise.  While I appreciate the value of 365 Everyday Value Diapers and chemical-friendliness, I would've loved them even more if they had the convenient side tabs like Pull Ups. Though, I should point out, the actual diapers boast a new and improved "twist and stretch accordion" tab.  Seventh Generation training pants, another chlorine-free, disposable brand that we've used in the past, is comparable to 365 Everyday Value Diapers, but still my favorite fit for my very sensitive kid.
I love Whole Foods and always look forward to visiting there, but because of the expense, I don't find myself going there for weekly trips.  However, when I am there, and if we were in need of diapers, I'd most definitely go the 365 Everyday Value Diapers route. If we had a Whole Foods closer, I bet we'd use these all the time.
You know what I'd like even more?  That my kid would magically be less-traumatized from our homelessness adventure this summer and agree to sit on the potty again.  Now THAT would be a gift 😉
The 365 Everyday Value Baby Diaper, which retails for $9.99, can be found at Whole Foods.  Sizes range from newborn to size 6.
I was provided a sample to facilitate this review, but as always, all opinions on NKT are my own.