Music, ultimately, is one of the kid's favorite things.  He loves to beatbox (thanks, Biz Markie) and like many preschoolers, he turns any conversation into a song.  He plays his guitars to any song or show; anything and everything is a drumset; he has a quirky fondness for banjos and plays his harmonica even before eating breakfast. And along with his love for music, we're big on educational shows, especially ones with awesome musical segments.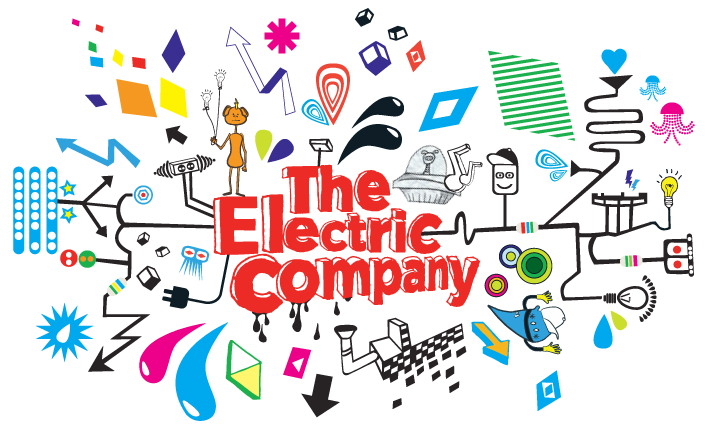 One show in particular, The Electric Company, is one that we watch together almost non-stop.  I loved the show growing up, and so, this is definitely a show that I hoped the kid would love just as well.  I just didn't expect him to fall in love with this show at
just two years old.  But, understandably, much of that has to do with our meet and greet with The Electric Company last year.  (more on that later!)
Geared to school-aged kids, The Electric Company, was originally produced by Children's Television Workshop (now called Sesame Workshop,) back in the 1970s.  The show ceased production in the late 1970s, but I remember watching reruns as a kid in the early 80s.  In 2009, the Sesame Workshop revived the series with a cast of fresh faces, complete with a modern and funky edge to it.  For the school aged set, the Electric Company's website is one worth checking out.  It's really no surprise that their site, like the show, has garnered several awards.
As I mentioned, the kid loves The Electric Company.  Perhaps he doesn't know about punctuation or prefixes yet, but he does, however, have a little crush that keeps him watching.  One of the main characters of the show, Priscilla Diaz, known as Jessica on the show, is a super-talented singer, rapper and actress that's caught the eye of my little guy.  The kid is smitten.

His favorite episode has a cute segment where a variety of characters are pushing muffins on Jessica.  A catchy line from the episode, "Have a Muffin, Jessica," is echoed in our home at least 10 times a day.  And speaking of catchy, if you knew the show back in the 70s and 80s, then you'll be glad to know that the popular catchphrase, "Heyyyyy yooooooou guyyyyysssss!" is still alive and well in the new(er) Electric Company.
Just as The Electric Company was wrapping their third season of taping the other week, a few bloggers and members of the media were invited to the set to sit in on a taping of a music video with the band Good Charlotte.  The song they recorded was funny and memorable, one that I'm sure that bigger kids would appreciate.  We had a great time watching Joel and Benji Madden record their video, and even had a chance to ask Benji a few questions!
We're on our way to a different event at Sesame Workshop today, but I wanted to share a teaser about the kid's love for the Electric Company.  Stay tuned for the interview and a video of the video!  In the meantime, check out my photostream from the event!