Like many of you, I'm a bargainista—or at least I try.  I have always said that the driving force for me nowadays to shop for discounts and clip coupons is so that I could use the money I save and put it towards buying "better" meat for my family.  After reading so much about food recalls and watching Food Inc., it's a fact that, as parents, we have to be cognizant of what's going on with our food and how we feed our families.  And for me, it's one of my priorities to overhaul how I shop for groceries all together.
On that end, I recently had the chance to taste a sampler of Bison meat from High Plains Bison.  If you've ever had bison, then you know that its taste is distinctively different from beef and has less fat.  (You can see the marbling in the bison ribeyes below.)
Doing some research for this post, according to Bison Basics, grass-fed bison has less calories and more protein than lean beef, turkey and pork.  And according to High Plains Bison, while bison may not be considered health food, it is healthier.  Bison is low in cholesterol, low in sodium, a good source of iron and also contains a healthy dose of Omega 3 fatty acids too.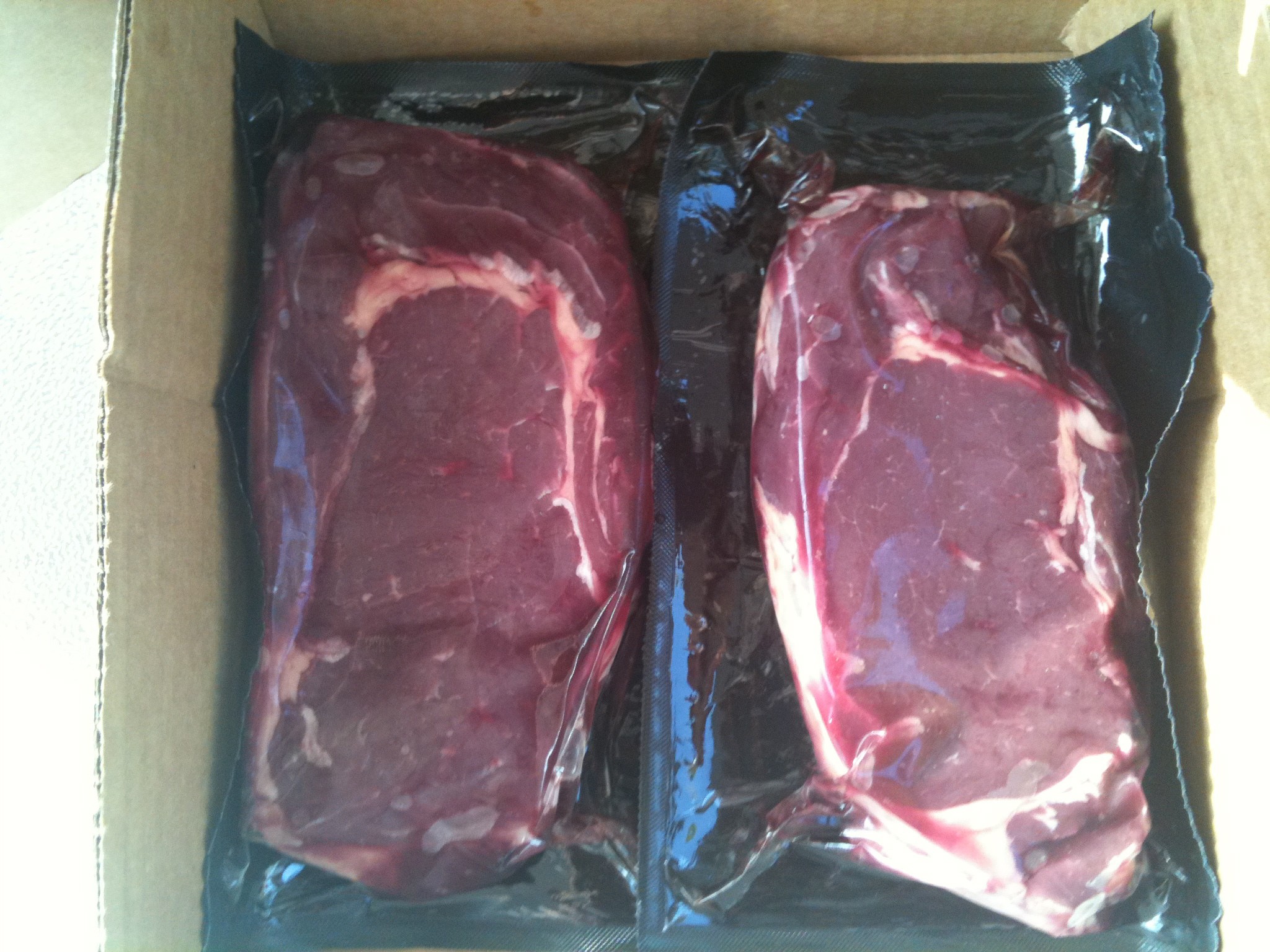 In our sampler pack, we had the chance to taste  High Plain Bison's ribeye, Italian sausages and hot dogs.  The ribeye, quite simply, was one of, if not THE best ribeye I've ever tasted.  It was tender, flavorful, fresh and not as fatty as the beef ribeyes I love so much.  The hot dogs, too, had a great taste, but not too different to scare away the "traditional" hot dog lovers.  These, too, tasted lean, yet still juicy.  And those sausages…my husband still dreams about them!  The Bison Italian sausages had cheese and enough spices and flavor that they were fulfilling without having the need to add any additional condiments.  We enjoyed the ribeyes, sausages and hot dogs on the grill, which made them all taste that much better.
High Plains Bison contains no hormones, fillers, antibiotics or artificial ingredients, which most certainly attribute to its deliciousness.  Although High Plains Bison isn't considered organic, the company says their products are all natural  since their animals do not feed on any animal bi-products, and they don't feed off of grounds that have been sprayed with any chemicals.
I've enjoyed bison burgers in the past, but bison rib eyes, hot dogs and sausages were a first for us.  The prices of bison, as expected, are higher than conventional beef/pork options, but the quality, taste and the fact that it's healthier outweighs the cost for me.  While we couldn't have bison every day, per se, I can see us stocking up on High Plains Bison for family bbqs or special occasions…maybe like today, when we  (finally) close on our new house!
A big thank you to Anna of Mommy Poppins for being the connector, and for High Plains Bison for providing my family with the chance to try the aforementioned products.  Even though the bison pack was provided, opinions on NKT, as always, are my own.