If there was ever a good time to walk down memory lane, this week would be it.  After months of waiting to close on our house, we're still displaced.  Needless to say, it's been a rocky road for our family this summer:  all of our stuff still remains in storage, our poor kid cries for his toys, my heart aches every time he begs to go "home" and all we can do is just wait…
But, throughout this trying time, we've had each other.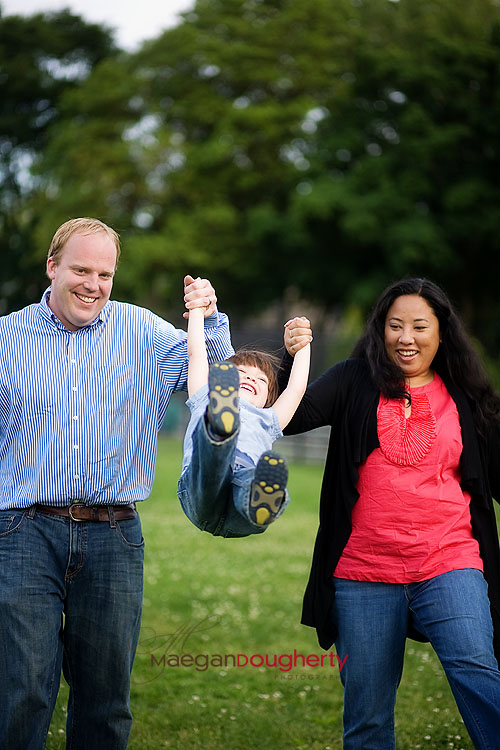 The week before we moved out of our apartment, we had a photo session with our favorite family photographer, Maegan Dougherty.  It was a fun time, which yielded another set of great photos that serve as a great reminder of what's truly important in life.
I met Maegan on a message board I used to frequent, and was immediately drawn to her photos.  Shortly after the kid was born, Maegan shot our first session and made our memories that much brighter.  Her photography has graced our Holiday cards, were the source for our kid's headshots, they line my mom's refrigerator, and soon, after all this waiting, these photos will line the halls of our new home.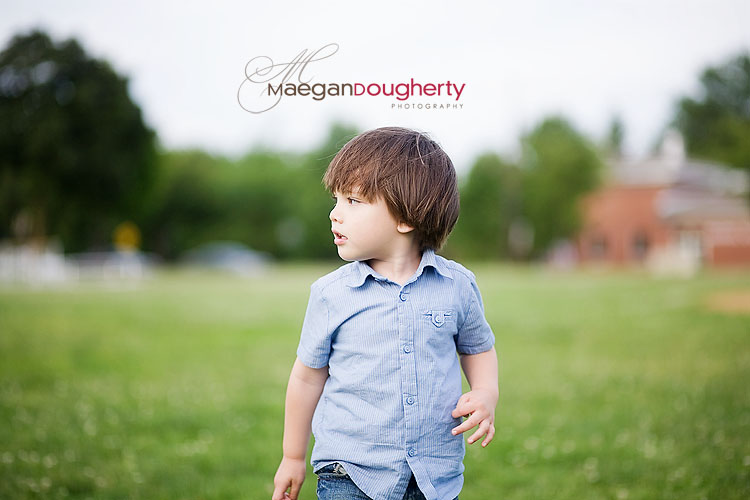 Maegan has this charm about her that just makes the kid warm up to her, even when he wants nothing to do with a camera—sort of like how it went a few weeks ago.  And please, let's not even talk about me being photographed.  I'm the antithesis of being photogenic, and somehow, Maegan has been able to capture a few photos of me NOT blinking or looking freakishly foolish.
From the few sessions we've had with her over the years, Maegan's been able to candidly capture our family at our home, in Hoboken, a place that we'll forever associate with the start of our little family.  The big smiles, immeasurable amount of love, even in a tiny space that we called home.  And for that, I'm so grateful.
As a journalist who also studied graphic design in college, I am big on visuals–captivating visuals that tell a story.  And that's exactly what Maegan's photography does.
Maegan Dougherty is based in northern New Jersey and specializes in portrait photography and does commercial shoots as well.  Her portfolio is visual proof of how well she works with kids and families.
If you're in the area, I not only recommend her, but I vehemently suggest you get this talented photographer on your go-to list!  My family photos are one of my most prized possessions, and I love her dearly for capturing these moments in time.
Giveaway
If you're in the Tri-State area, listen closely: Maegan has generously offered an NKT reader a mini-session!
The winner would have a spot on one of Maegan's mini session days, location and dates to be determined (must be in 2010.)  This is for a 20 minute custom portrait session, with at least 10 professionally edited picture in a gallery for viewing and ordering prints, along with a CD.  This mini-session is worth approximately $400.
You can choose any one of her upcoming mini-session dates, but it looks like she has an upcoming session Saturday, August 28th in the New Providence/Summit area and one in Montclair on Oct. 3rd.  People, the holidays are right around the corner!  Get the family pix while you're still sun-kissed!
To win a mini session with Maegan Dougherty there are two mandatory entries:  comment here on NKT AND on Maegan's blog and tell us why you'd love to win this mini session.  Multiple entries are encouraged!

For extra entries:
Please comment below for ALL extra entries.  The winner of this giveaway will be selected via random.org. 

Disclaimer:  We paid for our photo sessions with Maegan.  I was not compensated for this post, and as always, all opinions on NKT are my own.