Today marks The Wizard of Oz's 71st anniversary, and a variety of sites are celebrating this milestone with fun facts, features and more.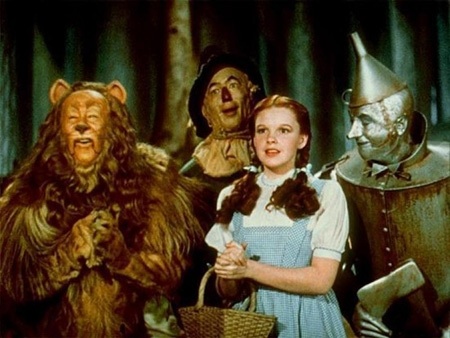 Did you see Google today?  The Google Doodle of the day is an image of Dorothy and the gang embarking down the yellow brick road, with Oz in the distance, and letters that spell out 'Google' subtly placed.

The Wizard of Oz was based on a children's novel written by Frank Baum, which was originally named The Wonderful Wizard of Oz.  The book-turned-groundbreaking film has touched generations of children with its whimsical story and the magic of 'dreaming' in Technicolor.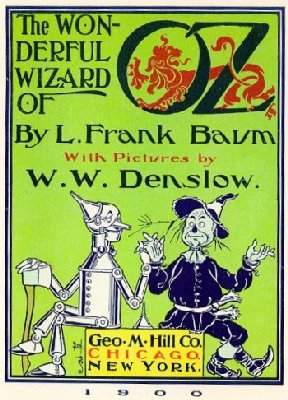 After stumbling upon the Wizard of Oz on tv a few weeks ago, I was quite shocked at how this film mesmerized my little guy.  He sat, mouth agape, next to me throughout the duration of the movie, which of course, inspired a tweet or two.  One of the responses from a friend re: my Wizard of Oz Tweet, asked if I'd ever read the book to the kid, and how her 5 year old absolutely enjoyed reading this book aloud.
Actually, I've never read it.  Have any of you?  This is definitely a classic that I plan on adding to our library, and one that I hope we can read aloud to experience the book version as well.
As for the movie, I'm loving all the coverage of the Wizard of Oz's anniversary.  Here's just a few of my favorite links for fun fact of The Wizard of Oz:
The Wizard of Oz: 71 Fun Facts for the Film's 71st Birthday from the Guardian
Jell-O crystals were stuck over all the horses in the Emerald City palace to lend them their color. The scenes were shot speedily, before the horses began to lick them off.
The film is at No 10 on the BFI's list of the 50 films you should see by the age of 14.
The Wizard of Oz Turns 71 from Babble
The film premiered not in Hollywood, but in Wisconsin.

—>this one intrigues me!
The Wonderful Wizard of Oz was the best running children's book for two years running
Check it
Last year, for the Wizard of Oz's 70th anniversary, Warner Home Video released a 70th Anniversary Ultimate Collector's Edition DVD and Blu Ray set.  In addition to the hi-def version of the film, this edition is said to include 16 hours of bonus features, a production history book, among other cool memorabillia.